Welcome to our
newspaper web site...


Pick up your paper today and read the Memorial Day Special Section in SDN, NDN and BFP
---

Local pro baseball is back!
HV Renegades prepare for 2017 campaign

Hudson Valley Renegades Pitcher Hector Lopez has a blazing fastball. - Photos by Ray Fashona
By Ray Fashona
New Hudson Valley Renegades Manager Craig Albernaz is not really new to the club. He was last season's hitting coach, so he's familiar with Dutchess Stadium in Fishkill.

Assessing his team, the first he has ever managed, Albernaz said: "We have a young team with lots of athletes. We're going to run a lot."

Albernaz was a coach for the rookie league Princeton Rays of the Appalachian League. In his playing career, he reached as high as Triple-A, but never broke through to the Majors. In nine seasons of minor league ball, he finished with a career .276 batting average.
---

Teachers learn about local ag during Walbridge Farm visit

Walbridge Farm in Millbrook hosted a Farm Tour on June 13 for local teachers to learn about the intricacies of beef farming. Walbridge Farm's Doug Giles introduces guests to a young cow from his farm. Photo by Jennifer Brizzi
by Jennifer Brizzi
A couple of dozen local teachers now know much more about the intricacies of beef farming, thanks to an annual event designed to educate educators about local farming practices. Last week's "Farm Tour," one of four stops around the state, took place on June 13 at the Registered Black Angus farm Walbridge Farm, in Millbrook, and offered the 25-30 attendees an inside look at the concerns of modern farmers and the workings of the beef industry.
---

Broadway comes to Beacon
Stars and local children to shine at Sunday event

Members of the Beacon Performing Arts Center take part in "Bringing Beacon to Broadway" on June 25 at the Towne Crier Café on Main St. - Courtesy photo
By Kristine Coulter
More than 40 local children will have the chance to perform on stage with Broadway performers during the inaugural "Bringing Broadway to Beacon" event at the Towne Crier Café, 379 Main St., on Sunday, June 25. The night of stars is being held by the Beacon Performing Arts Center (BPAC).

"It's a brand new youth theater program in Beacon," explained Tim Grady, who was in the Broadway tour production of "Elf, The Musial." Tim, and husband and wife Kate and Jake Vander Linden own and operate BPAC. Jake starred in the Broadway National Touring company of "Ghost" the musical, which is based on the Patrick Swayze, Demi Moore and Whoopi Goldberg movie. Kate played "Jovie" in the production of "Elf, The Musical."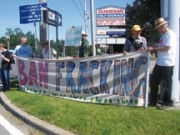 This free script provided by
JavaScript Kit
Wherever you live in Dutchess County, we cover school news, health and education features, seniors news, arts and entertainment activities, community calendar of events, municipal news, local business and organization profiles and press releases, legal notices and obituaries as well as local advertising.

FEATURE SUPPLEMENTS
& PUBLICATIONS
Preview back issues of Healthy Lifestyles in our annual archives.
Preview back issues of Home & Garden in our annual archives.
Preview back issues of Bon Appétit in our annual archives.
Preview back issues of Hudson Valley Business Journal in our annual archives.
---
Check out our special advertising offers including at our Media Kits page: Dutchess County Fair Supplements, Chef's Profile, Car of the Week.