Welcome to our
newspaper web site...


---

East Fishkill to celebrate community Saturday

East Fishkill Seniors stand in front of the trophies and plaques for their floats in previous East Fishkill Community Day events. From left, Ruth Strid, Sylvia Gangel, Fred Schmid, Kathy Lemza, Doris Fredericks, Frank Fredericks and Vito Boddoli. - Photo by Kristine Coulter
By Kristine Coulter
The 22nd annual East Fishkill Community Day will be held on Saturday, September 16. The parade steps off at 2 p.m.

"This year we're making it bigger and better," said Janet McHugh, East Fishkill Co-Recreation Director.

New this year will be Family Movie in the Park at 7:30 p.m. "We're going to be showing the movie "Moana," she said. There will be popcorn being sold.

Route 82 will be closed, beginning at approximately 1:45 p.m., for the parade. The lineup for those who will be participating in the parade is at 1 p.m., said McHugh.
---

Mardi Gras flair tops Hardscrabble Day

The musical history of Funky Meters founding members Art Neville, George Porter Jr. and Russell Batiste Jr. dates back to 1967. Funky Meters and the New Orleans Suspects will headline the musical entertainment for this year's Hardscrabble Day in Red Hook. Courtesy photo
by Stacey van den Thoorn
The Village of Red Hook is celebrating its 40th Hardscrabble Day on Saturday, Sept. 16, from 10 a.m. to 10 p.m.; and this year's event is flavored with some Mardi Gras flair brought on by famous musicians from New Orleans.

The annual celebration, which originated as a harvest festival in its early years, has more recently become known as the last bash of summer in the Village of Red Hook and is sure to please the entire family.
---

Country Fair set for Saturday at Stony Kill

Riley Adnams stands in front of the cow mural at Stony Kill Farm Environmental Education Center. - Photo by Kristine Coulter
By Kristine Coulter
The Stony Kill Foundation will host its Country Fair on Saturday, September 16, from 11 a.m. to 3 p.m.

"It's a new name, new month. There will be no Harvest Fest this year," explained Stacey Lynch Adnams, who is organizing the event. For the past three years the Harvest Fest, which had been held in October, has been rained out.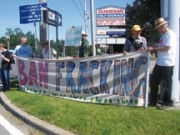 This free script provided by
JavaScript Kit
Wherever you live in Dutchess County, we cover school news, health and education features, seniors news, arts and entertainment activities, community calendar of events, municipal news, local business and organization profiles and press releases, legal notices and obituaries as well as local advertising.

FEATURE SUPPLEMENTS
& PUBLICATIONS
Preview back issues of Healthy Lifestyles in our annual archives.
Preview back issues of Home & Garden in our annual archives.
Preview back issues of Bon Appétit in our annual archives.
Preview back issues of Hudson Valley Business Journal in our annual archives.
---
Check out our special advertising offers including at our Media Kits page: Dutchess County Fair Supplements, Chef's Profile, Car of the Week.