Welcome to our
newspaper web site...


---

Headed for Tribeca
Locals get a shot in films at Major festival

Melanie Capparelli of Hopewell Junction has a walk-on role in "Super Dark Times."
By Ray Fashona
Anyone headed into New York City for the prestigious Tribeca Film Festival is likely to see some familiar faces on the screen.

Beacon's BreakThrough Casting supplied the local actors for two films shot in the Hudson Valley, "Love After Love" and "Super Dark Times." The actors, extras and walk-ons with few if any speaking parts, are trying to "break through" into show business, and appearing on screen is a first step.

Tribeca, a festival started in 2002 by famed actor Robert De Niro, producer Jane Rosenthal and her husband investor Craig Hatkoff, runs April 19 to 30 in Manhattan. Along with Robert Redford's Sundance Film Festival in Utah, it is the preeminent festival in the United States.

"It is very exciting to be represented at Tribeca," said Patricia Gallio, who founded BreakThrough Casting seven years ago.
---

Red Hook's RoboRaiders head to world championships

Red Hook High School students Benjamin Kocik, Simon Dantzic and Daniel Monarchi are at the controls as their robot "Talos" launches a ball toward the target. Photo by Curtis Schmidt
by Stacey van den Thoorn
The RoboRaiders of Red Hook High School are heading to compete at the FIRST Tech Challenge (FTC) Robotics World Championships from April 26-29, in St. Louis, Mo., thanks to the hard work, ingenuity and cooperative effort of a very talented group of teenagers.

The RoboRaiders team is funded primarily by local sponsors and is asking for donations to help with the cost of attending the World Championships. Donations can be made at www.GoFundMe.com/ FTC6567.
---

Earth Day events set for Saturday

Heidi Harrison, with the City of Beacon Recreation Department, rakes leaves.
By Kristine Coulter
There will be Earth Day celebrations in East Fishkill and Beacon on Saturday, April 22. The first Earth Day was held in 1970.

City of Beacon Recreation Director Mark Price said the City of Beacon is funding the event, which will be run by volunteers. The event is hosted by the City of Beacon and Green Beacon Coalition.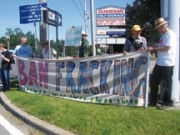 This free script provided by
JavaScript Kit
Wherever you live in Dutchess County, we cover school news, health and education features, seniors news, arts and entertainment activities, community calendar of events, municipal news, local business and organization profiles and press releases, legal notices and obituaries as well as local advertising.

FEATURE SUPPLEMENTS
& PUBLICATIONS
Preview back issues of Healthy Lifestyles in our annual archives.
Preview back issues of Home & Garden in our annual archives.
Preview back issues of Bon Appétit in our annual archives.
Preview back issues of Hudson Valley Business Journal in our annual archives.
---
Check out our special advertising offers including at our Media Kits page: Dutchess County Fair Supplements, Chef's Profile, Car of the Week.