Welcome to our
newspaper web site...


Pick up your paper today and read the Memorial Day Special Section in SDN, NDN and BFP
---

County Players celebrates 60 seasons

Members of the Dutchess County Regional Chamber of Commerce join the Board of Directors, employees and friends of the County Players at the Falls Theatre on Friday afternoon to cut the ribbon recognizing the start of the organization's 60th anniversary year.
- Photo by Curtis Schmidt
By Ray Fashona
Since 1958, County Players theater troupe has brought dramas, comedies and musicals to Dutchess County audiences. The group, celebrating its 60th anniversary season, has become a mainstay in Wappingers Falls and a favorite with local theatergoers.

The troupe has planned a variety of events and mainstage productions for the coming season reflecting its early history. The opening play, starting Sept. 8, is "Bell, Book and Candle," the first production County Players undertook in May of 1958.

That initial play was greeted with solid reviews, and County Players was on its way.

Board President Anna Marie Paolercio, who joined the group in 1980 after moving here from Indiana, said one reason for County Players longevity is that "it is community oriented." She added: "We are mostly volunteers." She noted that the troupe does pay orchestra members for musicals because "we are interested in quality sound."
---

At Old Hibernia Farm, it's chickens galore

The members of the Olson family in Salt Point are "up to their ears" in chickens – both with their own flocks and the processing business. From left are, Matthew, Danielle, Axel and Juliana. Photo by Curtis Schmidt
by Curtis Schmidt
Farmer Chris Olson knows the poultry business. He knew that if he put together a quality poultry processing operation, he could stay busy. But not in his wildest dreams did he imagine the volume currently being handled at Old Hibernia Farm LLC in Salt Point.

"It went from a hobby to a business," said Olson. "When my wife, Danielle, and I started this business in 2015, I figured we could stay busy two or three days a week processing chickens and turkeys for other farmers. But I never expected this. We can't even find a day off (knock on wood)."
---

See outdoor sculptures in Beacon 3D

"Horseshoes" by Peter Schlemowitz is one of 12 outdoor sculptures on display on Main Street through the summer, organized by Beacon 3D. - Courtesy photo
By Goldee Greene
Staff Writer Arts & Entertainment
No 3D glasses needed to experience world-class art as Beacon 3D sculpture exhibition runs through early fall. Twelve outdoor works by artists are installed at various Main Street locations. Artists are Naomi Teppich, Lori Merhige, Emil Alzamora, Jonathan Reichert, Edward Benevente, Herman Roggerman, Sarah Haviland, Insun Kim, Peter Schlemowitz and Tom Holmes. All works are for sale, with proceeds going to the artists.

Beyond plywood, steel and aluminum, other materials are also in use. According to artist Lori Merhige, of Beacon, her wistful, petal-like fabric construction, "Effluence" is meant to indicate "a sense of energy, momentum and movement within the forces of nature and gravity."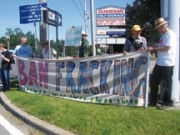 This free script provided by
JavaScript Kit
Wherever you live in Dutchess County, we cover school news, health and education features, seniors news, arts and entertainment activities, community calendar of events, municipal news, local business and organization profiles and press releases, legal notices and obituaries as well as local advertising.

FEATURE SUPPLEMENTS
& PUBLICATIONS
Preview back issues of Healthy Lifestyles in our annual archives.
Preview back issues of Home & Garden in our annual archives.
Preview back issues of Bon Appétit in our annual archives.
Preview back issues of Hudson Valley Business Journal in our annual archives.
---
Check out our special advertising offers including at our Media Kits page: Dutchess County Fair Supplements, Chef's Profile, Car of the Week.