Welcome to our
newspaper web site...


---

Exploring the afterlife
Paranormal group makes a study of ghostly manifestations

Tom Kelly, left, founder of Ghost Magnets with a Twist, and investigator Bon Klein test the sensors used to locate spirits in the Van Wyck Homestead in Fishkill. - Photo by Curtis Schmidt
By Ray Fashona
My first ghost hunt was fascinating and kind of creepy. But whether it has changed my fundamental skepticism about the existence of spirits among the living remains to be seen.

It started with an e-mail from Tom Kelly of Beacon who, with his wife Johnna runs a paranormal group called Ghost Magnets with a Twist. The club, whose stated goal is to seek knowledge of the afterlife, has "experience working with historic locations here in the Hudson Valley," Kelly wrote.

Would we be interested in doing a story? With Halloween approaching, I figured it was a perfect time for a spooky tale. I asked Kelly if he would take me on a ghost hunt and he readily agreed. (I would later learn from several members of the group that spirits aren't more active on Halloween than any other time of the year. "They aren't aware it's Halloween," someone said.)
---

Red Hook celebrates 'everything chocolate'
First annual festival set Saturday, Nov. 1

Dan Budd, owner of Taste Budd's Chocolate and Coffee Café in Red Hook, displays a tray of assorted chocolates. Budd will host a "Learn How to Taste Chocolate" event at his café to kick off Saturday's Chocolate Festival. Photo by Curtis Schmidt
by jim donick
As the autumn descends upon us, the thought of a cup of hot chocolate on a chilly day has much to recommend it. In truth, the thought of chocolate in nearly any form has ever-increasing attraction.

The Village of Red Hook has just the solution all set on the calendar for Saturday, Nov. 1. On that day one of the happiest villages in the valley will turn into the chocolate center of the county, or maybe even the state. The entire village is turning out for its first-ever Chocolate Festival.
---

5K to raise funds for Cancer Society in memory of Beacon officer

Participants running and walking in a previous Michael Archer Memorial 5K. -Courtesy photo
By Kristine Coulter
Michael Archer was a well known and well liked member of the City of Beacon Police Department. Many members of his large extended family are lifelong Beacon residents. Archer, who died from esophageal cancer in 2002, will be remembered during the 3rd annual Michael Archer Memorial 5K. The 5K will take place on Saturday, Nov. 1 at Memorial Park, off of Route 52. Funds raised by the event are donated to the American Cancer Society (ACS).

Archer's niece Shannon Archer is organizing the event, along with Archer's brother Kevin Archer.

"Mike was just a great guy. He would always do everything that he could for his family, his friends, his co-workers and anyone who asked anything of him," said Kevin of his brother. "He had a great sense of humor. We are from a large family, and one of my favorite memories of Mike would be at any family gathering when there would be a gang of little grandchildren wrestling and giggling and who would be at the bottom of the pile, but Uncle Mike, being everyone's favorite teddy bear."

Shannon stated, "He had an incredible sense of humor; his presence is very much missed at family events and gatherings. In addition to his love of his family, Uncle Mike was a great friend and a proud Beacon Police officer." She said her uncle, who was a lieutenant with B.P.D., loved being on the force.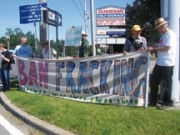 This free script provided by
JavaScript Kit
Wherever you live in Dutchess County, we cover school news, health and education features, seniors news, arts and entertainment activities, community calendar of events, municipal news, local business and organization profiles and press releases, legal notices and obituaries as well as local advertising.

FEATURE SUPPLEMENTS
& PUBLICATIONS
Preview back issues of Healthy Lifestyles in our annual archives.
Preview back issues of Home & Garden in our annual archives.
Preview back issues of Bon Appétit in our annual archives.
Preview back issues of Hudson Valley Business Journal in our annual archives.
---
Check out our special advertising offers including at our Media Kits page: Dutchess County Fair Supplements, Chef's Profile, Car of the Week.