Welcome to our
newspaper web site...
---
Click here for the list of locations, by community, where you can pick up Northern Dutchess News today....
---
Check out our special advertising offers including at our Media Kits page: Dutchess County Fair Supplements, Chef's Profile, Car of the Week.
Our family of newspapers serves all of Dutchess County in three distinct areas. Please read more about the newspaper serving your community:

The Southern Dutchess News targets Arlington, Beekman, Chelsea, Dover, Fishkill, East Fishkill, Hopewell Junction, Hughsonville, LaGrange, New Hamburg, Pawling, Spackenkill, Stormville, Town of Poughkeepsie, Town of Wappinger, Union Vale and Village of Wappingers Falls.
---

The Northern Dutchess News targets Amenia, Clinton, Hyde Park, Milan, Millbrook, Pleasant Valley, Pine Plains, Stanford, Rhinebeck and Red Hook.
---

The Beacon Free Press targets the City of Beacon and vicinity.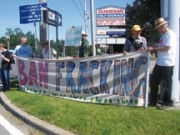 This free script provided by
JavaScript Kit
Wherever you live in Dutchess County, we cover school news, health and education features, seniors news, arts and entertainment activities, community calendar of events, municipal news, local business and organization profiles and press releases, legal notices and obituaries as well as local advertising.

FEATURE SUPPLEMENTS
& PUBLICATIONS
Preview back issues of Healthy Lifestyles in our annual archives.
Preview back issues of Home & Garden in our annual archives.
Preview back issues of Bon Appétit in our annual archives.
Preview back issues of Hudson Valley Business Journal in our annual archives.