Welcome to our
newspaper web site...


---

Local World Series hero honored at John Jay

Joe Panik gestures during a press conference last week before a ceremony honoring his baseball accomplishments. Sitting with him is his John Jay High School coach Tom O'Hare. - Photo by Curtis Schmidt
By Curtis Schmidt
The kid who grew up playing baseball in East Fishkill – always dreaming about playing in the majors – lived another dream last Wednesday night.

Joe Panik, who joined the San Francisco Giants midway during the 2014 season and was a key performer at second base for the team that won the World Series, returned to his alma mater for "Joe Panik Celebration Night" at John Jay High School.

"It's just the coolest thing. It's so great to come back to your roots," Panik said during a press conference prior to the event. "Coming back to town where it all started – it's just incredible."

On Wednesday night's celebration, he said, "I'm so appreciative. I'm really humbled. You never forget where you came from."

Panik grew up watching the New York Yankees. He said his favorite players were Wade Boggs (who played for the Boston Red Sox and the Yankees) and Derek Jeter. "I always wanted to be those guys. That was the dream."

Speakers at Wednesday's celebration included John Jay High School principal Dr. Dwight Bonk, Dutchess County Executive Marcus Molinaro, East Fishkill Town Supervisor John Hickman, John Jay teacher and coach Rob Seipp, Town of East Fishkill Recreation Director Bill Green and John Jay baseball coach Tom O'Hare.
---

Inspiring nature guides Millbrook's Meyer
Community luminary helps others while battling illness

Scott Meyer works out on a "Nustep" recumbent stepper at Millbrook Physical Therapy. Meyer, who has owned Merritt Bookstore in the Village for more than 30 years, is involved in a physical therapy program designed to help him regain balance, strength and endurance after treatments for melanoma. Photo by Curtis Schmidt
by Kate Goldsmith
MILLBROOK—More than 30 years ago, Scott Meyer built a business with his love of stories and people. Today, Merritt Bookstore on Front Street is a pillar of the Village and one of the few remaining independent booksellers in the region, thanks in large part to Scott's tenacious belief in the power of community.

"His personality is bigger than life," says Village of Millbrook/Town of Washington Historian David Greenwood. "He's an inclusive person."
---

Presentation recommends consolidating firehouses

Mase Hook & Ladder firehouse on Main Street.
-Photos by Kristine Coulter
By Kristine Coulter
A consulting firm has recommended that the City of Beacon Fire Department consolidate its three firehouses into one centrally located firehouse. TriData, a public safety-consulting firm whose headquarters are in Arlington, Virginia, did the study. TriData, which is a division of System Planning Corporation (SPC) and in association with Pachecho Ross Architects (PRA) conducted the study. The Beacon City Council heard a presentation on the study's findings at its Dec. 8 meeting. The City of Beacon Fire Department consists of career and volunteer firefighters.

TriData, according to its website, "is one of the nation's leading public safety consulting firms." TriData specializes in research analyses, and analyses, and management studies in fire protection and emergency medical services, prevention and preparedness, and homeland security.

It recommended that the one firehouse should have four bays.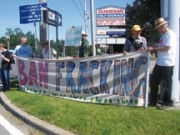 This free script provided by
JavaScript Kit
Wherever you live in Dutchess County, we cover school news, health and education features, seniors news, arts and entertainment activities, community calendar of events, municipal news, local business and organization profiles and press releases, legal notices and obituaries as well as local advertising.

FEATURE SUPPLEMENTS
& PUBLICATIONS
Preview back issues of Healthy Lifestyles in our annual archives.
Preview back issues of Home & Garden in our annual archives.
Preview back issues of Bon Appétit in our annual archives.
Preview back issues of Hudson Valley Business Journal in our annual archives.
---
Check out our special advertising offers including at our Media Kits page: Dutchess County Fair Supplements, Chef's Profile, Car of the Week.