Welcome to our
newspaper web site...


---

Great Give Back allows library patrons to contribute to their community

The Great Give Back, taking place Oct. 19, is a day for patrons of the Mid-Hudson Library System (MHLS) to participate in service-oriented events. Courtney Wimmers, Outreach and Engagement Specialist for the MHLS, and Executive Director for the MHLS Rebekkah Smith Aldrich, believe this is just one way to demonstrate that "Libraries Change Lives." - Photo by Anna Barton
By Anna Barton
For the first time state-wide, New York's libraries are giving back through the "Great Give Back" initiative this Saturday, Oct. 19.

"The mission of The Great Give Back is to provide a day of opportunities for the patrons of the Public Libraries of New York State to participate in meaningful, service-oriented experiences," states the Great Give Back website (www.greatgiveback.org).

Rebekkah Smith Aldrich, Executive Director for the Mid-Hudson Library System (MHLS), is excited that the libraries have taken on these collective impact projects. One of the greatest missions of libraries, she said, is to "connect people to do good works."
---

McCord family farm grows with Sheep & Wool Festival
39th annual event set on weekend at DC Fairgrounds

Upper Red Hook sheep farmer Bruce McCord is in the pen with two sheep from his Ewe'll Wonder Farm and his grandchildren Evan and Haley McCord. Photo by Curtis Schmidt
by Curtis Schmidt
For the McCord family of Upper Red Hook, sheep farming began when Karen and Bruce bought a Suffolk ewe at the very first New York State Sheep & Wool Festival in 1980.
---

Car show to give Beacon' Main St. 'nostalgic feel' Sunday

Poughkeepsie resident Ray Schrader sits in his 1967 Dodge in Beacon. - Archive photo by Kristine Coulter
By Kristine Coulter
The Dutchess Cruisers and Beacon Chamber Car Show will take place Sunday, Oct. 20 on Main St. in Beacon. Registration begins at 9 a.m. The show goes until 4 p.m. Main St. will be closed from Teller Ave. to Willow St. starting at around 8 a.m. The rain date is Oct. 27.The show is put on by the Beacon Chamber of Commerce and the Dutchess Cruisers Car Club.

"Last year there were at least 5,000 people," said Carl Oken, president of the Beacon Chamber.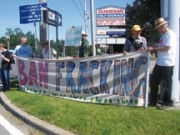 This free script provided by
JavaScript Kit
Wherever you live in Dutchess County, we cover school news, health and education features, seniors news, arts and entertainment activities, community calendar of events, municipal news, local business and organization profiles and press releases, legal notices and obituaries as well as local advertising.

FEATURE SUPPLEMENTS
& PUBLICATIONS
Preview back issues of Healthy Lifestyles in our annual archives.
Preview back issues of Home & Garden in our annual archives.
Preview back issues of Bon Appétit in our annual archives.
Preview back issues of Hudson Valley Business Journal in our annual archives.
---
Check out our special advertising offers including at our Media Kits page: Dutchess County Fair Supplements, Chef's Profile, Car of the Week.