Welcome to our
newspaper web site...


---

'There's mutual respect for each other'
Couple celebrates more than 50 years of marriage

The Jemptys, of Fishkill, will celebrate their 54th anniversary on Sept. 7. - Photo by Kristine Coulter
By Kristine Coulter
Robert and Carolyn Jempty have been married for more than 53 years.

"We met at a beach club," recalled Carol. The beach club was in the Throggs Neck section of the Bronx.

Carol and Bob met when they were in their 20s.

Asked what they thought about each other the first time they laid eyes on each other, Bob replied, "When you just see somebody and you say 'Wow.'"

Carol replied, "I thought he was good looking."

Bob was working for the New York Police Department. He would retire after 23 years on the force.

"That didn't bother me," said Carol about her husband's dangerous job.
---

VALENTINE'S DAY LOVE STORIES
Couple celebrates 58 years after first-date heartbreak

Elizabeth and Maurice Gaulin of Hyde Park say giving 100 percent of themselves and listening to each other are the keys to their long marriage. Photo by Curtis Schmidt
by Curtis Schmidt
Maurice Gaulin almost blew it. But he came back and saved the relationship in gallant style. It just took a little while.

Elizabeth and Maurice, who live in Hyde Park, have been married for 58 years and are looking forward to another Valentine's Day. The two met on a blind date, but it's not what you're thinking.

Elizabeth tells the story. "I was working at a bank in North Tarrytown and was friends with a fellow. We were going out to eat and he asked if I could help find a date for his friend, Maurice. I asked one of my friends named Peggy and she agreed.
---

Former ice dancer recalls Olympic games

Michael Seibert
By Goldee Greene
Staff Writer/Arts & Entertainment
Beaconites mesmerized by crystalline swirls and glides of skaters at the 2018 Winter Olympics, held in Pyeongchang, South Korea, can take pride in knowing that an Olympian ice dancer has moved to Beacon.

Michael Seibert was on the 1980 U.S. team that won 7th place, at Lake Placid. This was followed up by a 4th place victory, in 1984, at Sarajevo.

Subsequently, he received kudos as choreographer and director for "Stars on Ice," over eleven years. He has been affiliated with "too many TV shows to name," including five Disney variety shows.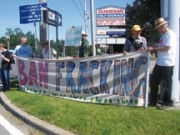 This free script provided by
JavaScript Kit
Wherever you live in Dutchess County, we cover school news, health and education features, seniors news, arts and entertainment activities, community calendar of events, municipal news, local business and organization profiles and press releases, legal notices and obituaries as well as local advertising.

FEATURE SUPPLEMENTS
& PUBLICATIONS
Preview back issues of Healthy Lifestyles in our annual archives.
Preview back issues of Home & Garden in our annual archives.
Preview back issues of Bon Appétit in our annual archives.
Preview back issues of Hudson Valley Business Journal in our annual archives.
---
Check out our special advertising offers including at our Media Kits page: Dutchess County Fair Supplements, Chef's Profile, Car of the Week.