Welcome to our
newspaper web site...


---

American hero of Wappingers Falls honored on Saturday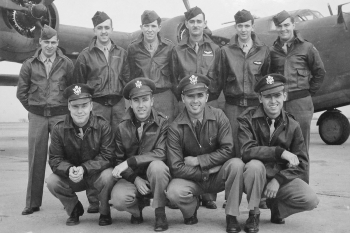 Members of the "Heaven Can Wait" crew during training in the U.S. in 1943. Staff Sgt. Eugene Darrigan is standing second from the right. - Photo courtesy of USAAF, Darrigan family
By Anna Barton
Wappingers Falls grieved in March of 1944 when the United States B-24 Bomber, "Heaven Can Wait," was struck by Japanese fire during a mission over New Guinea. "Heaven Can Wait" held Air Force Staff Sergeant Eugene Darrigan of Wappingers Falls, making the 26-year-old the first Wappingers Falls resident killed in action during World War II.

Darrigan was raised in Wappingers Falls, and graduated from Wappingers High School where he had been an avid track runner. He attended St. Mary's Parish in Wappingers Falls, worked in the textile industry in the village and served at W.T. Garner Engine Company.
---

Historic South Barn rises to meet future at Southlands

Standing in front of the newly restored South Barn at the Southlands Foundation are, from left, Nancy Strohsahl, spear head of the project and former president of the Board of Directors; Eve D'Ambra, current board president; Elise Quasebarth, board vice president; and Allison King, executive director. Photo by Curtis Schmidt
by Curtis Schmidt
An iconic Hudson Valley landmark on Route 9 near Rhinebeck is looking much more like its former self these days – but with several improvements.
---

Stony Kill Foundation hosts its annual Country Fair on Saturday, Sept. 22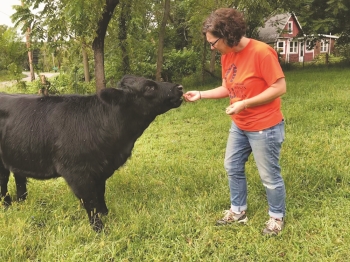 Stacey Adnams, Stony Kill Farm Program Director, feeds 11-month-old "Lulu." - Photo by Kristine Coulter
By Kristine Coulter
The Stony Kill Foundation will host its annual Country Fair on Saturday, Sept. 22, from 11 a.m. to 3 p.m. at Stony Kill Farm Environmental Education Center, 79 Farmstead Lane, Wappingers Falls.

"We're having the Blumberg come this year," remarked Stacey Adnams, Program Director Stony Kill Farm. They will have a team of oxen and draft horses.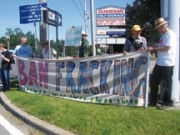 This free script provided by
JavaScript Kit
Wherever you live in Dutchess County, we cover school news, health and education features, seniors news, arts and entertainment activities, community calendar of events, municipal news, local business and organization profiles and press releases, legal notices and obituaries as well as local advertising.

FEATURE SUPPLEMENTS
& PUBLICATIONS
Preview back issues of Healthy Lifestyles in our annual archives.
Preview back issues of Home & Garden in our annual archives.
Preview back issues of Bon Appétit in our annual archives.
Preview back issues of Hudson Valley Business Journal in our annual archives.
---
Check out our special advertising offers including at our Media Kits page: Dutchess County Fair Supplements, Chef's Profile, Car of the Week.