Welcome to our
newspaper web site...


---

Historic library needs touch-up
Funds from Gala at Grinnell will go toward exterior renovations

Wappingers Falls' Grinnell Library is in need of some repairs, according to Executive Director Laura Stein. - Photo by Curtis Schmidt
By Ray Fashona
Grinnell may be the most distinctive library in Dutchess County (folks in Red Hook would probably dispute that with their octagonal library).

Built in 1887 with funding from the wealthy Irving Grinnell, the library resembles a Swiss chalet. In fact, the tower of the building is modeled after one Grinnell saw while visiting Battenberg, Switzerland. The second story resembles buildings Grinnell admired in Chester, England.

Anyone who has seen the library won't soon forget it.

The building, however, is in need of some exterior repairs, according to library Executive Director Laura Stein. That's where the proceeds from Saturday's annual Gala at Grinnell will be spent, Stein said.

The library's outside needs painting and the bricks repointed, she said.

Cost to attend the gala is $30 in advance, $35 at the door. The event will feature music by guitarist Jeff Armstrong and a performance by the County Players' Marvelous Wonderettes, as well as food by Simply Gourmet and My Brother Bobby's Salsa.
---

Red Hook rocks!
Vibrant village set for 37th Hardscrabble Day

Frank Campagna smiles as he checks out his handiwork: Minions from the movie "Despicable Me." The characters, who are always trying to be helpful, are the centerpiece of the Friends of the Red Hook Public Library float for the Hardscrabble Day parade. Campagna and his wife, Loretta, have been building the floats for 10 years. Photo by Curtis Schmidt
by jim donick
Red Hook's annual Hardscrabble Day celebration is coming up this weekend and promises a full day of activities and pleasures, ending with world-class rock and roll into the night. The whole community comes together for celebrating the heritage of the hardworking and long-suffering folks who overcame poverty and great difficulty to build the area over its first couple of hundred years.
---

Walk, or run, to make a difference

Jessica Salomon, seen here with her husband Jesse and sons Justin, left, and Jayden, is organizing the Hope & Heroes Walk for Sickle Cell Disease Awareness walk at Long Dock Park in Beacon on Saturday, September 20.
By Kristine Coulter
There will be a couple of chances to help raise money for worthy causes by walking or running in Beacon this month. The first walk, which is to help get the word out about sickle cell disease, is on Saturday, Sept. 20 at Long Dock Park. The other walk/run, scheduled for Sunday, Sept. 28, called "I Run Beacon 5K," will help raise money for a local student to receive a scholarship. That walk takes place at Memorial Park, off of Route 52, in Beacon.

Jessica Salomon is organizing the "Hope & Heroes" Walk for Sickle Cell Disease Awareness. Her 11-year-old son Jayden was born with sickle cell. Jessica Salomon and her husband Jesse Salomon said they did not know what sickle cell was when their son was born with it.

Sickle cell disease is when the body makes sickle cell, or crescent shaped, red blood cells.

Jayden was cured from sickle cell when his younger brother, Justin, donated bone marrow, a few years ago. The money raised from the 3-mile walk, said Jessica Salomon, will go to Columbia University Medical Center.

Jayden said the walk is being held, "to tell people about sickle cell."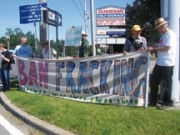 This free script provided by
JavaScript Kit
Wherever you live in Dutchess County, we cover school news, health and education features, seniors news, arts and entertainment activities, community calendar of events, municipal news, local business and organization profiles and press releases, legal notices and obituaries as well as local advertising.

FEATURE SUPPLEMENTS
& PUBLICATIONS
Preview back issues of Healthy Lifestyles in our annual archives.
Preview back issues of Home & Garden in our annual archives.
Preview back issues of Bon Appétit in our annual archives.
Preview back issues of Hudson Valley Business Journal in our annual archives.
---
Check out our special advertising offers including at our Media Kits page: Dutchess County Fair Supplements, Chef's Profile, Car of the Week.