Welcome to our
newspaper web site...


---

Small Business Saturday:
Wappingers Falls flower shop links generations

Theresa Morgan, left, and Rosemary LaSusa pose beside two of their arrangements. - Photo by Curtis Schmidt
By Ray Fashona
Rosemary LaSusa, owner of Rosemary Flower Shop in Wappingers Falls, is a third generation florist who has been around the business her entire life.

Her grandfather started and ran Ruggiero's Florist in Poughkeepsie, an operation that included greenhouses in which he grew his own plants and flowers.

Rosemary's parents opened the flower shop at the top of West Main Street in the village in 1949. Theresa Morgan, Rosemary's 91-year-old mother, is still a part of the business, acting as the shop's floral designer.
---

Love for community drives Cady family at Masten Feed

Pam Cady uses an antique hand cart that has been used at G.E Masten Feed Store in Pleasant Valley for more than 100 years. The hand cart is included in the painting of the store in the late 1800s by Vincent Porter. Photos by Curtis Schmidt
by Curtis Schmidt
Knowing their customers extremely well is a way of life for co-owners Matt and Pam Cady and their family of G.E. Masten Feed Store Inc. in Pleasant Valley.

For Pam, who has been at the store for 37 years, it culminates with the love of "seeing kids that I've known since they were two weeks old. Then I've seen them in high school and college and then see them with their own kids. That's the fun part."

Building relationships may be a key part of the business, but for the Cadys, it is also exceptionally genuine. They love being part of the community.
---

Small Business Saturday:
Batt's Florist thrives on customer service

Carole Cappillino owns Batt's Florist on Eliza St. in Beacon. Small Business Saturday® is Saturday, Nov. 25. - Photo by Kristine Coulter
By Kristine Coulter
Small Business Saturday® is Saturday, Nov. 25. One small business that thrives on excellent customer service is Batt's Florist at 4 Eliza Street in Beacon.

"To me this is a happy place to come. We try to create what they want," said Carole Cappillino. She has owned Batt's for eight years.

"This one was just vacant. My husband said I should look into that," explained Cappillino, who has owned a flower shop in Poughkeepsie for 30 years.

"I just love flowers. I love creating arrangements. It's so awesome" she said. "Every customer, every arrangement is different."

The flower case at Batt's is the focal point.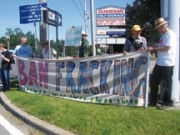 This free script provided by
JavaScript Kit
Wherever you live in Dutchess County, we cover school news, health and education features, seniors news, arts and entertainment activities, community calendar of events, municipal news, local business and organization profiles and press releases, legal notices and obituaries as well as local advertising.

FEATURE SUPPLEMENTS
& PUBLICATIONS
Preview back issues of Healthy Lifestyles in our annual archives.
Preview back issues of Home & Garden in our annual archives.
Preview back issues of Bon Appétit in our annual archives.
Preview back issues of Hudson Valley Business Journal in our annual archives.
---
Check out our special advertising offers including at our Media Kits page: Dutchess County Fair Supplements, Chef's Profile, Car of the Week.