Welcome to our
newspaper web site...


---

Hail the canine athlete
Local dog to compete again for Westminster agility title

Murphy emerges from a tunnel that is part of his training course.
- Photo by Curtis Schmidt
By Ray Fashona
Murphy is a friendly, good-natured, well-behaved dog any animal lover would be happy to own.

This Chesapeake Bay retriever is also a world-class athlete at the advanced age of 11 (that's 77 in dog years, right?). He will be competing again in the most prestigious dog show in America this weekend when he vies for the Masters Agility championship at the Westminster extravaganza in New York City on Saturday.

Murphy's owners, Jill and Rob Conroy of Wappinger, said their dog is not just another pretty face. He's got skills.
"We never felt we could enter him as a show dog because he's got a bad bite," Jill said. That means his teeth don't line up perfectly for his breed.
Read more of these community stories here
---

VALENTINE'S DAY 2016
Laughing & loving helped Aierstoks overcome obstacles

Dr. William Aierstok and his wife, Nancy, share a laugh outside the conference center named in his honor at The Baptist Home in Rhinebeck. Photo by Curtis Schmidt
Editors Note: As has become our tradition, we present one or more couples married more than 55 years to celebrate Valentine's Day.
by Curtis Schmidt
He tricked her with a practical joke when they met for the first time. Her mother said he was too old for her and did not trust him. And they spent the first year of marriage separated by an ocean. But Nancy and Dr. William Aierstok of Red Hook made a loving commitment to each other on July 1, 1961, and today they are looking forward to their 55th Valentine's Day together.
---

Valentine's Day Dance coming to Howland Center

A Valentine's Day Dance will be held at the Howland Cultural Center on Feb. 13. Pictured is one of the previous dances.
- Courtesy photo
By Goldee Greene
Staff Writer/Arts & Entertainment
As the late David Bowie would proclaim, "Come on Beacon, Let's Dance!" The monthly event will have a Valentine theme this Saturday, February 13, at the Howland Cultural Center. The event with both live and DJ music takes place from 8-11:30 p.m. at the HCC, at 477 Main Street, with a $10 cover.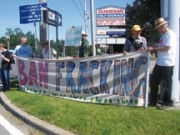 This free script provided by
JavaScript Kit
Wherever you live in Dutchess County, we cover school news, health and education features, seniors news, arts and entertainment activities, community calendar of events, municipal news, local business and organization profiles and press releases, legal notices and obituaries as well as local advertising.

FEATURE SUPPLEMENTS
& PUBLICATIONS
Preview back issues of Healthy Lifestyles in our annual archives.
Preview back issues of Home & Garden in our annual archives.
Preview back issues of Bon Appétit in our annual archives.
Preview back issues of Hudson Valley Business Journal in our annual archives.
---
Check out our special advertising offers including at our Media Kits page: Dutchess County Fair Supplements, Chef's Profile, Car of the Week.