Welcome to our
newspaper web site...


---

History aboard the Missouri
Wappingers resident to be honored at Yankee Stadium

Wappingers Falls resident John Costello holds a series of photos he sent home to his mother from his time on the USS Missouri.
- Photo by Ray Fashona
By Ray Fashona
John Costello of Wappingers Falls will be on the field at Yankee Stadium May 27 to be honored during the seventh-inning stretch, when "God Bless America" is traditionally played and a service veteran is recognized.

As historic a moment as that may be in Costello's life, he was present for one of the most historic moments in 20th-century history – the signing of the Japanese surrender papers aboard the USS Missouri that ended World War II.

Costello signed up for the Navy at 18 and within months had finished training and was aboard the Missouri. The ship was considered one of the super battleships, he said, along with the Iowa, the New Jersey and the Wisconsin.
---

Young writers will shine at 2015 Literary Festival

Millbrook High School sophomores Conner Latimer, left, and Jacob Wright show off their poems in chalk on the sidewalks at the high school. Several students in the classes of Maureen Ackerman will be presenting works in the Young Writers Showcase of the Millbrook Literary Festival on Saturday, May 30. Photo by Curtis Schmidt
by Curtis Schmidt
Illustrating the adventure and many varied opportunities that await writers – that's the goal of the Young Writers Showcase, conducted annually in connection with the Millbrook Literary Festival.

This year's festival, set Saturday, May 30, with activities at various locations in the Village of Millbrook, brings writers and readers together for a day full of presentations, panel discussions and, of course, book sales with authors giving autographs.

The Young Writers Showcase gives aspiring young people, ages 6-17, the opportunity to read their works and actually have them published. The readings, titled "Authors of Today and Tomorrow," will take place at 11 a.m. in the Children's Room of the Millbrook Free Library. Michael Sedgwick of the Fountain Press of Millbrook publishes the works of the young writers in book form.
---

Vassar Hospital plans $466 million project

This rendering of Vassar Hospital's planned inpatient pavilion shows a sparkling new state-of-the-art facility
By Ray Fashona
POUGHKEEPSIE – Vassar Brothers Medical Center plans to build a $466 million inpatient pavilion that, according to renderings, looks like a luxury hotel in Dubai.

Health Quest's flagship hospital unveiled its ambitious project at a press conference last week. Besides hospital officials, County Executive Marcus Molinaro and Poughkeepsie Mayor John Tkazyik were on hand.

All adult rooms in the 696,000-square-foot, seven-level building will be single-bed rooms. That includes 264 medical/surgical rooms and 30 critical care rooms.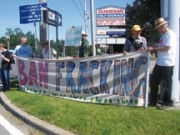 This free script provided by
JavaScript Kit
Wherever you live in Dutchess County, we cover school news, health and education features, seniors news, arts and entertainment activities, community calendar of events, municipal news, local business and organization profiles and press releases, legal notices and obituaries as well as local advertising.

FEATURE SUPPLEMENTS
& PUBLICATIONS
Preview back issues of Healthy Lifestyles in our annual archives.
Preview back issues of Home & Garden in our annual archives.
Preview back issues of Bon Appétit in our annual archives.
Preview back issues of Hudson Valley Business Journal in our annual archives.
---
Check out our special advertising offers including at our Media Kits page: Dutchess County Fair Supplements, Chef's Profile, Car of the Week.