Welcome to our
newspaper web site...


---

Seeking racial harmony
As tensions boil over nationwide, Dutchess is not immune
By Ray Fashona
The issue of race relations is not something that can be digested in one big bite. It is too complex, too multi-faceted. At best, we can nibble away at the edges until, eventually, we hopefully get to the core.

In talking to a wide variety of people for this story, one thing became quite clear – everyone agrees more dialog is needed to even begin to understand the problem, let alone solve it.

There is no need to rehash here the wave of violence that has swept the country recently, much of it between police and black citizens. Racial tensions nationwide are reminiscent of the late 1960s, when violence was rampant and cities burned.

Attempting to take the racial temperature of Dutchess County is no easy task. Everyone has a story, both law enforcement and ethnic groups who say they have been pushed to the limit.
ead more of these community stories here
---

Stanfordville paralympic rider to compete for U.S. in Rio

Paralympic equestrian Sydney Collier rides "Western Rose" (Rosie) in the ring at the Woodstock Stables near Millbrook. She will compete for the U.S. at the Paralympic Games in Rio De Janeiro, Brazil in September. Photo by Curtis Schmidt
by Jan Larraine Cox
A stellar teen athlete is training in our midst. Bright light Sydney Collier of Stanfordville has conquered great odds to head to Rio in September, competing for the Gold in the Paralympic Dressage category.
She was diagnosed with extremely rare Wyburn-Mason syndrome at the age of seven through a routine visit to an ophthalmologist's office in her hometown of Ann Arbor, MI. The doctor informed Syd's mother, Anna, that something was very unusual behind Syd's eyes. And in fact, fewer than 100 individuals worldwide have this condition. Syd dealt with the syndrome and continued on in school while growing her love of horseback riding until 2009.
---

Cool off in the pool

The Beacon Community Pool is now open at University Settlement. - Courtesy photo by Heidi Harrison
By Goldee Greene
Staff Writer/Arts & Entertainment
The Beacon Community Pool is now in full 'swim' seven days a week at University Settlement Camp. Open till Labor Day, it is located at 724 Wolcott Avenue (Route 9D). Approximately 100-200 swimmers and splashers a day are cooling off in the blue waters of the 140 by 50 foot pool, which has depths ranging from two to eight feet. The City of Beacon has employed sixteen lifeguards as seasonals, with three to four on duty at any given time.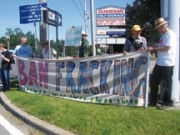 This free script provided by
JavaScript Kit
Wherever you live in Dutchess County, we cover school news, health and education features, seniors news, arts and entertainment activities, community calendar of events, municipal news, local business and organization profiles and press releases, legal notices and obituaries as well as local advertising.

FEATURE SUPPLEMENTS
& PUBLICATIONS
Preview back issues of Healthy Lifestyles in our annual archives.
Preview back issues of Home & Garden in our annual archives.
Preview back issues of Bon Appétit in our annual archives.
Preview back issues of Hudson Valley Business Journal in our annual archives.
---
Check out our special advertising offers including at our Media Kits page: Dutchess County Fair Supplements, Chef's Profile, Car of the Week.