Welcome to our
newspaper web site...


---

Surviving Vietnam
Wappingers Falls veteran insists he's not a hero

Tony Siconolfi stands beside the sign announcing the POW/MIA Park in Wappingers Falls. - Photo by Ray Fashona
By Ray Fashona
Tony Siconolfi of Wappingers Falls is a decorated veteran from the Vietnam War.

He doesn't consider himself a hero, though. In fact, he makes it very clear that he does not want to be portrayed as a hero.

In the true spirit of Memorial Day he said, "The real war heroes are the MIAs and the guys at Castle Point and Montrose (veterans hospitals) and the ones who didn't come back."
ead more of these community stories here
---

Overseas memorials honor soldiers from 'The Great War'

Many American soldiers who lost their lives in World War I are buried in the Aisne-Marne Cemetery in France, one of 25 cemeteries around the world maintained by the American Battle Monuments Commission. Photo by jim donick
by jim donick
They called it "The Great War" or, more optimistically, "The War to End All Wars." It was only after we became embroiled in another one that it simply became known as "World War I."

In Europe today--especially in the Champagne region and along the slopes of the Chemin des Dames, France, where so much of the butchery took place--they still call it "The Great War."

Memorial Day had actually begun after the American Civil War, but was pretty much confined to North America. World War I changed it entirely. This was the very first conflict where so many young Americans were called up and sent away to a foreign land to help protect the ideals that had formed our country.
---

Fuller marker unveiled

The Margaret Fuller historic marker was unveiled in Polhill Park on Saturday, May 21. - Photo by Kristine Coulter
By Kristine Coulter
In Polhill Park, an historic marker was dedicated to Margaret Fuller. Fuller resided, for a few weeks, in what was then known as Fishkill Landing. Fuller was a women's rights activist. She wrote what is called America's first Feminist work, "Woman in the Nineteenth Century," which is said to have inspired the Women's Rights Convention in Seneca Falls.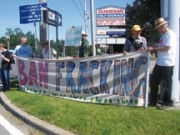 This free script provided by
JavaScript Kit
Wherever you live in Dutchess County, we cover school news, health and education features, seniors news, arts and entertainment activities, community calendar of events, municipal news, local business and organization profiles and press releases, legal notices and obituaries as well as local advertising.

FEATURE SUPPLEMENTS
& PUBLICATIONS
Preview back issues of Healthy Lifestyles in our annual archives.
Preview back issues of Home & Garden in our annual archives.
Preview back issues of Bon Appétit in our annual archives.
Preview back issues of Hudson Valley Business Journal in our annual archives.
---
Check out our special advertising offers including at our Media Kits page: Dutchess County Fair Supplements, Chef's Profile, Car of the Week.