Welcome to our
newspaper web site...


---

Elder care crisis on the way
Report: region's health-care systems unprepared for glut of baby boomers

Amy Flanagan, a senior nursing student at Mount St. Mary College in Newburgh, provides medication instruction for Frank Davis. - Photo by Curtis Schmidt
By Ray Fashona
NEWBURGH – The Hudson Valley is not prepared for the surge in the elderly population headed its way in the next 25 years.

That's the conclusion of a 92-page report issued last week by Pattern for Progress, the not-for-profit policy and planning organization. The nine counties in its study area must gear up for aging baby boomers who will tax the health-care system, said March Gallagher, chief strategy officer for Pattern.

"With baby boomers aging, we needed to look at the services available," said Jonathan Drapkin, president and CEO of the organization.

The report was compiled by a 17-member panel headed by Dr. Daniel Aronzon, former CEO of Vassar Medical Center in Poughkeepsie.

Baby boomers, who comprise a population bulge of people born between the late 1940s and early 1960s, are aging into the time of life when long-term care will be a consideration. More skilled nursing home beds will be needed, the report states, and more attention paid to home care.
---

'Horse crazy' Amenia rider set for Millbrook Trials

Barbara "Booli" Selmayr, who works and trains at Fox Race Farm in Amenia, is one of the top competitors in the Advanced division of the upcoming Millbrook Horse Trials. Above, Selmayr is absorbed in her task as she plans ahead aboard Kennedy, a 13-year-old Irish sport horse. Photo by Curtis Schmidt
by jim donick
One of the great delights of the Hudson Valley is all the open countryside and farmland that can be enjoyed by hikers and by horseback riders as well as others. So much natural beauty that is only an hour-and-a-half or so from Times Square truly makes Dutchess County unique.

The weekend of July 31-Aug. 3 brings the 14th annual Millbrook Horse Trials (MHT) to the valley. The event offers riders a chance to get up close with the countryside and spectators a chance to see top riders on outstanding horses racing cross-country through the fields, jumping fences, brush and even water obstacles. Normally the public only sees a spectacle like this when watching the Olympics on TV every four years.

The event is being held at Coole Park Farm in Millbrook. This year for the first time the event will offer $25,000 in prize money to upper-level riders.
---

Many show love for Pete & Toshi

Jazz legend David Amram joined the Circle of Song on clarinet at the Beacon Sloop Club on Saturday. The event was part of Seeger Fest musical tribute to the late Pete and Toshi Seeger, held July 17-21.
By Goldee Greene, Staff Writer/Arts & Entertainment
Festive, free-of-charge Seeger Fest events ran from July 17 through the 21 to honor the memory of the late Pete and Toshi Seeger with music, spoken word, dance and many friends' remembrances.

Concerts took place at Central Park and Lincoln Center, as well as other happenings such as square dancing in Ulster County and boat rowing in the Bronx. The festival was organized by the Seeger's daughter, Tinya Seeger, and grandson Kitama Cahill Jackson – boosted by a legion of volunteers, food donors and contributors.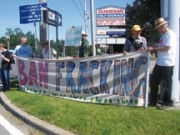 This free script provided by
JavaScript Kit
Wherever you live in Dutchess County, we cover school news, health and education features, seniors news, arts and entertainment activities, community calendar of events, municipal news, local business and organization profiles and press releases, legal notices and obituaries as well as local advertising.

FEATURE SUPPLEMENTS
& PUBLICATIONS
Preview back issues of Healthy Lifestyles in our annual archives.
Preview back issues of Home & Garden in our annual archives.
Preview back issues of Bon Appétit in our annual archives.
Preview back issues of Hudson Valley Business Journal in our annual archives.
---
Check out our special advertising offers including at our Media Kits page: Dutchess County Fair Supplements, Chef's Profile, Car of the Week.