Welcome to our
newspaper web site...


---

Explore the exploration vessels
Detailed replicas of Columbus' ships to dock in Newburgh

Replicas of the Nina and the Pinta will pull into Newburgh's waterfront this weekend. Tours of the ships will be offered.
- Courtesy photo
By Ray Fashona
NEWBURGH – Imagine sailing uncharted seas more 500 years ago, making a voyage fraught with danger – both known and unknown.

Visitors can get a small taste of what it might have been like when two replica ships, the Nina and the Pinta, pull into Newburgh's waterfront this weekend. Tours of the ships, as historically correct as if Columbus was still leading them to the New World, will be offered July 18-20 from 9 a.m. to 6 p.m.

Stephen Sanger, who has captained the Nina for six years, said the ships, built by the Columbus Foundation, are really floating museums. The Nina, he noted, was built entirely without power tools. Before a board was planed or a nail driven, three years of research went into making the ship as historically accurate as possible, Sanger said.
---

Vintage love:
Hyde Park set for car show

Dutchess Cruisers members Tony Lupparelli, Charlie Evans, George Golden and Rick Wood admire the full race 250 cubic inch six banger in Wood's 1961 Comet, while preparing for the upcoming Hyde Park Chamber of Commerce Car Show and Street Fair. Wood's car was built around the availability of this particular engine, which came via the legendary Jack Clifford racing shop in Wildomar, California. Photo by Curtis Schmidt
by jim donick
Hyde Park's annual Chamber of Commerce Car Show and Street Fair will be turning the town into one large block party on Sunday, July 20. The event is set from 10 a.m. to 4 p.m. the old Stop and Shop parking lot at the intersection of Route 9 and the Dutchess County Veterans Memorial Highway.

Well over 200 vintage cars will be descending on the village as the centerpiece of this annual fund-raiser for the Hyde Park Chamber of Commerce. It will help to fund everything from holiday decorations in the winter to the various banners that line the streets year 'round and many other ongoing programs that feed the spirit of Hyde Park.
---

Tribute to Peter & Toshi
Seegerfest features five days of free events to honor couple

Pete and Toshi Seeger were married for nearly 70 years. She was said to be the engine that aided him in much of his success.
- Photo courtesy Econosmith.com
By Goldee Greene, Staff Writer/Arts & Entertainment
SeegerFest, five days of free music, dance, film, river rides, and boat rowing, will take take place in the Hudson Valley and New York City to honor the memory of Pete and Toshi Seeger. The festival will take place from Thursday, July 17 to Monday, July 21.

Venues range from the Beacon Sloop Club, Ashokan Center in the Woodstock area and Bardavon Opera House in Poughkeepsie, to Lincoln Center's Damrosch Park, SummerStage in Central Park and the Bronx.

Artists include Judy Collins, Peter Yarrow of Peter Paul and Mary, Holly Near, Steve Earle, David Amram, Roland Moussaa, Guy Davis, Hudson Valley Sloop Singers, Paul Winter Consort and hip-hop DJ Kool Herc.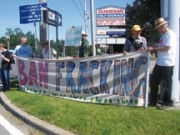 This free script provided by
JavaScript Kit
Wherever you live in Dutchess County, we cover school news, health and education features, seniors news, arts and entertainment activities, community calendar of events, municipal news, local business and organization profiles and press releases, legal notices and obituaries as well as local advertising.

FEATURE SUPPLEMENTS
& PUBLICATIONS
Preview back issues of Healthy Lifestyles in our annual archives.
Preview back issues of Home & Garden in our annual archives.
Preview back issues of Bon Appétit in our annual archives.
Preview back issues of Hudson Valley Business Journal in our annual archives.
---
Check out our special advertising offers including at our Media Kits page: Dutchess County Fair Supplements, Chef's Profile, Car of the Week.