Welcome to our
newspaper web site...


---

Library Gala has kids in mind
Money raised will go to sprucing up Children's Room

Sisters Roslyn and Sophie Zang, left, and Eleanor Huang enjoy reading in the children's area at Grinnell. - Photo by Curtis Schmidt
By Ray Fashona
Experts agree: Creating the right environment inspires reading, especially in children.

"A little bit of creativity and vision can go a very long way," according to the National Literacy Trust. "Above all, the library should be exciting and feel different from the classroom."

Local folks have a chance to spur on young readers – and have fun at the same time – at Grinnell Library's annual fundraising Gala on Sept. 17.

The Wappingers Falls library is known for throwing a good party (what library isn't?) and funds raised go to a good cause – improving the Children's Room at Grinnell. The Gala is put on by Friends of Grinnell Library.
Read more of these community stories here
---

4-H kids, parents, farmers all admire smiling 'Doc Hart'

Dr. Douglas Hart, (a.k.a. "Fair Vet") left, holds the halter of the Supreme Junior Champion of the Open Show at the 2015 Dutchess County Fair. Also pictured are longtime friends and farmers Elizabeth and Tim Coon and their grandson, Joshua Finley. Photo by Curtis Schmidt
by Curtis Schmidt
For longtime 4-H volunteer leader Trish Nelson, it's been one of her most cherished Dutchess County Fair memories dating back to the 1970s. It has been the repeated announcements over the loudspeaker system: "Doc Hart to the dairy barn" or just about any other location with farm animals.
---

Opponents speak out against U.S. Coast Guard anchorage proposal

Kayakers paddle on the Hudson River on Friday, Aug. 19.
By Kristine Coulter
Community groups, local and state officials gathered for a press conference concerning the U.S. Coast Guard's proposal to establish new anchorages in the Hudson River. The press conference took place on Friday, Aug. 19 at Long Dock Park in Beacon.

Assemblyman Frank Skartados, (D-Milton), stated that Long Dock Park is "a beautiful place in the City of Beacon."

He said he was there "in support of our mighty Hudson River."

"Our purpose here today is to publicly oppose the anchoring grounds," remarked the assemblyman.

According to officials, earlier this year the U.S. Coast Guard announced it was soliciting comments and concerns from the public in an Advance Notice of Public Rulemaking on a proposal. That proposal is to establish a large number of anchorage grounds for commercial vessels in the Hudson. It would be 43 berths, according to officials, at locations stretching from Yonkers to Kingston.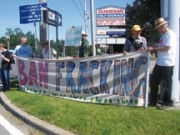 This free script provided by
JavaScript Kit
Wherever you live in Dutchess County, we cover school news, health and education features, seniors news, arts and entertainment activities, community calendar of events, municipal news, local business and organization profiles and press releases, legal notices and obituaries as well as local advertising.

FEATURE SUPPLEMENTS
& PUBLICATIONS
Preview back issues of Healthy Lifestyles in our annual archives.
Preview back issues of Home & Garden in our annual archives.
Preview back issues of Bon Appétit in our annual archives.
Preview back issues of Hudson Valley Business Journal in our annual archives.
---
Check out our special advertising offers including at our Media Kits page: Dutchess County Fair Supplements, Chef's Profile, Car of the Week.