Welcome to our
newspaper web site...


---

Sharing Hope
Breast cancer group marks Awareness Month

Miles of Hope founders Cathy Varunok, from left, Pary Forood and Dana Effron. - Courtesy photo
By Ray Fashona
Pary Forood loves her job as executive director of the Miles of Hope Breast Cancer Foundation. To explain why, she quotes from "a lovely letter" she recently received from a woman named Dara, who was helped by Miles of Hope.

"Your financial assistance not only paid the bills, it gave me the will to continue my treatments," Forood paraphrased the letter. "That's the kind of thing that makes it worthwhile."
October is Breast Cancer Awareness Month, and Miles of Hope is a shining star in the fight against the disease.
---

New Roosevelt Station 3 dedication ceremony set Oct. 10

The newly constructed Roosevelt 3 Firehouse on Route 9G in Hyde Park will welcome local officials and the community during a dedication service this Saturday, beginning at 11 a.m. - Photo by Curtis Schmidt
by Bob Kampf
HYDE PARK--On Saturday, Oct. 10, at 11 a.m., the members of the Roosevelt Fire District's Station 3 will show their appreciation to the local community as dedication ceremonies are conducted at the Route 9G site of their newly constructed headquarters. Following opening speeches and invocation, the station will host an open house for the public to view the entire interior and exterior of the new building.
---

Beacon Kids host 'Let's Eat!'

Beacon student enjoys healthy meal made from local produce at a recent Hudson Valley Seed event. - Courtesy photo
by Goldee Greene, Staff Writer/Arts & Entertainment
A dishy collaboration between educational nonprofit Hudson Valley Seed and the Beacon Bite translates into "Let's Eat!"

This healthy community dinner takes place on Tuesday, October 13, from 7-10 p.m. Rain date is Tuesday, October 20. The venue is the Beacon Bite, at 416 Main Street.

Launched by Hudson Valley Seed, the three-course dinner will be prepped by twenty-one Beacon City School District students under the guidance of Beacon Bite chef and co-owner Josh Venne.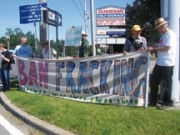 This free script provided by
JavaScript Kit
Wherever you live in Dutchess County, we cover school news, health and education features, seniors news, arts and entertainment activities, community calendar of events, municipal news, local business and organization profiles and press releases, legal notices and obituaries as well as local advertising.

FEATURE SUPPLEMENTS
& PUBLICATIONS
Preview back issues of Healthy Lifestyles in our annual archives.
Preview back issues of Home & Garden in our annual archives.
Preview back issues of Bon Appétit in our annual archives.
Preview back issues of Hudson Valley Business Journal in our annual archives.
---
Check out our special advertising offers including at our Media Kits page: Dutchess County Fair Supplements, Chef's Profile, Car of the Week.