Welcome to our
newspaper web site...


---

Firefly Feast to light up night
Food, music to benefit Common Ground Farm

Common Ground Farm will host its annual Firefly Feast on Saturday, August 1. Shown at the farm, from left are, Erika Brenner, Farmer Apprentice, Tim Gonzales, Volunteer, Paul Ellis, Common Ground Farm Board of Directors, Susan Paykin, Farm Manager at Common Ground Farm, Benjamin Giardullo, President of the Common Ground Farm Board and Kundi Clark, Chair of Fundraising and Events for Common Ground Farm.
-Photo by Curtis Schmidt
By Kristine Coulter
Good music, good food and good drinks. That is what one will receive during Common Ground Farm's annual Firefly Feast on Saturday, August 1, from 4- 9 p.m. The event will be held in Beacon at 4 Hanna Lane.

"We started Firefly Feast last year as an additional fundraiser," explained Kundi Clark, Chair of Fundraising and Events for Common Ground Farm. "This year it's going to be even bigger and better."

"There will be 10 chefs, five local bands and eight breweries from around the region. We also have local drink makers," added Clark. There will be vegetarian options, as well as meat options, she noted.

Last year approximately 300 people attended the event. This year, organizers are expecting 300-500 attendees.

The feedback from the last year's feast "was extremely positive," Clark said. "People couldn't believe the value and how much food they got for what they paid."

Common Ground Farm in Fishkill offers a variety of programs. They have a Community Supported Agriculture program. There are camps offered for children, as well.
---

Power of books, community:
A tribute to Scott Meyer

Scott Meyer reads to children at a special event at Merritt Bookstore in Millbrook. Meyer, who owned the bookstore with wife Alison, passed away July 19 following a long illness. Members of his local community credit him with spearheading initiatives that brought many visitors into the Village of Millbrook. Courtesy photo
by Kate Goldsmith
"A good book has no ending."
–R.D. Cumming

Scott Meyer understood the magic of books and the power of community, and spread his enthusiasm for both with the zeal of a missionary. By connecting authors with readers and fostering a lifelong love of books, by recognizing and celebrating the uniqueness of everyone he met, it was inevitable that Scott would create a powerful, enduring magic of his own.

That legacy has been evident in the days following Scott's passing on July 19 after a prolonged bout with metastatic melanoma. Although he was best known as the co-owner (with wife, Alison) of Merritt Bookstore in the Village of Millbrook, Scott wore many hats in the community, from coaching youth sports to spearheading major events like the Millbrook Literary Festival; he was active in various service and business organizations, and was tireless in nurturing young writers.
---

Beacon Jazz Fest set for Saturday at Riverfront Park

World-renowned jazz composer, vibraphonist and pianist Karl Berger will debut his new quintet including his acclaimed wife, Ingrid Sertso, at the inaugural Beacon Jazz Festival, on July 25th on the riverfront. -Courtesy photo
By Goldee Greene, Arts & Entertainment
The brand new Beacon Jazz Festival will take place this Saturday, July 25th at Pete and Toshi Seeger Riverfront Park, from noon to six. Five top-notch ensembles will present world class improvisational music. Coupled with tastings from fifteen regional breweries, wineries, cideries and chefs, all included in the ticket price, the BJF holds promise for a very hip afternoon.

Coming down from Woodstock will be the internationally acclaimed Karl Berger/Ingrid Sertso Quintet, on vibraphone and vocals, respectively. This venerable, avant-guarde husband and wife team were co-founders with the late, great Ornette Coleman of the legendary Woodstock School of jazz and multi-cultural laboratory Creative Music Studio. The quintet includes featuring guitarist Kenny Wessel and bassist Ken Filiano.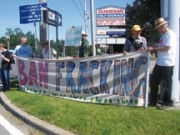 This free script provided by
JavaScript Kit
Wherever you live in Dutchess County, we cover school news, health and education features, seniors news, arts and entertainment activities, community calendar of events, municipal news, local business and organization profiles and press releases, legal notices and obituaries as well as local advertising.

FEATURE SUPPLEMENTS
& PUBLICATIONS
Preview back issues of Healthy Lifestyles in our annual archives.
Preview back issues of Home & Garden in our annual archives.
Preview back issues of Bon Appétit in our annual archives.
Preview back issues of Hudson Valley Business Journal in our annual archives.
---
Check out our special advertising offers including at our Media Kits page: Dutchess County Fair Supplements, Chef's Profile, Car of the Week.