Welcome to our
newspaper web site...


---

Project gets checkup
Lt. Gov. visits Vassar Brothers' half-billion dollar expansion

City of Poughkeepsie Mayor Rob Rolison, from left, Vassar Brothers Medical Center Board Chair Françoise Dunefsky, New York State Assemblyman Frank Skartados, Lt. Gov. Kathy Hochul and medical center President Ann McMackin discuss the patient pavilion project in the Prototype Experience on the City of Poughkeepsie hospital campus. - Courtesy photo
By Ray Fashona
New York State Lt. Gov. Kathy Hochul visited Vassar Brothers Medical Center last week to get a first-hand look at the City of Poughkeepsie hospital's $500 million expansion project.

The state has so far awarded $3.75 million toward the project in Empire State Development grants, and Hochul said on Twitter she was in Poughkeepsie to "to check out the expansion project supported by NYSESDC grants."

Tim Massie, senior vice president of marketing, public affairs and government relations for Health Quest, which operates Vassar and two other local hospitals, said Hochul encouraged Health Quest to submit another request during the next grant cycle.
---

New Ticket Entrance Building taking shape at DC Fairgrounds

The new 3,500 square-foot Ticket Entrance Building at the Dutchess County Fairgrounds will feature a true post-and-beam style of construction. Workers have laid the foundation and are finishing the main structure. Courtesy photo and photo by Curtis Schmidt
by Curtis Schmidt
Addressing the concerns of expediency, visual appearance and even mixing in some "fair education" – that's the goal of the newest addition to the Dutchess County Fairgrounds.

Currently in the early phases of construction, the 3,500-square-foot Ticket Entrance Building will house up to eight ticket sellers, a new computerized ticket system, a central hall with historic fair photos and accompanying information and package it all in a bright red barn with a silver metal roof and cupola.

It's a design befitting the agricultural roots of the fair, now in its 172nd year.
---

Celebrate Dr. King's legacy at parade Monday

The Southern Dutchess Coalition Choir, conducted by Minister of Music John Harris, III, will sing at the MLK Day Afternoon Service, at Springfield Baptist Church, on Monday, Jan. 16.
- Courtesy photo
By Goldee Greene
Staff Writer/Arts & Entertainment
Dr. Martin Luther King's non-violent gift of freedom for all through peaceful protest liveson as the all-day 39th annual MLK Day Celebration takes place all day Monday, Jan. 16. It starts with the 4th Annual Dr. King Parade, at 10 a.m., a singing procession with whole community invited. Festivities organized by the Southern Duchess Coalition will be held at Springfield Baptist Church, at 8 Mattie Cooper Square, Rev. Ronald O. Perry, pastor.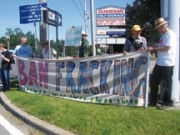 This free script provided by
JavaScript Kit
Wherever you live in Dutchess County, we cover school news, health and education features, seniors news, arts and entertainment activities, community calendar of events, municipal news, local business and organization profiles and press releases, legal notices and obituaries as well as local advertising.

FEATURE SUPPLEMENTS
& PUBLICATIONS
Preview back issues of Healthy Lifestyles in our annual archives.
Preview back issues of Home & Garden in our annual archives.
Preview back issues of Bon Appétit in our annual archives.
Preview back issues of Hudson Valley Business Journal in our annual archives.
---
Check out our special advertising offers including at our Media Kits page: Dutchess County Fair Supplements, Chef's Profile, Car of the Week.