Welcome to our
newspaper web site...


---

Special Wappinger baseball league celebrates opening day

Pierre Knight helps his son, Alex, prepare for opening day of the Challenger Division. - Photo by Curtis Schmidt
By Ray Fashona
The Challenger field at the Town of Wappinger Little League complex was buzzing with excitement. The special athletes, some of whom used wheelchairs or walkers to maneuver around the diamond, practiced catching the ball. The parents seemed just as pumped up as the players about opening day – if not more so.

Starting its 10th year in Wappinger, the Challenger Division was celebrating a special day. Wappinger was launching its first Senior Challenger Division, a league with no upper age limit.

But the morning belonged to the traditional Challenger Division, open to players age 5 to 18. Players can remain in the league until they're 22 if still in high school. Now instead of "aging out" of the league, players can continue on in the senior division.
---

Autism Walk 2015
Buried musical genius emerges in Clinton's Brenner

Michael Brenner of the Town of Clinton, right, performs on the drums with Dr. Peter Muir of the Institute for Music and Health. Brenner, who was diagnosed with autism at the age of two-and-half, also sings jazz in several languages and plays the piano. Photo by Curtis Schmidt
by Curtis Schmidt
Michael Brenner of the Town of Clinton "had" a buried musical genius. Dr. Peter Muir of Verbank discovered it and has now been nurturing and developing it for over 10 years.

Michael, 27, was born with hydrocephalus (fluid on the brain) and later diagnosed with autism at two-and-one-half years of age, according to his mother, Stephanie.

Michael and hundreds of other local individuals on the Autism Spectrum and their parents and caretakers will all be taking part in the annual Autism Walk of the Hudson Valley on Sunday, April 26, at the Dutchess County Fairgrounds. The event runs from 9 a.m. to 1 p.m., rain or shine.
---

Local elected officials and environmental leaders address PCB pollution and cleanup

Manna Jo Greene, a representative of Hudson Clearwater, listens as Beacon Mayor Randy Casale speaks during a press conference regarding General Electric's cleanup of PCBs.
- Photo by Jared Bernacchia
By Jared Bernacchia
On Wednesday, April 15, a press conference was held at Scenic Hudson's Long Dock Park in Beacon to discuss General Electric's previous pollution and current cleanup of PCBs (otherwise known as polychlorinated biphenyls) in the Hudson River. Various elected officials and environmental leaders took time to discuss the situation and emphasize the need for General Electric to complete the job.

PCBs are toxic man-made compounds that were frequently used by General Electric and other companies for years before being outlawed in the late 1970s. Despite being out of commission for decades, Executive Director of Hudson River's Clearwater Peter Gross stated that the effects of PCBs have been disastrous.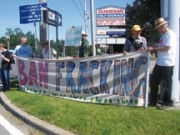 This free script provided by
JavaScript Kit
Wherever you live in Dutchess County, we cover school news, health and education features, seniors news, arts and entertainment activities, community calendar of events, municipal news, local business and organization profiles and press releases, legal notices and obituaries as well as local advertising.

FEATURE SUPPLEMENTS
& PUBLICATIONS
Preview back issues of Healthy Lifestyles in our annual archives.
Preview back issues of Home & Garden in our annual archives.
Preview back issues of Bon Appétit in our annual archives.
Preview back issues of Hudson Valley Business Journal in our annual archives.
---
Check out our special advertising offers including at our Media Kits page: Dutchess County Fair Supplements, Chef's Profile, Car of the Week.