Welcome to our
newspaper web site...


---

New section of Julie's Jungle opens

Town of East Fishkill Recreation Directors Bill Green and Janet McHugh stand on the Phase 2 section Julie's Jungle playground at Lime Kiln Recreation Center in East Fishkill. - Photo by Kristine Coulter
By Kristine Coulter
Julie's Jungle, at Lime Kiln Recreation Center in East Fishkill, is busy every day with the sights and sounds of children, of all abilities, having fun on the playground. Phase 2 of the project is now complete.

"In Phase 2, what we did was cover the surface tile, added more play equipment, added more shape structures," explained Janet McHugh, Board of Directors for Julie's Jungle.
---

Demolition of buildings leads PV library expansion

The final portion of the Virginia Gunn House is about to be flattened in this photo of the demolition process in the first major step in the expansion of the Pleasant Valley Free Library. Both the Gunn House and an old office and education facility at St. Stanislaus Kostka Parish have been demolished in the past two weeks. - Photo by jim donick
by jim donick
Thanksgiving week and the week after saw the first major tangible steps completed toward realizing the vision of an expanded and renovated library for Pleasant Valley with the demolition of two structures.

The library's Board of Trustees has been slowly advancing its planning process for an expansion and renovation of the Library.

The former home of Virginia Gunn, built in 1951 at 18 Church St., came down to help make room for the Pleasant Valley Free Library's expansion and renovation project. The property, in very poor repair, sits directly behind the library. It was acquired by the board with the assistance of a generous private benefactor and will be used for additional parking as well as a staging area for the construction once it begins.
---

BeaconArts to host Christmas tree and Menorah lighting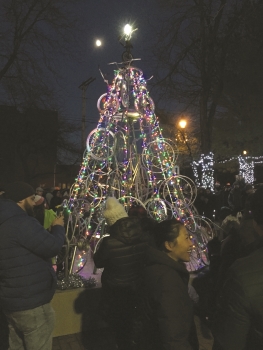 BeaconArts will host its annual tree lighting on Saturday, Dec. 9 in Polhill Park
By Goldee Greene
Staff Writer/Arts & Entertainment
Yuletide 2017 will shortly turn around the corner as the sixth annual BeaconArts Christmas Tree Lighting takes place this Saturday, Dec. 9. The community holiday party will be held snow or shine at Polhill Park, located on Main Street and Route 9D, adjacent to the Beacon Visitor Center. All are welcome to bring adornments for the tree. To decrease paper and plastic waste, revelers are urged to bring their own hot cider mugs to enjoy free-of-charge hot chocolate and mulled cider.

As the near-winter solstice sun sets behind Municipal Plaza, Santa will arrive minutes to 5 p.m. to officially welcome the holiday season spirit. But the fun starts long before. Starting at 3:30, the Wee Play Community Project will run art activities for younger children under the shelter of tents provided by the City of Beacon. Dancers from Yanarella Dance will perform. Also, he Beacon City School District High School Choir will be on hand to lead caroling, and at around 4:50 p.m. After the tree is lit, Santa will remain to greet the children.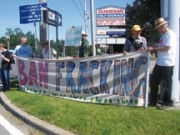 This free script provided by
JavaScript Kit
Wherever you live in Dutchess County, we cover school news, health and education features, seniors news, arts and entertainment activities, community calendar of events, municipal news, local business and organization profiles and press releases, legal notices and obituaries as well as local advertising.

FEATURE SUPPLEMENTS
& PUBLICATIONS
Preview back issues of Healthy Lifestyles in our annual archives.
Preview back issues of Home & Garden in our annual archives.
Preview back issues of Bon Appétit in our annual archives.
Preview back issues of Hudson Valley Business Journal in our annual archives.
---
Check out our special advertising offers including at our Media Kits page: Dutchess County Fair Supplements, Chef's Profile, Car of the Week.