Welcome to our
newspaper web site...


---

Flight of the Liberator
Ride on WWII bomber brings new perspective

The B-24 in the Wings of Freedom tour is nicknamed Witchcraft. The Bombs painted on the side represent the number of missions the plane accomplished. - Photo by Ray Fashona
By Ray Fashona
Wind whipping ferociously, engines roaring at ear-splitting decibels (we had to scream or use hand signals to communicate), scrambling to find purchase with wobbly legs as the plane rolled with the air pockets or the banking of change of direction – it was all part of an exhibition flight of the B-24 bomber, known as the Liberator, that was among the classic World War II aircraft on display at the Wings of Freedom show at Dutchess County Airport last weekend.

Think of it as riding a roll coaster without a seatbelt.
---

4-H kids love super leader
DC Agricultural Society honors Irene Decker

Irene Decker is surrounded by the children and goats she loves. From left are, Karlie Klingner, Faith Shultz, Irene, Carolyn Cookingham and Shea Montgomery. Photo by Curtis Schmidt
by Curtis Schmidt
It all started when Irene Decker and her husband, John, said yes to their adopted daughter, who asked if she could have a pet goat.

That was 38 years ago.
---

Chamber hosts Solarize Beacon+ event

Patrick Metzger and wife Amie Rose Anderson, of Beacon, stand in front of the solar panels installed on their house. - Courtesy photo
By Kristine Coulter
A seminar on how going solar is good for business was hosted by the Dutchess County Regional Chamber of Commerce. The hour-long seminar, "Solarizing Dutchess County is Good Business," discussed the incentives for businesses to "go solar."

Brian Nowitzki, of Hudson Solar, was the featured speaker. He showed a virtual tour of a solar installation.

"Today what I really want to show you guys is the technology," said Nowitzki. He continued, "Part of going solar is to visualize it for your space."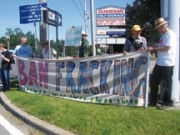 This free script provided by
JavaScript Kit
Wherever you live in Dutchess County, we cover school news, health and education features, seniors news, arts and entertainment activities, community calendar of events, municipal news, local business and organization profiles and press releases, legal notices and obituaries as well as local advertising.

FEATURE SUPPLEMENTS
& PUBLICATIONS
Preview back issues of Healthy Lifestyles in our annual archives.
Preview back issues of Home & Garden in our annual archives.
Preview back issues of Bon Appétit in our annual archives.
Preview back issues of Hudson Valley Business Journal in our annual archives.
---
Check out our special advertising offers including at our Media Kits page: Dutchess County Fair Supplements, Chef's Profile, Car of the Week.