Welcome to our
newspaper web site...


---

Sky's the limit
Improvements promise big things at airport

The Dutchess County Airport will be undergoing some changes, perhaps including a new name, as county officials prepare to get the facility to grow in stature. - Courtesy photo
By Ray Fashona
For several years, the county airport has been draining Dutchess coffers. In 2011, when the Molinaro Administration came into office, the county transferred $800,000 to keep the airport operating.

With efficiencies achieved through a new fixed base operator and other improvements – perhaps the most important of which is a water line connection to provide a steady flow of water – the 2017 budget has dropped that number to under $200,000.

County Executive Marcus Molinaro said he expects the airport turning a profit in the near future.

"We are going to have the airport functioning at its highest level," Molinaro said.

Molinaro said that hiring FlightLevel as a professional fixed-based operator for the airport has contributed to the declining county donation to the facility.
---

9th Sinterklaas Festival will be a real 'hoot' with owls galore

Costume designer and seamstress Suzy Morris, right, adjusts the wings and mask of Owl Queen Cait Johnson, who will be featured in the opening ceremony and the Children's Starlight Parade of the 9th annual Sinterklaas Festival on Saturday in Rhinebeck. Photo by Curtis Schmidt
by Stacey van den Thoorn
With the owl as this year's honored animal, the ninth annual Sinterklaas Festival will take over many venues, plus the streets, sidewalks, parking lots and courtyards of Rhinebeck on Saturday, Dec. 3.

The event is a free day-long, colorful celebration coordinated and directed by Jeanne Fleming of Hudson Valley Community Productions and her troupe of volunteers. It will feature children's workshops, dance, theater and music that will take place throughout the village and culminate with the Children's Starlight parade beginning at 6 p.m.
---

'Out of the Fire' at Howland Center

This work by Paola Bari will be in the exhibit that opens Dec. 3 with a reception. - Courtesy photo
"Out of the Fire" will be the December exhibit at the Howland Cultural Center. The Opening Reception will be held on Saturday, Dec. 3, from 2 to 5 p.m. Twenty-five artists will show their work.

Among the artists is Paola Bari, a resident of Poughkeepsie.

"I'm originally from Italy. I've been here for 20 years. One of the first places I showed my work was Beacon. I always liked the Howland Cultural Center, the quality of shows and the interaction," remarked Bari, who owns Paola Bari Studio.

Fire, when one is presenting artwork, is a very interesting element, said Bari, because "it's exotic and unpredictable."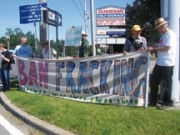 This free script provided by
JavaScript Kit
Wherever you live in Dutchess County, we cover school news, health and education features, seniors news, arts and entertainment activities, community calendar of events, municipal news, local business and organization profiles and press releases, legal notices and obituaries as well as local advertising.

FEATURE SUPPLEMENTS
& PUBLICATIONS
Preview back issues of Healthy Lifestyles in our annual archives.
Preview back issues of Home & Garden in our annual archives.
Preview back issues of Bon Appétit in our annual archives.
Preview back issues of Hudson Valley Business Journal in our annual archives.
---
Check out our special advertising offers including at our Media Kits page: Dutchess County Fair Supplements, Chef's Profile, Car of the Week.