Welcome to our
newspaper web site...


---

Defending against Ebola
No local cases reported, but health officials are taking precautions

Humanitarian volunteers try on protective gear in preparation for heading to West Africa. - Photo courtesy Centers for Disease Control
By Ray Fashona
(Kate Goldsmith contributed to this report)
Ebola. Just the mention of the killer virus strikes at people's deepest fears – a deadly, contagious disease for which there is no cure.

According to Dutchess County Health Commissioner Dr. Kari Reiber there are currently "no cases of Ebola in Dutchess County or the surrounding counties." Reiber said there have been no known cases of Ebola in New York state.

Still, local health and emergency services officials are preparing for the possibility. Everyone wants to be ready for the dire scenario.

In a letter to county officials, Reiber outlined the procedures that have been implemented by the Health Department.

1) Surveillance/disease reporting. Health-care providers and labs are required to report all suspected cases of Ebola immediately.

2) Case investigation and response. The Health Department has a 24/7 system in place to respond to and investigate possible Ebola cases and "to monitor that appropriate isolation is in place while an assessment is underway."

3) Communication with first responders and health-care providers. Screening and infection prevention guidelines have been given to first responders, hospital emergency departments, hospital infection prevention officials and health-care providers.
Reiber added, "Dutchess County is committed to keeping the public educated on the topic, and safe from Ebola."
---

Take a fun Halloween ride with Rhinecliff's spooky storyteller

Joe Baer of Rhinecliff dons a black hood as he prepares for another spooky "one-man show." You can see him perform on Friday, Oct. 24, at the Kids Halloween Party of the Ladies Auxiliary of the Rhinecliff Fire Company. Photo by Curtis Schmidt
by Curtis Schmidt
RHINECLIFF--Joe Baer loves being a "one-man show." He's the spooky storyteller and Halloween is obviously his favorite time of the year.

The former TV lighting director at ESPN and WPIX in New York City, who has dabbled in acting, screenplays and writing children's books, now stays busy with a variety of local acting gigs and the Halloween opportunities.
---

Square dedicated in honor of firefighter

Beacon Mayor Randy Casale and Mary Wassi unveil the street sign in honor of Wassi's father, fallen firefighter J. Robert Cramer. -Photo by Kristine Coulter
By Kristine Coulter
Firefighters assembled at the intersection of Main Street and Cross Street to honor one of their own. It was on a freezing day in 1955 that a fire broke out in a three-story brick building on Main Street and a firefighter gave his life. On Saturday, Oct. 11 they came to remember him.

J. Robert Cramer, a U.S. Navy veteran, was a member of Lewis Tompkins Hose. He responded to the early morning fire alarm call at 144-146 Main Street that cold morning on January 29, 1955. It was the location of The Town Tavern and Knapp's Paint Shop at the time. There were six apartments, as well. Carmer, one of the first to arrive on the scene, went in with a portable light and Mine Safety Mask, to see if there was anyone in need of help after hearing reports of a child still in the building. He was later found unconscious by fellow firefighters with a handkerchief over his mouth.

"I'm thinking about how happy my dad is up in heaven," said Mary Wassi, daughter of Cramer.

Wassi said her father loved Beacon and the people that lived there.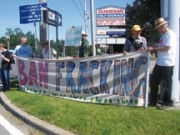 This free script provided by
JavaScript Kit
Wherever you live in Dutchess County, we cover school news, health and education features, seniors news, arts and entertainment activities, community calendar of events, municipal news, local business and organization profiles and press releases, legal notices and obituaries as well as local advertising.

FEATURE SUPPLEMENTS
& PUBLICATIONS
Preview back issues of Healthy Lifestyles in our annual archives.
Preview back issues of Home & Garden in our annual archives.
Preview back issues of Bon Appétit in our annual archives.
Preview back issues of Hudson Valley Business Journal in our annual archives.
---
Check out our special advertising offers including at our Media Kits page: Dutchess County Fair Supplements, Chef's Profile, Car of the Week.