Welcome to our
newspaper web site...


---

Anti-addiction crusaders
Girl Scouts plan vigil to fight drug and alcohol abuse

Girls Scouts Emma Englert, from left, Lizzie Irving and Courtney Ashburn will be hosting a Vigil to Rause Awarness of Drug Addiction at Palmateer Memorial Park in Wappinger. - Photo by Curtis Schmidt
By Ray Fashona
Lizzie Irving, a 13-year-old student at Wappingers Junior High School, decided to turn personal loss into positive action.

"I lost my uncle to alcohol addiction and I have seen first-hand the heartbreak this has caused my family," Lizzie said.

Courtney Ashburn, a 12-year-old student at Van Wyck Junior High, also used the death of a family member as inspiration.

"Addiction awareness is important to me because I watched my cousin, Matt, suffer from drug addiction," Courtney said. "This was very difficult on our family after he died …"
---

NYS SHEEP & WOOL FESTIVAL
Fleece & hops spark learning quest at Clover Brooke Farm

Lifelong learners Michael and Andrea Tibbetts, with llamas and alpacas, are gaining more than their share of farming education. After operating a largely "backyard farm" in the Town of Hyde Park for several years, they purchased an 1850s homestead last year and are concentrating on fleece and hops. - Photos by Curtis Schmidt
by Curtis Schmidt
Andrea and Michael Tibbetts consider themselves lifelong learners. Their next adventure – and the one for the foreseeable future? How about farming a Dutchess County homestead dating back to the 1850s-early 1900s?

The couple had "always dreamed of expanding" their small five-acre farm in the Town of Hyde Park. And in August of 2016 – after many years of studying and learning - they took the memorable leap and purchased a 25-acre farm, in spite of having two of three children in college.
---

Fashion show to raise funds for cancer awareness

Sarah Graby-Boris, Mary Lewis and Keisha Miles are raising awareness about cancer and funds by hosting the "Pink Kiss" event on Saturday, October 21 at Atlas Studios in Newburgh, Orange County. - Photo by Kristine Coulter
By Kristine Coulter
The 5th annual "Pink Kiss" Breast Cancer Awareness event will take place on Saturday, October 21 at 6 p.m. at Atlas Studios, 11 Spring St., in Newburgh, Orange County. Several Beacon businesses are sponsors of the event.

Sparkle My Head Scarves is one of those businesses.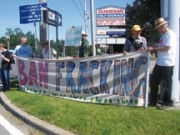 This free script provided by
JavaScript Kit
Wherever you live in Dutchess County, we cover school news, health and education features, seniors news, arts and entertainment activities, community calendar of events, municipal news, local business and organization profiles and press releases, legal notices and obituaries as well as local advertising.

FEATURE SUPPLEMENTS
& PUBLICATIONS
Preview back issues of Healthy Lifestyles in our annual archives.
Preview back issues of Home & Garden in our annual archives.
Preview back issues of Bon Appétit in our annual archives.
Preview back issues of Hudson Valley Business Journal in our annual archives.
---
Check out our special advertising offers including at our Media Kits page: Dutchess County Fair Supplements, Chef's Profile, Car of the Week.