Welcome to our
newspaper web site...


---

Center for Physical Therapy
celebrates 25th anniversary
'Treating you like family' approach
is vital factor in growth of business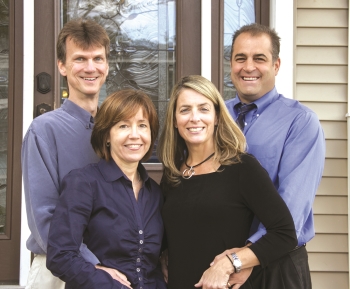 Center for Physical Therapy staff members include Christian Campilii, PT, DPT, Tod Snyder, PT, Bryan Kellogg, DPT, Alexander Terbush, DPT, Christian Martins, PT, Mary-Kate Gramuglia, DPT, Joseph Winther, DPT, Michelle Majors, MSPT and Lynn Campilii, PT, DPT. Courtesy photo
By Curtis Schmidt
What began with a dream and a prayer in 1993 has come true in the form of the 25th anniversary currently being celebrated at the Center for Physical Therapy (CPT).

It's a business that was built with families and friends and has prospered on "treating everyone like family." What began with two couples and a single house has grown into three buildings at the main site, and two additional locations in Hyde Park and Carmel with 19 therapists and 27 support staff members.
---

Recovery under way after devastating Pleasant Valley Library fire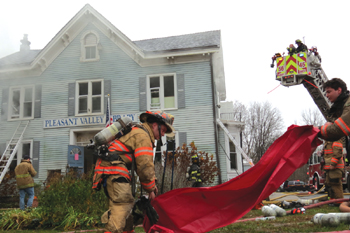 Firefighters work in the foreground as the Pleasant Valley Free Library building is consumed in smoke in the background. Firefighters from nine area fire departments answered the call to the blaze on Tuesday, Nov. 6. Photo by Curtis Schmidt
by jim donick
The recovery process is moving forward following a fire that devastated the Pleasant Valley Free Library building on Tuesday, Nov. 6.

The fire alarm went out to the community around 6:30 a.m. The library's cleaning person had opened the door and smelled smoke. He immediately called 911.
---

Howland Public Library to install new city Poet Laureate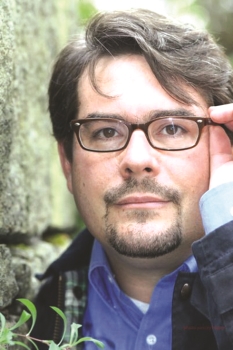 Peter Ullian new poet laureate
By Goldee Greene
Staff Writer/Arts & Entertainment
A thrilling, fresh peek into the literary world of ideas takes place Tuesday, Nov. 20 at the Howland Public Library, as the city's next Poet Laureate will be honored. Acclaimed poet, playwright and fiction author Peter Ullian will be presented with an award as he prepares to serve for the 2019-2020 term. The ceremony takes place 6:30-7 p.m. at the library, 313 Main Street, in Beacon.

The event is free of charge to the public, with no registration required. The community will be treated to a reading of selected works by Ullian. A variety of refreshments will be offered.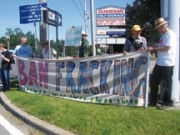 This free script provided by
JavaScript Kit
Wherever you live in Dutchess County, we cover school news, health and education features, seniors news, arts and entertainment activities, community calendar of events, municipal news, local business and organization profiles and press releases, legal notices and obituaries as well as local advertising.

FEATURE SUPPLEMENTS
& PUBLICATIONS
Preview back issues of Healthy Lifestyles in our annual archives.
Preview back issues of Home & Garden in our annual archives.
Preview back issues of Bon Appétit in our annual archives.
Preview back issues of Hudson Valley Business Journal in our annual archives.
---
Check out our special advertising offers including at our Media Kits page: Dutchess County Fair Supplements, Chef's Profile, Car of the Week.