Welcome to our
newspaper web site...


---

Veteran ties art to healing others

Fly-tying fisherman Joe Rist of Poughkeepsie works closely with a fly-fishing lure in his work room. Rist works with military veterans to channel their energy into rewarding experiences. Photo by Curtis Schmidt
By Jared Bernacchia
For Cold War Veteran Joe Rist, fly-tying is a form of art that he uses along with fly fishing as methods of bringing military veterans together to channel their energy into rewarding experiences.

According to Rist, his father and father-in-law have served as two pivotal influences in his desire to help out fellow veterans. "I like to help veterans because of the two most influential people in my life - my father and father-in-law," said Rist. "My father served in Korea on the front lines, while my father-in-law served for Patton in Africa and was injured while in service."

Rist will join more than two dozen artists, craftsmen, writers, poets, musicians and performers who are veterans, family members of veterans or connected to the military in the second annual Veteran Arts Showcase on Nov. 21-23 at the FDR Presidential Library/Wallace Center in Hyde Park. It is free and open to the public.

The opening reception and ceremony is on Friday from 5:30-8:30 p.m. A Presentation of Colors will be followed by inspirational speakers and 90-minutes of original music and poetry, including Natalie Lovejoy, former army spouse and composer of the musical "Deployed," veteran poetry and songs by Larry Winters, Katelyn Sheehan, and Jennifer Pacanowski and music and community rhythm circle led by Chrys Ballerano (Chrysalis Coaching, and "Surviving Spirit.").

Rist's experience as veteran comes from his time in the Navy in which he served from 1976 through 1980. "I graduated from Haldane in 1976, and was in the Navy three days later," said Rist. "I wanted my father to sign the papers giving the approval for me to join sooner, but he wanted me to make the decision on my own accord, as an adult." Rist served in the Cold War aboard the USS Iwo Jima LPH-2, and made one Caribbean cruise and three Mediterranean cruises.

As a third-generation fisherman, fishing is something that has always come naturally for Rist.
"Fishing has always been in my blood," said Rist. "My grandfather was a commercial fisherman for the Hudson River and my father helped him. I knew how to fish when I was as tall as the weeds."
---

State champs! Rhinebeck boys win crown

The Rhinebeck High School boys soccer team celebrates the first state championship in school history in boys soccer. The boys defeated Lansing High School of Ithaca, 2-1 on Saturday and won the title with a 1-0 win over World of Inquiry, a magnet school from Rochester, on Sunday. Courtesy photo
by Curtis Schmidt
In what coach Justin Wiesenthal called "an incredible, magical weekend," the Rhinebeck High School boys soccer team captured the New York State Public High School Athletic Association's Class C State Championship on Saturday and Sunday in Middletown.

"It was unbelievable – just great, great, great," Wiesenthal said of his team's weekend performance during an interview on Monday morning.
---

Court rules in favor or new trial for former Beacon cop

The entrance to the City of Beacon Police Department. A court recently ruled in favor of a new trial for former Beacon Det. Sgt. Richard Sassi, Jr. - File photo
By Kristine Coulter
Mid Hudson Animal Aid will host its 19th annual Goods and Services Auction. The auction will be held on Sunday, Nov. 16 at the Powelton Club in Newburgh. MHAA is a no-kill animal shelter on Simmons Road in Beacon.

"MHAA spends close toThe panel of the Supreme Court of the State of New York Appellate Division, Second Judicial Department, ruled in favor of a new trial for former Beacon Police Department Det. Sgt. Richard Sassi, Jr. The panel handed down its decision on Nov. 12.

Sassi's lawyer argued that his Constitutional due process rights were violated when the trial court denied Sassi's counsel's request to instruct the jury on the legal definition of "burglary."

A jury convicted Sassi of falsely reporting an incident in the third degree in Oct. 2013. The indictment alleged that he committed this offense by calling the 911 emergency telephone number and reporting that a burglary was in progress, when he knew that there was no burglary in progress.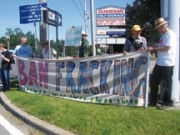 This free script provided by
JavaScript Kit
Wherever you live in Dutchess County, we cover school news, health and education features, seniors news, arts and entertainment activities, community calendar of events, municipal news, local business and organization profiles and press releases, legal notices and obituaries as well as local advertising.

FEATURE SUPPLEMENTS
& PUBLICATIONS
Preview back issues of Healthy Lifestyles in our annual archives.
Preview back issues of Home & Garden in our annual archives.
Preview back issues of Bon Appétit in our annual archives.
Preview back issues of Hudson Valley Business Journal in our annual archives.
---
Check out our special advertising offers including at our Media Kits page: Dutchess County Fair Supplements, Chef's Profile, Car of the Week.