Welcome to our
newspaper web site...


---

Puppets, Superman and beyond
John Jay High School filmmaker brings superhero to life

Nick points to a banner announcing the screening of his film at Blodgett Memorial Library. - Courtesy photo
By Ray Fashona
Imagine Superman was coming to the end of his career and contemplated hanging up his cape. What would he do?

That's what young filmmaker Nicholas Roth imagined for the plot of his first full-length movie, "Son of Krypton." In Nick's story, Superman wants to settle down with Lois Lane – but of course that doesn't come easy.

Nick, 15, a sophomore at John Jay High School, has had two screenings of "Son of Krypton" and is anticipating more. Audience reaction so far has been favorable, he said.
Read more of these community stories here
---

40 years of 'great scenery & wine':
Clinton Vineyards sets two parties
Phyllis Feder toasts five classic wines from Clinton Vineyards as she prepares for the 40th Anniversary celebration on May 6-7. Below is a photo of Ben Feder, founder of Clinton Vineyards. He passed away in 2009, but Phyllis continues to maintain her husband's legacy. Photo by Curtis Schmidt and courtesy photo

by Kate Goldsmith
When Ben Feder founded Clinton Vineyards 40 years ago, the Hudson Valley wasn't known as a winemaking region, but a game-changing piece of legislation signed into law by Gov. Hugh Carey got the gears turning. The New York Farm Winery Act of 1976 allowed small grower-producers to sell directly to the public and made production more economically feasible for them. As a result, the state's winemaking industry was invigorated and, before long, the Hudson Valley was on the map.

The vision of people like Ben, wife Phyllis and their colleagues made Dutchess County a standout destination within the region. Ben passed away in 2009, but Phyllis still owns Clinton Vineyards and remains a passionate advocate for local wine and agriculture.
---

Beacon Fire Dept. honors 7-year-old

Chase Piotrowski, 7, wears the honorary helmet presented to him by the City of Beacon Fire Department. Chase was honored for notifying an adult about a brush fire behind his home.
-Photo by Kristine Coulter
By Kristine Coulter
The City of Beacon Fire Department might have a new firefighter in about 10 years. The department, which consists of volunteers and career staff, honored 7-year-old Chase Piotrowski during its annual Open House. Chase discovered a brush fire on Thursday, April 21 behind his house on Belleford Lane and made sure the fire department was notified.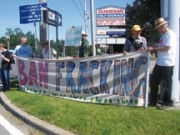 This free script provided by
JavaScript Kit
Wherever you live in Dutchess County, we cover school news, health and education features, seniors news, arts and entertainment activities, community calendar of events, municipal news, local business and organization profiles and press releases, legal notices and obituaries as well as local advertising.

FEATURE SUPPLEMENTS
& PUBLICATIONS
Preview back issues of Healthy Lifestyles in our annual archives.
Preview back issues of Home & Garden in our annual archives.
Preview back issues of Bon Appétit in our annual archives.
Preview back issues of Hudson Valley Business Journal in our annual archives.
---
Check out our special advertising offers including at our Media Kits page: Dutchess County Fair Supplements, Chef's Profile, Car of the Week.