Welcome to our
newspaper web site...


---

Fighting for a future
Young people band together to combat climate change

Duncan Gilchrist and Aminah Taariq display two of the signs Wappingers Climate Action created to spread the word about saving the planet one community at a time.- Photo by Curtis Schmidt
By Ray Fashona
Aminah "Mimi" Taariq and Duncan Gilchrist want to change the world and they're starting in their own backyard. The old phrase "think globally, act locally" certainly applies to them.

What these two young people are trying to change is people's notion of energy use, sustainability and the effect of man's "carbon footprint" on the environment. It's a huge project but they are taking it one small bite at a time in the Village of Wappingers Falls and Town of Wappinger.

Aminah, 17, and Duncan, 22, are the driving forces behind Wappingers Climate Action, a group of about 15 young people who want their community to become, as Duncan put it, "climate smart."

Aminah, who is a senior at Oakwood Friends School and lives in Wappingers Falls, said she and Duncan met through Village Mayor Matt Alexander.
---

Apple farmers upbeat on crop despite damage from freeze

Owner Dan Diesing of Meadowbrook Farms in Wappingers Falls checks out colorful Empire apples in one of his "Pick Your Own" orchards. Photo by Curtis Schmidt
by Ray Fashona
It's been a dry year, but that doesn't account for the dearth of tree fruits at local orchards.

The culprits are a late winter and an early spring freeze that were preceded by warm weather, according to Cornell Cooperative Extension tree fruit specialist Dan Donahue.

Kevin Lipton of the National Weather Service in Albany acknowledged that average rainfall in Dutchess County was down about nine inches from normal levels.

But he, too, said that was not much of a factor in production of tree fruits. Freezing temperatures arriving rapidly after relative warmth had much more to do with low fruit yield.
---

Spirit of Beacon to shine on Sunday

Spirit of Beacon Day us slated for Sunday on Main Street.
- Photo by Kristine Coulter
By Goldee Greene
Staff Writer/Arts & Entertainment Column
All things "bright and beautiful" about Beacon will be highlighted as the 39th annual Spirit of Beacon Day Parade marches down Main Street this Sunday, September 25 at 1 p.m. Non-profit info booths open at noon, with live entertainment and food vending until 4 p.m. The parade route runs River-to-Mountain: from Main and Beekman Streets, near Municipal Plaza, to Tioronda Avenue. The rain date is Sunday, October 2. This year's theme is "Come Celebrate the Tastes of Beacon."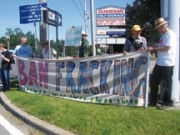 This free script provided by
JavaScript Kit
Wherever you live in Dutchess County, we cover school news, health and education features, seniors news, arts and entertainment activities, community calendar of events, municipal news, local business and organization profiles and press releases, legal notices and obituaries as well as local advertising.

FEATURE SUPPLEMENTS
& PUBLICATIONS
Preview back issues of Healthy Lifestyles in our annual archives.
Preview back issues of Home & Garden in our annual archives.
Preview back issues of Bon Appétit in our annual archives.
Preview back issues of Hudson Valley Business Journal in our annual archives.
---
Check out our special advertising offers including at our Media Kits page: Dutchess County Fair Supplements, Chef's Profile, Car of the Week.