Welcome to our
newspaper web site...


---

Forum speakers:
Treat addiction as disease

Wappingers Falls Police Commissioner Carl Calabrese addresses the audience at the village drug forum while Elaine Trumpetto of CAPE and Mayor Matt Alexander listen. - Photo by Ray Fashona
By Ray Fashona
Wappingers Falls Mayor Matt Alexander stood before an audience of more than three dozen and talked about his mother's battle with alcoholism, and how it led his siblings down the path to drug abuse.

Village Police Commissioner Carl Calabrese went to the podium and said his mother and others he knows had been addicted to heroin. His mother passed away "and never really recovered," he said.

An addict named Anthony, who said he has been in recovery for 10 years, explained that the specter of relapse "is always there."

Speakers at the Taking Control of the Opiate Epidemic forum, organized by Alexander and presented by the Council on Addiction Prevention and Education (CAPE), stressed the fact that addiction to opiates such as heroin is not a choice but a disease. And it can touch anyone, rich or poor, black or white.

CAPE Executive Director Elaine Trumpetto said addicts should not be "stigmatized" because "addiction is a chronic disease." She asked everyone to close their eyes, then said anyone in the room who had been somehow touched by addiction should raise their hand.

"Now open your eyes," she said. Almost every hand was up.
---

Castella's passion shines in creation of War Wagon

Frank Castella performs a little touch-up work on his War Wagon in his workshop in Pleasant Valley. Castella's passion to honor America's military veterans is the driving force in the creation of the wagon. Photo by Curtis Schmidt
by jim donick
Passion is a key element in the creation of works of art. Local printer, horse breeder and craftsman par excellence Frank Castella's War Wagon certainly qualifies as a work of art. He's been at it now for a couple of years and is driven by his passion to do something really special to honor America's military veterans.

"I wanted to make a really bold statement for these people," he says.

A bold statement it has become. It's also a tremendous demonstration of imagination and of craftsmanship.
---

Tour Beacon by bicycle

Kyle Helland with Kojna bikes at the Beacon riverfront. Bikes can be rented on weekends by the ferry dock. -Photo by Kristine Coulter
By Kristine Coulter
There's another way to see Beacon now – by bicycle. Bikes are being rented at the riverfront by the ferry dock at the Metro-North Railroad Station on Saturdays and Sundays. Bikes can be rented for $15 for one-hour or $50 for the day. Hours to rent bikes are 10 a.m. to 6 p.m.

"Currently we have six bikes to rent. The plan is to have 12 bikes," said Kyle Helland, Rental Operations Manager. "The thought is that a lot of people come up by train to Dia:Beacon, but that doesn't take you far."

The bike rental is a partnership between the City of Beacon and Peoples Bicycle on Main Street.

The idea is for people to rent bikes, and take a tour up and down Main Street. They could even bike on the Greenway Trail or ride up to Mount Beacon. Helland said people could also bike over the to Madam Brett Homestead.

Kona makes the bikes. Helland described them as "hybrid" bikes. They are in a more upright position, he said.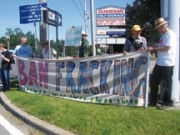 This free script provided by
JavaScript Kit
Wherever you live in Dutchess County, we cover school news, health and education features, seniors news, arts and entertainment activities, community calendar of events, municipal news, local business and organization profiles and press releases, legal notices and obituaries as well as local advertising.

FEATURE SUPPLEMENTS
& PUBLICATIONS
Preview back issues of Healthy Lifestyles in our annual archives.
Preview back issues of Home & Garden in our annual archives.
Preview back issues of Bon Appétit in our annual archives.
Preview back issues of Hudson Valley Business Journal in our annual archives.
---
Check out our special advertising offers including at our Media Kits page: Dutchess County Fair Supplements, Chef's Profile, Car of the Week.