Welcome to our
newspaper web site...


---

Renegades sweep into town

The Renegades gathered at Dutchess Stadium last week for the impending start of the season. Among the 'Gades on hand were, from left, Oscar Rojas, Angel Perez, Bill Pujols, Kewby Meyer, Garrett Whitley and John Popadics. - Photo by Curtis Schmidt
By Ray Fashona
Most members of the Hudson Valley Renegades arrived at Dutchess Stadium in Fishkill on Wednesday, June 15.

Their first game was Friday against the Aberdeen IronBirds. The Renegaddes won their first game of the season, 4-2, at home against the Aberdeen IronBirds.

As Wednesday's Media Day got underway, players arrived from taking their team physicals. Most had just gotten into town.

"They literally just arrived," General Manager Eben Yager said.

Manager Tim Parenton, entering his third year as the Renegades skipper, was unconcerned about the lack of practice before game one.wn of Wappinger Recreation Committee for about 30 years.
ead more of these community stories here
---

Antique engine fascination spurs interest for July 1-2 event

Matthew Michaelis sits in the seat of his grandfather's 1973 Cub Cadet original condition garden tractor. Grandpa Bob Michaelis, center, joins fellow Century Museum Village and Collectors Association member Reed Benton, who displays his restored 1925 Fuller & Johnson engine. All are preparing for the Antique Machinery and Motorcycle Show at the Dutchess County Fairgrounds on July 1-2. Photo by Curtis Schmidt
by Curtis Schmidt
Antique machinery of all types –from motorcycles to garden tractors to hit-and-miss engines – will all come roaring or chug-chugging into the Dutchess County Fairgrounds in Rhinebeck on Friday and Saturday, July 1-2.

It's the Antique Machinery and Motorcycle Show, which is expected to attract thousands of enthusiasts from all over the northeast portion of the U.S. The Antique Motorcycle Club of America (AMCA) Northeast Coalition will be hosting one of the largest shows of its type in the country – its Grand National Super Meet.
---

Top of the class
BHS Class of '16 commencement on Saturday

Beacon salutatorian Paige Baisley, left, and valedictorian Rachel Ng
By Goldee Greene
Staff Writer/Arts & Entertainment
Banners of blue and gold will wave with pride this Saturday, June 25, as the Beacon High School Class of 2016 holds its commencement exercises. Graduation takes place 9 a.m. at Dutchess Stadium at 1500 Route 9D, in Wappingers Falls. No tickets are necessary, and seating is on first-come basis.

Some 250 city seniors clad in caps and robes will walk across the stage for handshakes and diplomas. Among them are the two top students: valedictorian Rachel Ng and salutatorian Paige Baisley.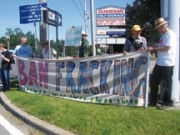 This free script provided by
JavaScript Kit
Wherever you live in Dutchess County, we cover school news, health and education features, seniors news, arts and entertainment activities, community calendar of events, municipal news, local business and organization profiles and press releases, legal notices and obituaries as well as local advertising.

FEATURE SUPPLEMENTS
& PUBLICATIONS
Preview back issues of Healthy Lifestyles in our annual archives.
Preview back issues of Home & Garden in our annual archives.
Preview back issues of Bon Appétit in our annual archives.
Preview back issues of Hudson Valley Business Journal in our annual archives.
---
Check out our special advertising offers including at our Media Kits page: Dutchess County Fair Supplements, Chef's Profile, Car of the Week.