Welcome to our
newspaper web site...


---

Habitat for Humanity Dutchess County expands to larger location
All services under one roof on Neptune Road, Poughkeepsie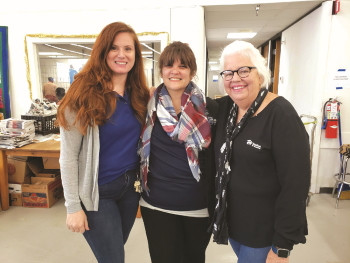 Dannielle Santos, Manager of Restore, Operations Manager Jen Radicone and Executive Director Maureen Lashlee stop for a photo on Opening Day of the new site.
-Courtesy photos
By Anna Barton
Habitat for Humanity of Dutchess County is excited to announce their recent move to 8 Neptune Road in Poughkeepsie!
The ribbon was officially cut for the new space on Nov. 16 and business has been booming since then.

Although they still maintain the same goal of decent, affordable housing for everyone, all of their services are now under one (much larger) roof. This includes the ReStore, volunteer information and homeownership programs.
---

Sturgeon, river creatures star as 12th Sinterklaas arrives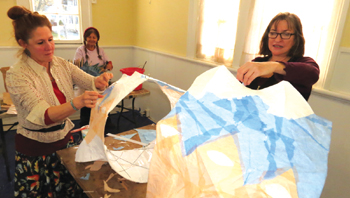 Volunteers Lisa Kane and Melisca Klisanin decorate large sections that will become parts of a giant Sturgeon at the Celebration Space Workshop at the Rhinebeck Methodist Church. The Sturgeon and other creatures of the Hudson River will be honored animals in the Starlight Parade, which will conclude the 12th annual Sinterklaas Festival in Rhinebeck on Saturday, Dec. 7. Photo by Curtis Schmidt
by Stacey van den Thoorn
It's that time of year for the much-anticipated magical season to be ushered in; and what better way to get into the spirit than in the Village of Rhinebeck at Sinterklaas on Saturday, Dec. 7.
---

Howland Cultural Center to host 'Inclusion'
Latino American artists' works highlighted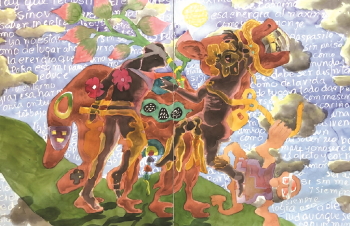 One of the works by artist Nestor Madalengoitia that will be in the "Inclusion" exhibit at the Howland Cultural Center in Beacon. - Courtesy photo
By Kristine Coulter
The annual showing of artwork by Hudson Valley Latino American artists will take place at the Howland Cultural Center from Saturday, Dec. 7 through Sunday, Dec. 29. The exhibit is called "Inclusion."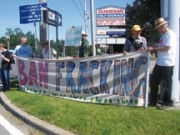 This free script provided by
JavaScript Kit
Wherever you live in Dutchess County, we cover school news, health and education features, seniors news, arts and entertainment activities, community calendar of events, municipal news, local business and organization profiles and press releases, legal notices and obituaries as well as local advertising.

FEATURE SUPPLEMENTS
& PUBLICATIONS
Preview back issues of Healthy Lifestyles in our annual archives.
Preview back issues of Home & Garden in our annual archives.
Preview back issues of Bon Appétit in our annual archives.
Preview back issues of Hudson Valley Business Journal in our annual archives.
---
Check out our special advertising offers including at our Media Kits page: Dutchess County Fair Supplements, Chef's Profile, Car of the Week.