Northern Dutchess News This Week...
The Northern Dutchess News is a member of the Southern Dutchess News group and is fast becoming a staple in the lives of individuals in communities north and east of Poughkeepsie. Already named an "official newspaper" of Stanfordville and Rhinebeck, it also serves Hyde Park, Red Hook, Tivoli, Milan, Pine Plains, Amenia, Dover, Millbrook, Clinton Corners, Salt Point and Pleasant Valley. The Northern Dutchess News provides coverage of local town, village and school news, the Dutchess County Legislature, county legal notices, obituaries, plus coverage of arts and entertainment, hospitals, 4-H clubs , farming news, businesses and organizations.
---
ADVERTISERS: Work together and save money
Click here for the Promotion Flyer
Click here for the list of locations, by community, where you can pick up Northern Dutchess News today....
---
4/22/15 Highlights of this week's edition...
---
Autism Walk 2015
Buried musical genius emerges in Clinton's Brenner
by Curtis Schmidt
(Continued from cover) To be sure, Michael has more than his share of challenges. The short list includes motor abnormalities, being visually impaired, obsessive compulsive disorder, impulsivity and attention deficit disorders, as well as multiple allergies, scoliosis and neuropathy.

In spite it all, Michael is highly intelligent. He speaks parts of several languages, including English, Spanish, German and Hebrew. He graduated from high school in 2008.

But music is where Michael really shines. He has a prodigious musical memory and can sing and play literally hundreds of songs, including ones in foreign languages.

"Michael is musically remarkable in many ways," said Dr. Muir. "He has perfect pitch. To put that in perspective, approximately one in every 2,500 individuals possesses this trait."

He adds that Michael is a very competent pianist, both of jazz and classical music and plays the drums.
Read the full story in this week's print edition.
---
Ruge's Subaru donates $24,000 to NDH Foundation

Lewis Ruge of Ruge's Subaru, center, presents a check to NDH Foundation Executive Director Dawn Morrison. From left are Michael Valentine of Subaru, NDH Foundation Development Associate Nancy Sheehan, Health Quest Senior Vice President of Development Ann Armater, Morrison, NDH Medical Affairs Vice President Dr. John Sabia, Ruge, and Gerry Gasparrini, Sam Spagnuolo, Phil O'Sullivan and Trevor Carr all from Subaru. Photo by Curtis Schmidt
by Curtis Schmidt
Ruge's Subaru of Rhinebeck donated approximately $24,000 to Northern Dutchess Hospital as part of the Rhinebeck-based car company's national "Share the Love" campaign. A check was presented on April 16 at the hospital.

In the two years local charities have been benefactors of "Share the Love," Ruge's Subaru has given Northern Dutchess Hospital $24,269 and $6,874 respectively. This year's gift will be used to fund the hospital's $47 million medical pavilion that is under construction.
Read the full story in this week's print edition.
---
Multi-media installation commemorates centennial of Armenian genocide

Artist Kardash Onnig of Stanfordville carves one of four speakers to be used in his installation, "Transfourming Sorrow." Photo by Helen Hamada
"Transfourming Sorrow," a powerful multi-media installation by artist Kardash Onnig, will pay tribute to the systematic decimation of the Armenian population in Anatolian Turkey that began in 1915. It is also an invitation for people to mourn and transcend their own grief and sorrow.

The installation will open on Saturday, April 25, from 11 a.m. to 5 p.m., and continues on three subsequent Saturdays, May 2, 9 and 16. Onning's studio is at 76 Halas Lane in Stanfordville.

When visitors enter the "Womb of Sorrow," an acoustic sanctuary called a Mehian, they will encounter four different auditory experiences emanating from four large speakers handcrafted by Kardash.
Read the full story in this week's print edition.
---
Also in the Apr 22-28, 2015 issue:
County weighs in on Common Core testing
Local call for Eleanor Roosevelt on $20 bill
Taste of Rhinebeck raises $23,500 for hospital
Kendall announces re-election bid for County Clerk
Volunteers return to Val-Kill gardens for spring cleaning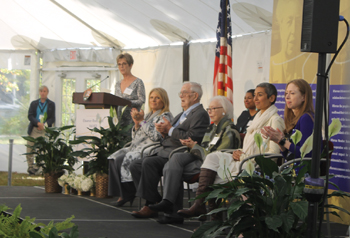 Susan Semenchuk and Greg Semenchuk fertilize flower beds in the cutting garden at Val-Kill, the Eleanor Roosevelt National Historic Site in Hyde Park. Photo by Kristine Coulter
Arlington school bus driver recognized for service, safety
Lucky Orphans Horse Rescue to celebrate Help A Horse Day
In Creative Living:
Jim Donick reviews 'Othello' at The Center

Tragedy unfolds in "Othello" as Iago (Joseph Eriole) destroys his general and old comrade, Othello (Marcus Gregio) with weapons of mass emotion. Photo by Craig Dingman
Get Growing! Plant tags offer a lot of information
Red Hook Tree Preservation group plans Arbor Day events
American Symphony Orchestra to wrap up Fisher Center season
Guitarist David Temple to perform at landmark church in Red Hook
---
Schools of the Week: Mill Road Primary, Red Hook
Spring Break
If your school has a program you'd like to see featured in School of the Week this session, e-mail northerndutchess@sdutchessnews.com and put "School of the Week" in the subject line.