Northern Dutchess News This Week...
The Northern Dutchess News is a member of the Southern Dutchess News group and is fast becoming a staple in the lives of individuals in communities north and east of Poughkeepsie. Already named an "official newspaper" of Stanfordville and Rhinebeck, it also serves Hyde Park, Red Hook, Tivoli, Milan, Pine Plains, Amenia, Dover, Millbrook, Clinton Corners, Salt Point and Pleasant Valley. The Northern Dutchess News provides coverage of local town, village and school news, the Dutchess County Legislature, county legal notices, obituaries, plus coverage of arts and entertainment, hospitals, 4-H clubs , farming news, businesses and organizations.
---
ADVERTISERS: Work together and save money
Click here for the Promotion Flyer
Click here for the list of locations, by community, where you can pick up Northern Dutchess News today....
NOTICE OF EARLY DEADLINE
Due to the holiday press schedule for the weeks of Christmas and New Year's, Northern Dutchess News will have an extra-early deadline for the Dec. 26 and Jan. 2 issues.
For the Dec. 26 issue, all editorial and calendar events must be received by Wednesday, Dec. 19, at noon. All advertising must be received by Wednesday, Dec. 19, at 3 p.m.
For the Jan. 2, 2019 issue, all editorial and calendar events must be received by Wednesday, Dec. 26, at noon. All advertising must be received by Wednesday, Dec. 26, at 3 p.m.
Call (845) 297-3723 for more information.

---
12/05/18 Highlights of this week's edition...
BOCES capital project aims at savings, consolidation
Election set Dec. 11
By Curtis Schmidt
(Continued from Cover) The Dutchess County BOCES (Board of Cooperative Educational Services) has not had a major capital project in more than 50 years. But that will change if the $36.8 million project designed to consolidate K-12 programs to one campus gets the approval of voters on Tuesday, Dec. 11.

Each of the county's 13 school districts will host a polling site. A poll will also be open at the Dutchess BOCES Administration Building at 5 BOCES Road in Poughkeepsie. Residents do not have to vote in their home school district; they may vote at the most convenient site. For a list of sites, visit dcboces.org/capitalproject.
---
New York AG issues ruling against Bottini
by Kristine Coulter
State Comptroller Thomas P. DiNapoli and Attorney General Barbara D. Underwood announced the criminal conviction of Morgan Fuel & Heating Company Inc., which conducts business as Bottini Fuel, for falsifying their business records to improperly divert credit balances belonging to individual, business, and government customers – including local school districts, prisons, town governments, and state agencies. Among those victims, according to the settlement, are: the Taconic Developmental Disabilities Services Organization ($281,630), the Greenhaven Correctional Facility ($145,957), Roundout Valley Central School District ($83,044) and Beacon City School District ($10,375). Towns getting restitution include Saugerties, Blooming Grove, Monroe, Hunter, Wappinger and Stanford.

According to the state Comptroller's Office and the state Attorney General's Office, Bottini Fuel plead guilty to Falsifying Business Records in the Second Degree in the Village of Wappingers Falls Justice Court.
---
Inspired by FDR's legacy, a Hyde Park nonprofit aims to nurture community through the arts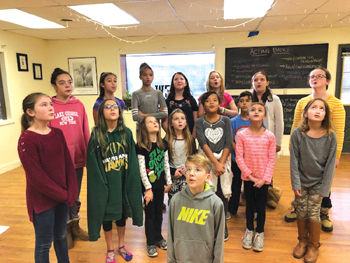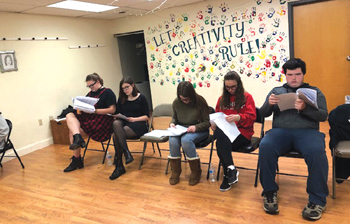 Children ages 8-12 rehearse for "A Charlie Brown Christmas" and teens read their scripts for "A World War II Radio Christmas," two upcoming productions by the New Deal Creative Arts Center in Hyde Park. The center's motto, "Let creativity rule," is painted on the wall behind the radio play group. Courtesy photos
by Kate Goldsmith
"I've been wanting to do something like this my entire life," says Teresa Gasparini, executive director of the New Deal Creative Arts Center. "[It's] something I would have loved to be involved with as a youth."

Gasparini opened the center last fall in the former Hyde Park Elementary School. Now located in the Oak Ridge Plaza on Route 9G in Hyde Park, the New Deal Creative Arts Center has a mission to make "arts accessible to a wide range of audience members" and to foster "community through education, outreach and professional artistic opportunity" while "illuminating the historical identity of the Hudson Valley," according to its mission statement.

The ebullient Gasparini, a Hyde Park native and self-proclaimed "history nerd," named her organization in recognition of the town's most famous son, President Franklin D. Roosevelt, and his New Deal programs that supported the arts during the depths of the Great Depression and into the early years of World War II.
---
ALSO in the Dec 5-11, 2018 issue:
Beware of phone scams during the holidays
Talk on Flying Tigers set on Pearl Harbor Day
Diligent efforts key success of Millbrook Library auction
HealthAlliance submits Kingston expansion plans to DOH
Ground-breaking ceremony held for 'Pavilion at Brookmeade'
County to update public on Justice & Transition Center project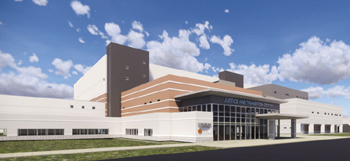 On Tuesday, Dec. 11, the Dutchess County Department of Public Works will host a public information meeting providing an update on the Dutchess County Justice & Transition Center project, shown in this rendering. Courtesy image
In Creative Living: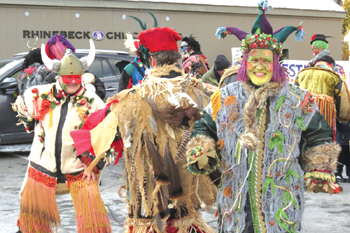 With the butterfly as the Honored Animal, hundreds of visitors crowded the streets and venues in Rhinebeck for the 11th Sinkerklaas celebration on Saturday. In the photo, Scarlet Freehill of Mahopac wears her butterfly mask. Photo by Curtis Schmidt
That's Italian! Pistachio Cookies
Upcoming events at Artists' Collective of Hyde Park
Interactive 'A Christmas Carol' returns to Beekman Arms
Tivoli merchants plan second '12 days Till Christmas' Dec. 13
Kaatsbaan holiday show to feature Vanaver Caravan, Arm-of-the-Sea
ND Orchestra's holiday program to include range of seasonal favorites
Read the full story in this week's print edition.
School of the Week: