Northern Dutchess News This Week...
The Northern Dutchess News is a member of the Southern Dutchess News group and is fast becoming a staple in the lives of individuals in communities north and east of Poughkeepsie. Already named an "official newspaper" of Stanfordville and Rhinebeck, it also serves Hyde Park, Red Hook, Tivoli, Milan, Pine Plains, Amenia, Dover, Millbrook, Clinton Corners, Salt Point and Pleasant Valley. The Northern Dutchess News provides coverage of local town, village and school news, the Dutchess County Legislature, county legal notices, obituaries, plus coverage of arts and entertainment, hospitals, 4-H clubs , farming news, businesses and organizations.
---
ADVERTISERS: Work together and save money
Click here for the Promotion Flyer
Click here for the list of locations, by community, where you can pick up Northern Dutchess News today....
---
9/19/18 Highlights of this week's edition...
Historic South Barn rises to meet future at Southlands
By Curtis Schmidt
(Continued from Home Page) Thanks to the efforts of members of the Southlands Foundation and contractor Mike Hericourt and his staff, the South Barn at the Southlands, an adapted dairy barn, has been historically restored and will be fulfilling a variety of essential needs for the future.

"It was a five-year project that was just completed last month," said Eve D'Ambra, president of the Southlands Foundation Board of Directors. "We are restoring history."
---
Millbrook CSD confronts mold issue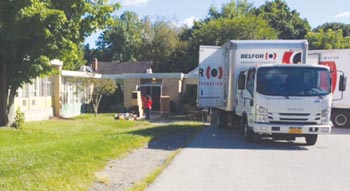 Trucks from firms dealing with mold remediation are parked at Elm Drive Elementary School in Millbrook on Friday of last week. Photo by Mary Keelan
by Mary Keelan
In the midst of year-long discussions on the future of the four Millbrook Central School District (MCSD) buildings in a decreasing enrollment milieu, two of the buildings, Elm Drive and Alden Place, were diagnosed with serious mold problems during the first days of school last week. This necessitated the immediate consolidation of classes and students, if only temporarily.

Though they will have missed a few days of school due to the mold problem, this week and for the next six weeks Elm Drive Elementary School (K-2nd) students will attend classes in the MCSD Middle School (6th-8th) while restoration of their school building is under way.

As explained in a recent e-mail, Superintendent Philip D. D'Angelo emphasized that "We will cluster eight classrooms to keep Kindergarten, First Grade and Second Grade students together and separate from the Middle School Students." The challenge is acute as the age range for the Elm Drive School pupils is approximately 5 years old to 7 and 8 years old and that of the Middle School is 11 years old to 13 and 14. One parent expressed a hope that the teachers would "take advantage of this age difference to introduce a mentoring program."
Read the full story in this week's print edition.
---
HV Folk Guild honors creative women in 'Beyond a Simple Folk Song'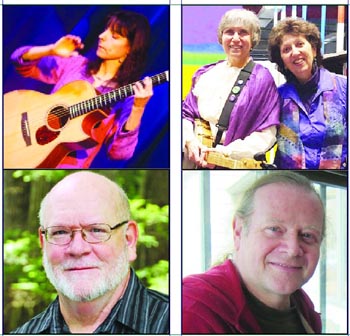 Hudson Valley Folk Guild performers (clockwise from top left) Helen Avakian, Pat Lamanna and Sharleen Leahey, Neil Okeson and Kevin Becker are featured in "Beyond A Simple Folk Song," a major annual event for the Folk Guild. This year's concert is set at the Cunneen-Hackett Arts Center Theater on Sunday. Courtesy photos; photo of Helen Avakian by Antonio Marino Jr.
by Kate Goldsmith
The Hudson Valley Folk Guild (HVFG) will present "Beyond a Simple Folk Song" on Sunday afternoon at the Cunneen-Hackett Theater in Poughkeepsie. Established in 2009 by HVFG's co-founder Kevin Becker as a challenge to stretch members' creative chops, the concert has become a highly anticipated occasion, and one sporting a particular theme this year: Creative Women.

The lineup includes Helen Avakian, singer-songwriter and International Fingerstyle Guitar Champion, only the second woman to win that honor; "Herstorians" Pat Lamanna and Sharleen Leahey, performing protest songs to commemorate the women's suffrage movement of the early 20th century; singer-songwriter Neil Okeson, presenting his song cycle about a fictional chanteuse who endured the Nazi occupation of Paris during World War II; and Becker, who has arranged a quartet of songs written by Hudson Valley women for four voices.
---
ALSO in the Sep 19-25, 2018 issue:
Salt Point Community Pages
Hyde Park Fall Fest promises family fun
Winnakee's annual barns and farms tour set Oct. 13
Marist and Health Quest plan to open medical school
Spotted lanternfly found in NYS; poses threat to crops
Human Rights commission's next '100 Cups of Coffee' event is Sept. 25
Dispatches from the VFW: Reducing number of homeless veterans is a major issue
United Way presents a community conversation around financial stability on Sept. 20
In Creative Living:
Love to Cook: Tarte Tatin
Get Growing! National Alpaca Day
Staatsburgh Historic Site offers tour for Ramble
Registration open for Benefit SCRABBLE tournament
Photos from Hardscrabble Day, Stanford Community Day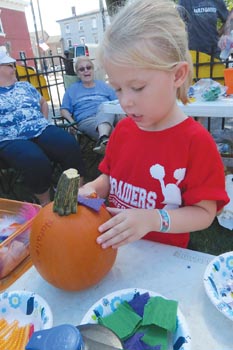 Hardscrabble Day 2018 brought crowds of visitors of all ages to the Village of Red Hook on Saturday. In the photo, Nancy Craft, 4, of Red Hook decorates a pumpkin at the Funshine Nursery School booth. Photo by Curtis Schmidt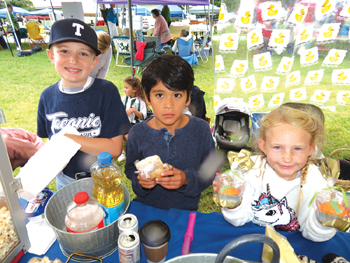 Large crowds of visitors and residents gathered to take part in the activities of the 60th annual Stanford Community Day on the grounds of Stanford Grange #880 on Saturday. In the photo, Jordan Devereux pushes Mark Burdick in the Veggie Machine, the Big Rock Market's entry in the Push Cart Derby races. Photo by Curtis Schmidt
Story Slam at Wallace Center to highlight 'Freedom to Believe'
Read the full story in this week's print edition.