Northern Dutchess News This Week...
The Northern Dutchess News is a member of the Southern Dutchess News group and is fast becoming a staple in the lives of individuals in communities north and east of Poughkeepsie. Already named an "official newspaper" of Stanfordville and Rhinebeck, it also serves Hyde Park, Red Hook, Tivoli, Milan, Pine Plains, Amenia, Dover, Millbrook, Clinton Corners, Salt Point and Pleasant Valley. The Northern Dutchess News provides coverage of local town, village and school news, the Dutchess County Legislature, county legal notices, obituaries, plus coverage of arts and entertainment, hospitals, 4-H clubs , farming news, businesses and organizations.
---
ADVERTISERS: Work together and save money
Click here for the Promotion Flyer
Click here for the list of locations, by community, where you can pick up Northern Dutchess News today....
---
6/20/18 Highlights of this week's edition...
6th annual Crafts Festival connects artists, visitors

A hand-fabricated 22K gold pin/pendant by Patty Bolz and one-of-a-kind functional ceramic teapot by Bloomington artist Stephen Fabrico are examples of works to be featured at the Rhinebeck Crafts Festival. Courtesy photos
by Robert Bouffard
(Continued from cover) Two-hundred of America's top independent artists and craftspeople are coming together for the sixth annual Rhinebeck Crafts Festival on Saturday and Sunday, June 23 and 24, at the Dutchess County Fairgrounds in Rhinebeck.

The diverse experience is a celebration of all things handmade, which includes unique contemporary craft and art, gourmet specialty foods, tastings from Hudson Valley distilleries and wineries, interactive craft demonstrations and a wide variety of family activities.

Read the full story in this week's print edition.
---
PV Fire Department leading trip to mobile 'Wall That Heals'

The traveling "Wall That Heals" will be in Newburgh on Aug, 4. A no-cost veterans trip to Newburgh is being planned by the Pleasant Valley Fire Department and reservations are needed by July 4. Courtesy photo
by jim donick
In this 2018 Dutchess County Year of the Veteran, the Pleasant Valley and Salt Point Volunteer Fire Companies have announced a major program to visit the traveling Vietnam Memorial Wall when it arrives in Newburgh in early August.

The idea for the event started with Jeff Cady, though he quickly points out that it is a team effort.

"I was thinking about the Honor Flight to Washington, DC that I did with my dad a few years ago," said Cady, president of the Salt Point Fire Company. "It was one of the most moving experiences I've ever had. Everyone can't get to DC to visit the memorials. This is a chance to help experience a little of that honor closer to home."
Read the full story in this week's print edition.
---
The Powerhouse Theater season will 'charge up' this weekend

The Powerhouse Theater season's first main-stage production is "Radio Island," featuring (clockwise from top left, Pascale Armand, Kelly AuCoin, Birgit Huppuch, Stephen Tyrone Williams, Adina Verson and Maryann Plunkett. Courtesy photos
by Kate Goldsmith
Vassar & New York Stage and Film will commence the 34th Powerhouse Theater season this Friday with the first of two play-reading festivals. The following week, the schedule picks up steam with the first main-stage production and takes off from there, concluding July 29.

Each summer, Powerhouse brings to the Vassar College campus in Poughkeepsie some of the most influential theatrical voices working today for fully staged productions of new plays, workshop presentations of new plays and musicals, and readings of other works in progress. The programming includes new works by "Spring Awakening" creators and two-time Tony winners Steven Sater and Duncan Sheik; three-time Tony winner Jason Robert Brown, playwright Halley Feiffer, among many others.

Rehearsals got under way June 4 for "Radio Island" (June 28-July 8), a new play from Liza Birkenmeier, directed by Jaki Bradley, who also directed "Good Men Wanted," a 2017 Powerhouse main-stage production.
Read the full story in this week's print edition.
---
ALSO in the June 20-26, 2018 issue:
New solar law stalls in Town of Washington
Eighth-grader raises $4,450 for Anderson Center
Troop K commander assigns new leadership in Zone 1
PSC's proposal would lower Central Hudson's rate request
Renegades ready for 25th season; home opener Thursday vs. Vermont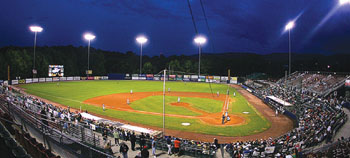 Hudson Valley Renegades players, from left, Chris Betts, Allen Smoot, Jesus Ortiz and Trey Cumbie are ready to start the 2018 season. The Renegades, the defending New York Penn League champions, will play their home opener on Thursday, June 21, against the Vermont Lake Monsters. Photo by Curtis Schmidt
NYS Crime analysis Center network expands to include Hudson Valley
Saw Kill Watershed Community to host June 20 meeting at Elmendorph
In Creative Living:
Ron reviews 'Herditary'
That's Italian! Ricotta Cheesecake
HVP's 59th season to open Oct. 13
Murder Café to present a class reunion 'to die for'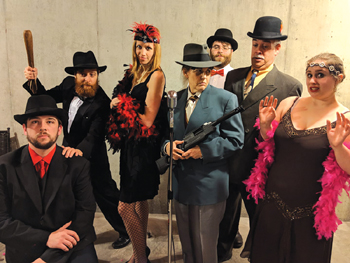 The cast of "Murder at the High School Reunion" poses for a group shot. Murder Café will perform the whodunit at The Beekman Arms on Wednesday. Courtesy photo
Poughkeepsie's Big Read to feature Celeste Ng debut novel
Year of the Veteran: Camp Whitman in Beekman was training ground for WWI troops
School of the Week
School of the Week: