Northern Dutchess News This Week...
The Northern Dutchess News is a member of the Southern Dutchess News group and is fast becoming a staple in the lives of individuals in communities north and east of Poughkeepsie. Already named an "official newspaper" of Stanfordville and Rhinebeck, it also serves Hyde Park, Red Hook, Tivoli, Milan, Pine Plains, Amenia, Dover, Millbrook, Clinton Corners, Salt Point and Pleasant Valley. The Northern Dutchess News provides coverage of local town, village and school news, the Dutchess County Legislature, county legal notices, obituaries, plus coverage of arts and entertainment, hospitals, 4-H clubs , farming news, businesses and organizations.
---
ADVERTISERS: Work together and save money
Click here for the Promotion Flyer
Click here for the list of locations, by community, where you can pick up Northern Dutchess News today....
Notice of early deadline
Due to the Memorial Day holiday, the ad deadline for the May 29 issue of Northern Dutchess News is Thursday, May 23, at noon. Editorial and calendar listings must be submitted by Wednesday, May 22. Call (845) 297-3723 for more information.
---
5/15/19 Highlights of this week's edition...
Shapiro interview leads events at Literary Festival
by Kira Wizner
(Continued from Home Page) That's what happened to me with Dani Shapiro. I found her at the right time - my kids were young, my mother-in-law heard her speak, and gave me her latest at the time, "Devotion," a book about motherhood, religion, marriage that deeply examined the life she was leading, which gave me permission to do the same. She was asking universal questions that felt personal - exactly what a great memoirist should accomplish.

After getting my hands on most of her other titles, I felt like I knew her.
---
Historic Red Hook exhibit to highlight extraordinary life of freed slave Gilson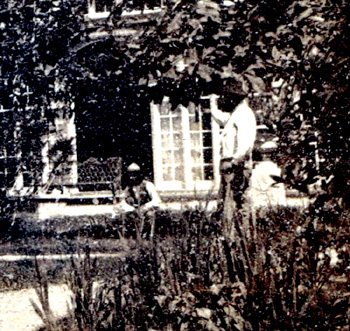 Freed slave Alexander Gilson (1823-1889) is the subject of the inaugural exhibition at Historic Red Hook's StoryStudio, opening Memorial Day weekend. Gilson served as head gardener at Montgomery Place from the 1840s into the 1880s. It is likely that he is the man holding the paper in the center of this photographic detail. Courtesy photo
by Kate Goldsmith
As Historic Red Hook prepares to celebrate the opening of its expanded campus on Memorial Day weekend, the organization and its partners are putting the finishing touches on the inaugural exhibit in the new StoryStudio, "Alexander Gilson: From Property to Property Owner." A number of panels displayed on the walls of the StoryStudio – at 5 Cherry St., adjacent to the Elmendorph Inn – will highlight the remarkable life of Alexander Gilson, a freed slave who became a successful local businessman and esteemed horticulturist.

"It's actually a story that Montgomery Place had unearthed, years ago [when Historic Hudson Valley owned the site]," said Claudine Klose, president of Historic Red Hook, "and [Bard Professor] Myra Armstead decided to use that as a subject of a class, to do more research on it. It's a perfect [collaboration]; he [Gilson] is buried right down the street."
---
Open Studio Tour to offer a peek at the creative process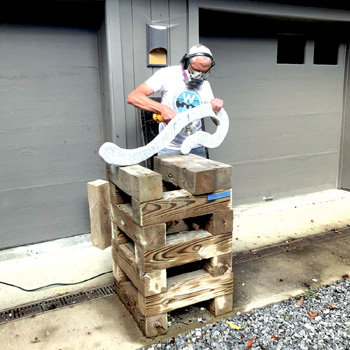 Poughquag artist Bob Madden works on a sculpture. Madden is one of several artists in southeastern Dutchess County who will open their studios for the ARTmostNY Tour this weekend. Courtesy photo
The ARTmostNY Open Studio Tour will take place on Saturday, May 18, and Sunday, May 19, from 11 a.m. to 5 p.m. Artists in Pawling and Poughquag as well as Patterson (Putnam County) will invite visitors to view them in the midst of their creative process.

There will be finished works on display, but the artists will also be working on the projects that drive them to create. It might be dirty, noisy, smell funny and seem chaotic, but it will not be dull.

---
ALSO in the May 15-21, 2019 issue:
Local reflections on the Notre Dame fire
New Office for the Aging opens in Poughkeepsie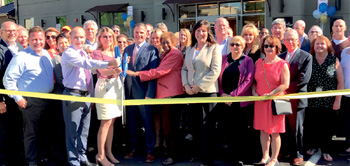 County Executive Marc Molinaro joins local leaders, the Dutchess County Regional Chamber of Commerce and residents for the grand opening of the new, centralized Dutchess County Office for the Aging (OFA) headquarters on Wednesday, May 8. Courtesy photo
Bridges to be replaced on Bruzgul Road in Union Vale
Master Gardener Plant Sale at Cornell Co-op May 17-18
Citizen Science Training set to scout, identify forest pests
Clinton Historical Society offers third-Saturday film series
School Budget Roundup: Most districts comply with tax cap
Dutchess Tourism Awards of Distinction honor local partners
New Guinea Community Site National Register event set May 18
Millbrook School rocketry team to compete in American challenge
Firefighters commended for work on railroad bridge fire 45 years later
Salt Point Community Pages: Spotlight on Murphy's Auto/AutoBody Center
Hudson Valley houses of worship to be featured during 'Sacred Sites Open House'
In Creative Living:
Love to Cook: The good life
Gladys Knight to perform at Bardavon Gala
On the Couch with Netflix: 'A Little Chaos'
Collaborative story collection project under way in Millerton area
Get Growing: Is proposed state legislation a 'nail in the coffin' for Hudson Valley farmers?
Decoding Dutchess' Past: Gardening digital scrapbook highlights historic gardens, gardeners, landscape architects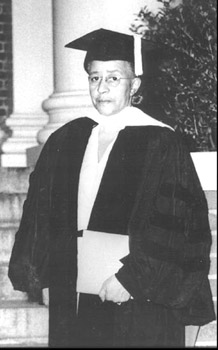 John Britton came back with local returning Civil War soldiers and settled in Millbrook in a more free and open environment provided by the immediate area's strong Quaker, anti-slavery community and became a highly prized head gardener. Photo courtesy of the Millbrook Historical Society
Read the full story in this week's print edition.
School of the Week: