Northern Dutchess News This Week...
The Northern Dutchess News is a member of the Southern Dutchess News group and is fast becoming a staple in the lives of individuals in communities north and east of Poughkeepsie. Already named an "official newspaper" of Stanfordville and Rhinebeck, it also serves Hyde Park, Red Hook, Tivoli, Milan, Pine Plains, Amenia, Dover, Millbrook, Clinton Corners, Salt Point and Pleasant Valley. The Northern Dutchess News provides coverage of local town, village and school news, the Dutchess County Legislature, county legal notices, obituaries, plus coverage of arts and entertainment, hospitals, 4-H clubs , farming news, businesses and organizations.
---
ADVERTISERS: Work together and save money
Click here for the Promotion Flyer
Click here for the list of locations, by community, where you can pick up Northern Dutchess News today....
---
7/18/18 Highlights of this week's edition...
Equine-assisted connection grows at Hope Rising Farm
By Curtis Schmidt
At Hope Rising Farm in the Smithfield Valley area of eastern Dutchess County, she is encouraging a "yes you can do it" approach to working and teaching. She wants to enhance the benefits for others through equine-assisted activities.

"That's what this is all about," she said. "It's not about me. I'm just the facilitator. It's all about working with the horses to help these individuals succeed in life."

Her current goal? Wikane would like to turn Hope Rising Farm into an accredited PATH Member Center. There are more than 850 Professional Association of Therapeutic Horsemanship International (PATH International) member centers in the United States and around the world, which provide equine-assisted activities and therapies.
Read the full story in this week's print edition.
---
Ugolini, Seeley take over at Red Hook Community Center
by Stacey van den Thoorn
The Red Hook Community Center's (RHCC) Board recently appointed Sara Ugolini as executive director and Jenna Seeley as program director in efforts to enhance the center's utilization and prominence in the community.

RHCC, which officially opened in April 2017, is located in the building which formerly housed the Red Hook Bible Church, at 59 Fisk St. in Red Hook. The facility was purchased by Dr. George Verrilli and gifted to the community in August 2016. Verrilli recognized the potential the site would provide as a facility to benefit residents and programs have been up and running since its inception.

A statement from the RHCC Board announced "The RHCC Board members are delighted to have both Sara and Jenna officially employed at the RHCC. They will both prove to be a great asset for the ongoing growth and future of the RHCC. Both Sara and Jenna have exuded great energy and a positive attitude creating new bonds and relationships while offering professionalism, friendship and goodwill to all those who enter the Community Center. This should prove to be an exciting year with Sara at the helm as executive director and Jenna's coordination of our volunteers and programs. We look forward to their assistance and representation though our second year of growth and development."
---
Read the full story in this week's print edition.
Millbrook Arts Group Celebrates 30th anniversary

Professor Louie & the Crowmatix performed American blues and rock at the Band Shell in Millbrook earlier this summer, in a free concert sponsored by Millbrook Arts Group. Three more concerts are scheduled this Saturday as well as Aug. 4 and 18. Photo by Kate Dietrich
by Mary Keelan
Thriving, not just surviving, describes the 30 years of organizing and sponsoring free concerts at the Band Shell adjacent to the Thorne Building by the Millbrook Arts Group (MAG). It is an all volunteer nonprofit organization, incorporated as a 501c3, which is celebrating that anniversary this summer with special prizes and treats for children and families at every concert.

These include such freebies as ice cream, bouncy balls, American flags, bracelets, cowboy bandanas and Frisbees. The festivity continues at 6 p.m. on Saturday nights with a petting zoo and country dancers planned for Aug. 4.

In their variety, the remaining three concerts for the summer render a feel for the kind of diverse, community-appealing music that MAG regularly programs. "Acoustic classic rock and soul" describes The Differents, scheduled for Saturday, July 21. "A potent blend of honky tonk country, boogie woogie, and jump blues" characterizes the Twangbusters, performing on Aug. 4. And "groovy Americana with a Boston beat" epitomizes the group known as Cold Chocolate on the calendar for the closing summer concert on Aug. 18.
---
ALSO in the July 18-24, 2018 issue:
Salt Point Community Pages: Spotlight on Murphy's Auto Center
Wilcox Park offers new accessibility features
DC Leg to celebrate 50th anniversary at Fairgrounds Aug. 20
Mini golf tournament to benefit Community Action Partnership
Cary's Ostfeld leads 2-decade study on Lyme disease conditions
Veterans encouraged to enroll in Return the FAVOR discount program
In Creative Living:
Ron reviews 'Won't You Be My Neighbor'
'Skull and Bones' program for kids & families set at Staatsburgh
That's Italian! Honoring Claudio's legacy and Espresso Cheesecake Cupcakes recipe
Photos from the Millbrook Fireman's parade and the Hyde Park Car Show & Street Fair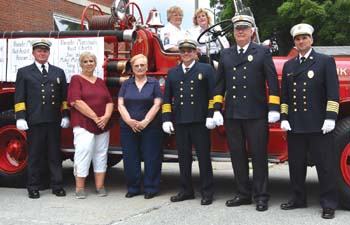 The annual Dutchess County Volunteer Fireman's Parade brought more than 30 entrants and hundreds of cheering visitors to the Village on Saturday, July 14. In the photo, past chiefs and presidents served as Parade Marshals. From left are, past chief Tony DeMarco, Past Auxiliary Presidents Olympia Ciferri and Carol Webb, Past Chiefs Jon Wicker, Mike Massarone and Chris Hawks. On top are past president Laurie Olson and past Assistant Chief of the Millbrook Fire Rescue Squad Joan Van Tassell. Photo by jim donick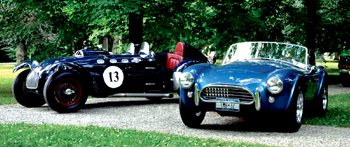 The Ninth Annual Car Show and Street Fair of the Hyde Park Chamber of Commerce provided a great time for all who attended on Sunday, July 15. Pictured: A 1931 Ford Model A "Fordor" belonging to Mark Cerviglia was decked out in American Flags. Photo by jim donick
Year of the Veteran: Harlem Hellfighters trained in Beekman, went on to fight with French troops in WWI
Read the full story in this week's print edition.