Northern Dutchess News This Week...
The Northern Dutchess News is a member of the Southern Dutchess News group and is fast becoming a staple in the lives of individuals in communities north and east of Poughkeepsie. Already named an "official newspaper" of Stanfordville and Rhinebeck, it also serves Hyde Park, Red Hook, Tivoli, Milan, Pine Plains, Amenia, Dover, Millbrook, Clinton Corners, Salt Point and Pleasant Valley. The Northern Dutchess News provides coverage of local town, village and school news, the Dutchess County Legislature, county legal notices, obituaries, plus coverage of arts and entertainment, hospitals, 4-H clubs , farming news, businesses and organizations.
---
ADVERTISERS: Work together and save money
Click here for the Promotion Flyer
Click here for the list of locations, by community, where you can pick up Northern Dutchess News today....
---
10/16/19 Highlights of this week's edition...
McCord family farm grows with Sheep & Wool Festival
39th annual event set on weekend at DC Fairgrounds
by Curtis Schmidt
(continued from front page) "We brought it back to the farm in the back of our Chevy station wagon," Bruce said with a laugh. "I grew up working with dairy cows and my wife grew up working with horses. We both love animals, so we kind of figured raising sheep would be a good compromise and give us plenty of options."

Now, 39 years later, the McCord family has three generations involved on the farm – son Jason and his wife, Jennifer and grandchildren Haley and Evan. They have a herd of 50-plus Dorset and Southdown sheep and they owe much of the growth of the farm to the "all volunteer" festival, which has grown to national and international proportions.

This year's event is set Saturday and Sunday, Oct 19 and 20, at the Dutchess County Fairgrounds.
---
Korda book signing on 'Passing' to benefit PV Library rebuilding fund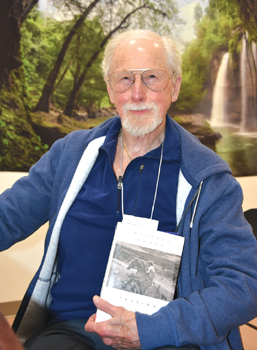 Author Michael Korda will sign copies of his new book, "Passing," at Daffodils Gift Shoppe in Pleasant Valley on Saturday, Oct. 26, from 1 to 3 p.m. Photo by Jim Donick
by Jim Donick
In what promises to be a major literary event of the year in Pleasant Valley, the Town's own New York Times best-selling author, Michael Korda, will be signing his most recent work, "Passing," at Daffodils Gift Shoppe on Saturday, Oct. 26 from 1 to 3 p.m.

Proceeds of the event will go to the rebuilding fund of the Pleasant Valley Library.

Korda, the former editor-in-chief at Simon and Schuster, has made his home in Pleasant Valley for the better part of the last 30 years. He is taking a role in the fundraising efforts to rebuild the Pleasant Valley Free Library after the fire of last November.

"I'm happy to be a part of this for the community," he said. "This isn't simply a worthy cause, it's an important one."
---
Northern Dutchess Symphony to open season with Mozart, Beethoven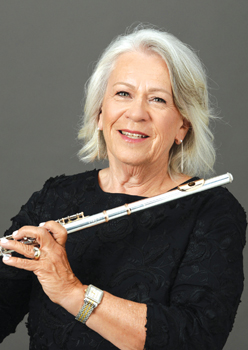 Flutist Marcia Gates is the special guest at the Northern Dutchess Symphony Orchestra's 14th season opener this Sunday. Courtesy photo
The Northern Dutchess Symphony Orchestra (NDSO) opens its 14th season with a concert of favorite works by Mozart and Beethoven. The program will include Mozart's "The Overture to the Magic Flute" and his Concerto in G Major featuring Marcia Gates, principal flute with the Hudson Valley Philharmonic. Beethoven's extraordinary Symphony No. 5 highlights the second half of the program. The concert is on Sunday, Oct. 20, at 3 p.m., at the Rhinebeck High School Auditorium, 45 North Park Road in Rhinebeck.
---
ALSO in the Oct 16-22, 2019 issue:
ALS Walk on Walkway Oct. 20
Senior Seminars coming up in November
Walk to End Alzheimer's set Oct. 19 on Walkway
39th Sheep & Wool Festival is all about fun and education
Chelsea Clinton, Goldens of Hyde Park among Val-Kill medalists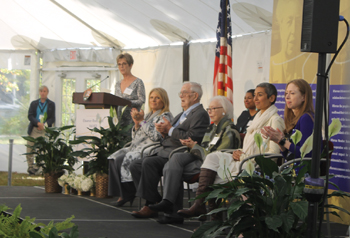 The 2019 Eleanor Roosevelt Val-Kill Medalists seated on the podium, from left, are Lisa Lutoff-Perlo, John W. Golden Jr., Gloria Kidd Golden, Zainab Salbi and Chelsea Clinton. Photo by Kristine Coulter
Salt Point Community Pages: Forever Green Property Maintenance
Ulster, Dutchess unite to fight EPA decision on Hudson River cleanup
Transportation Council launches examination of the 9/44 Interchange and 44/55 arterials
In Creative Living:
Love to Cook: Frightful feast
Get Growing! Crabbing in the Hudson
ArtEast Open Studio Tour set over two weekends
Hudson Valley group's album nominated for Native American Music Award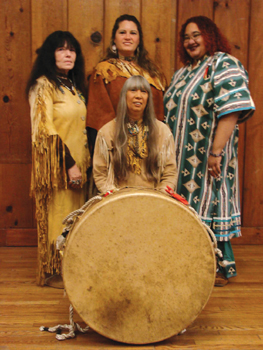 Spirit of Thunderheart, an all-women Native American drum group based in the Hudson Valley, has been nominated for a Native American Music Award for their latest CD, "Tradition." Courtesy photo
Decoding Dutchess' Past: The deep Dutchess County roots of America's first political sex scandal
Read the full story in this week's print edition.
School of the Week: