Northern Dutchess News This Week...
The Northern Dutchess News is a member of the Southern Dutchess News group and is fast becoming a staple in the lives of individuals in communities north and east of Poughkeepsie. Already named an "official newspaper" of Stanfordville and Rhinebeck, it also serves Hyde Park, Red Hook, Tivoli, Milan, Pine Plains, Amenia, Dover, Millbrook, Clinton Corners, Salt Point and Pleasant Valley. The Northern Dutchess News provides coverage of local town, village and school news, the Dutchess County Legislature, county legal notices, obituaries, plus coverage of arts and entertainment, hospitals, 4-H clubs , farming news, businesses and organizations.
---
ADVERTISERS: Work together and save money
Click here for the Promotion Flyer
Click here for the list of locations, by community, where you can pick up Northern Dutchess News today....
NOTICE OF EARLY DEADLINE
Due to a holiday press schedule for Memorial Day, Northern Dutchess News will have an early deadline for the June 1 issue. Editorial and calendar submissions must be received by Wednesday, May 25, at 3 p.m. Advertising is due by 5 p.m. on Thursday, May 26. Call (845) 297-3723 for more information.
---
05/18/16 Highlights of this week's edition...
---
Spirit of St. Louis 'dream' replica to fly at Aerodrome
by jim donick
(Continued from cover) The project has come quite some distance since that windless Dec. 5 when Cassens strapped into a wicker seat nearly identical to the one that Lindbergh occupied on May 20, 1927.

Thirty-three-and-a-half hours later, Lindy landed at LeBourget Aeroport in Paris. Now, six months after Cassens' first hop in the replica, he and the Old Rhinebeck Aerodrome team are ready to show their efforts to the world.

The aircraft's first public flight comes this weekend, on Saturday, May 21, as the centerpiece of the Aerodrome's inaugural "Spirit of the Aerodrome Gala." It is the most elaborate event that the Aerodrome has ever undertaken to kick off an air show season.

The Gala will be centered around this thoroughly accurate reproduction of Charles Lindbergh's Spirit of St. Louis, celebrating its public debut with a demonstration flight and a 1920s-themed fundraising cocktail party at the Aerodrome.
Read the full story in this week's print edition.
---
Talent shines for Millbrook Literary Festival

A few of the authors/titles to be featured at the Millbrook Literary Festival are set up on a table at Merritt Bookstore. Photo by Curtis Schmidt
by Kate Goldsmith
Books, in all their incarnations, open up new worlds and possibilities. Sharing stories (and the ideas within them) has propelled civilization for ages; and with 21st-century technology the opportunities for sharing are more numerous than ever.

The Hudson Valley is fortunate to be the home of many writers, illustrators and others in the publishing industry. It's fertile ground for events that bring the region's literary community together.

The eighth Millbrook Literary Festival, set Saturday from 10 a.m. to 5 p.m. at the Millbrook Free Library, is one such celebration. More than 70 authors from the region will participate in panels, talks, presentations and workshops in three areas within the library, offering something for everyone. In addition, many of the authors will sell and sign their books under a tent on the library's lawn throughout the day.

New this year is the inaugural Scott Meyer Award. Meyer, owner of Merritt Bookstore until his death last July, embodied the love of learning and community that are the cornerstones of the festival he founded in 2008.

"We wanted to honor Scott and thought that the best way would be to encourage and support local writers," said Sam Falk, chairwoman of the festival's steering committee. "This year's award is going to the writer of an unpublished short story."
Read the full story in this week's print edition.
---
Olana to offer landscape tours

Olana State Historic Site in Hudson debuts its landscape tour this Friday. Courtesy photo
by Kate Goldsmith
The Olana Partnership is launching the 2016 season at Olana by introducing regular public tours of Olana's historic landscape. This is a dramatic and fundamental expansion of the visitor experience and coincides with the 50th anniversary of the saving of Olana from the brink of destruction.

Landscape tours will begin on Friday, May 20, and continue through Sunday, Nov. 6. Guided group landscape tours along Olana's carriage roads are available via an open-air electric vehicle and on foot, and a self-guided version is available through a downloadable cell phone app.

These new tours present Olana as an integrated work of art, architecture, conservation, agriculture and landscape design and take the visitor to key locations in Olana's landscape.
Read the full story in this week's print edition.
---
ALSO in the May 18-24, 2016 issue:
County OKs electrical work at DCC
Local agencies train to deal with 'active shooter'
Dutchess Day School celebrates 60th anniversary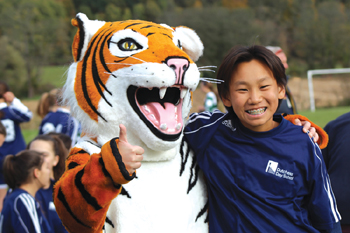 Guests at Dutchess Day School's 60th anniversary celebration watch a special video about the school's music and performing arts program, filmed and edited by DDS trustee Marion De Vogel. Courtesy photo
Hyde Park's Town-Wide Tag Sale set May 21-22
Vassar Brothers Medical Center looks to the future
DEC to celebrate World Fish Migration Day in Dutchess
Bridge replacement work under way on Hibernia Road in Clinton
In Creative Living:
Love to Cook: A spring fling with burrata
Get Growing! The classic vegetable garden
Howland Chamber Music Circle founders to retire
Double-header at Cantine Field to offer craft beers, handmade shopping

Cantine Field in Saugerties plays host to the Craft Brew Boogaloo and Hudson Valley Hullabaloo this Saturday. The Boogaloo features more than 150 craft beers and the Hullabaloo (pictured) offers a variety of shopping from craftspeople and artisans. Courtesy photo
---
Schools of the Week: No profile this week.
If your school has a program you'd like to see featured in School of the Week this session, e-mail northerndutchess@sdutchessnews.com and put "School of the Week" in the subject line.