Northern Dutchess News This Week...
The Northern Dutchess News is a member of the Southern Dutchess News group and is fast becoming a staple in the lives of individuals in communities north and east of Poughkeepsie. Already named an "official newspaper" of Stanfordville and Rhinebeck, it also serves Hyde Park, Red Hook, Tivoli, Milan, Pine Plains, Amenia, Dover, Millbrook, Clinton Corners, Salt Point and Pleasant Valley. The Northern Dutchess News provides coverage of local town, village and school news, the Dutchess County Legislature, county legal notices, obituaries, plus coverage of arts and entertainment, hospitals, 4-H clubs , farming news, businesses and organizations.
---
ADVERTISERS: Work together and save money
Click here for the Promotion Flyer
Click here for the list of locations, by community, where you can pick up Northern Dutchess News today....
---
02/19/20 Highlights of this week's edition...
Storms get intricate plans at Central Hudson
by Jim Donick
(continued from front page) The members of the team at Central Hudson Gas & Electric Corp. have not let down their guard and are in a state of constant readiness should Mother Nature decide to take out our power while dropping copious amounts of the cold white stuff or picking up the winds to blow down limbs, or even whole trees, across the area.

The storm management plan is much more complex than simply a glib phrase like "go fix it." The current planning document runs almost a hundred pages and covers nearly any expected situation.
---
Town of Stanford looking at restorative levy after tax error
by Rich Thomaselli
This is not exactly how Wendy Burton envisioned her first month or so on the job as the new supervisor of the Town of Stanford.

"On my first day of work I had to go around to every person that works in this building and tell them, 'Sorry, can't afford to give you a 10-percent raise,'" Burton told the Northern Dutchess News. "Now we have to tell residents 'Sorry, you're not getting that nearly 60-percent decrease in your property tax.'"

A day after nearly 200 residents packed the town auditorium for a bi-weekly meeting, an exhausted and perturbed Burton – a Democrat elected last November – was weighing her options after she and the town board inherited a mysterious and potentially dangerous problem.
---
Spirit of nature, spirit of love
Pawling artist Bibiana Huang Matheis issues a poignant call to reverse deforestation with her installation, on display in a small Icelandic village.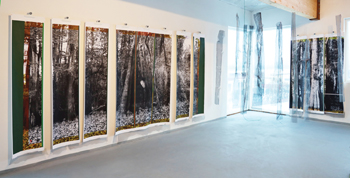 Pawling artist Bibiana Huang Matheis recently participated in the "Fresh Winds" artist-in-residency festival in Iceland. Her installation, "Heart @ Our Forests," is a call to save and replenish the world's vanishing forests. Photo courtesy of the artist
by Kate Goldsmith
Writers of fantasy fiction are not the only ones who believe that trees have spirits. Many a sensitive soul has stood in a forest (or even a shady glen) and felt the powerful presence of nature's creation. Even the more practical-minded among us would admit that forests benefit our world in a myriad of ways. So the current rate of global deforestation is problematic, with wide-ranging consequences for all life on Earth.

Since trees communicate in subtle ways, their message can be missed until it's too late; thus it falls to humans who can "speak the language" to translate.

Bibiana Huang Matheis is one such translator. An artist, fine art photographer and curator, the Pawling resident has shown her work throughout the Hudson Valley and beyond. Most recently, Huang Matheis was an artist-in-residence at the "Fresh Winds" festival in Suðurnesjabær, Iceland. The international festival ran from Dec. 14, 2019 to Jan. 12, 2020. She describes her installation, "Heart @ Our Forests," as "a plea to the world, from the spirits of trees, to save and replant the vanishing forests."
ALSO in the Feb 19-25, 2020 issue:
Brookmeade resident celebrates 105th birthday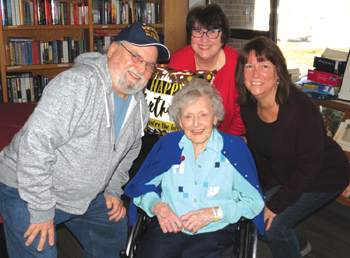 Grace J. Monaghan, center, is surrounded by nieces and nephew Brian Weit, Kathleen Davis and Nola Weit on her 105th birthday at the Meadows at Brookmeade Community in Rhinebeck. Photo by Curtis Schmidt
DCROC announces annual Forty Under 40 honorees
Public events set for USS Roosevelt ensign's Hyde Park visit
Salt Point Community Pages: Spotlight on Hackett Farm Supply
Waterman Bird Club meeting to feature lecture on Borneo's wildlife
LaGrange Challenger Bowling League to collect items for SPCA on Feb. 26
Discussion of estrogen-disrupting chemicals in local water set Feb. 19 in Red Hook
In Creative Living:
Love to Cook: Salted Caramel & Chocolate Shortbread Bars
Film Dutchess announces free seminar on local film industry
Musical program on 'Historic Hudson' set at The Fountains March 4
Acclaimed author and illustrator to mark Black History Month at Starr Library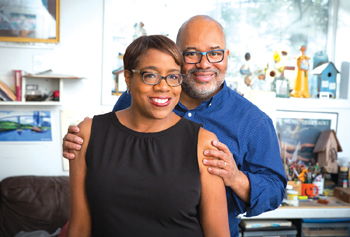 Author Lesa Cline-Ransome and illustrator James Ransome will discuss their latest collaborations at Starr Library in Rhinebeck on Feb. 29, to celebrate Black History Month. Photo by John Halpern Photographer
Get Growing! Hudson Valley agriculture owes debt to slaves who worked the land
Woodstock Symphony Orchestra to bring 'Cartoon Mania' to Arlington HS Feb. 22

Read the full story in this week's print edition.
School of the Week: