Northern Dutchess News This Week...
The Northern Dutchess News is a member of the Southern Dutchess News group and is fast becoming a staple in the lives of individuals in communities north and east of Poughkeepsie. Already named an "official newspaper" of Stanfordville and Rhinebeck, it also serves Hyde Park, Red Hook, Tivoli, Milan, Pine Plains, Amenia, Dover, Millbrook, Clinton Corners, Salt Point and Pleasant Valley. The Northern Dutchess News provides coverage of local town, village and school news, the Dutchess County Legislature, county legal notices, obituaries, plus coverage of arts and entertainment, hospitals, 4-H clubs , farming news, businesses and organizations.
---
ADVERTISERS: Work together and save money
Click here for the Promotion Flyer
Click here for the list of locations, by community, where you can pick up Northern Dutchess News today....
---
10/19/16 Highlights of this week's edition...
---
Red Hook sewer plan would help businesses, preserve aquifer
by Stacey van den Thoorn
(Continued from cover) The STEP system, which has been deemed a viable low-cost option, provides municipal sewer/wastewater treatment by removing waste liquids through sewer mains and pumps out treated liquids, while solid waste is contained in a tank. Each property serviced by the STEP system is required to have an effluent pump connected to the sewer. By using a small diameter pipe, produced specifically for use in densely developed areas, minimal disruption and site restoration is expected.

According to Kovalchik, the project would connect approximately 130 mixed-use properties on the Route 9 and Route 199 corridor and is expected to cost $4.9 million. This includes the expansion and village use of the current water treatment plant at Red Hook Commons, mains, laterals, replacement of tanks not in compliance with the Department of Health and pumps within the sewer district. The Village Board has approved a bond resolution, while diligently seeking grants, zero-interest loans and low-interest loans to reduce costs.
Read the full story in this week's print edition.
---
FDR High re-dedication event honors class of 1966

Garrett Burnett, president of the 2016 Student Government at FDR, speaks with David Roosevelt, grandson of President Franklin D. Roosevelt, after the re-dedication ceremonies on Friday afternoon. Photo by Curtis Schmidt
by Curtis Schmidt
A variety of speakers, ranging from David Roosevelt to Congressman Chris Gibson to representatives from the classes of 1966 and 2016, all honored the "Tradition of Excellence" at the Re-Dedication of Franklin D. Roosevelt High School on Friday, Oct. 14.

President Franklin D. Roosevelt dedicated three new school buildings in the newly formed Hyde Park Central School District in the fall of 1940. At the ceremony, Roosevelt's comments included, "True democratic government cannot long endure in the midst of widespread ignorance"; "It has been recognized as a responsibility of government, that every child have the right to a free and liberal education"; and "Tyranny hates and fears nothing more than the free exchange of ideas, the free play of the mind that comes from education."

The class of 1966 was also honored as the first graduates of FDR High School. Those students placed a time capsule in a cornerstone to be opened at a later date. That time capsule was restored and replaced in a new cornerstone, which was unveiled on Friday.
Read the full story in this week's print edition.
---
Celebrating the Great Swamp

The Great Swamp Fall Celebration will feature a juried art and photography exhibit of works depicting the Great Swamp, such as this photo of a great blue heron by Don Turner. Courtesy photo
by Kate Goldsmith
FrOGS (Friends of the Great Swamp) will hold its 20th annual Great Swamp Fall Celebration on Saturday, Oct. 22, from 11 a.m. to 5 p.m.; and Sunday, Oct. 23, from noon to 4 p.m., at the Thomas Memorial Center, Christ Church, in Pawling.

This family-friendly event has free admission and includes the Great Swamp Art & Photography exhibit and sale, children's activities, educational programs, a birds-of-prey presentation and more. FrOGS will also have merchandise available to purchase, including hats, T-shirts and a new Great Swamp coloring book.

According to some visitors, the autumn vista from atop Quaker Hill is alone worth the trip; but Falconer Jim Eyring will bring his crowd-pleasing raptors, children will be able to make clay sculptures of a swamp animal at Cherie Ingraham's "Chuckie Goodnight" table and there will be interactive educational exhibits.
---
ALSO in the Oct 19-25, 2016 issue:
Photos from the Sheep & Wool Festival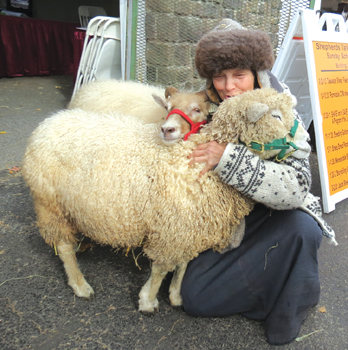 The 2016 Sheep & Wool Festival brought hundreds of vendors and thousands of visitors for the two-day event at the Dutchess County Fairgrounds. Maryann Moldoff of East Fishkill pets a Corriedale lamb from Patchwork Pastures of Hyde Park. Photo by Curtis Schmidt
Legislature approves Balkind as new DPW chief
Great Song Farm protected through county program
Hot Chocolate 5K Run to raise funds for soccer team trip to England
In Creative Living:
Ron reviews 'The Birth of a Nation'
Love to Cook: Harvesting Halloween fun

The Haunted Hostess sets the stage for Halloween fun. Photo by Vicki Frank Day
Folk-pop legend John Sebastian to play Towne Crier
Theater Review: 'Young Frankenstein' at The Center
Get Growing! The Great Dismal Swamp in North Carolina
Local, county officials open Artisan's Park Overlook in Amenia
Lyceum in Red Hook to celebrate silver anniversary on Saturday
Lehman Loeb Art Center creates new gallery dedicated to photography
---
Schools of the Week: Bulkeley Middle School, Rhinebeck
If your school has a program you'd like to see featured in School of the Week this session, e-mail northerndutchess@sdutchessnews.com and put "School of the Week" in the subject line.