Northern Dutchess News This Week...
The Northern Dutchess News is a member of the Southern Dutchess News group and is fast becoming a staple in the lives of individuals in communities north and east of Poughkeepsie. Already named an "official newspaper" of Stanfordville and Rhinebeck, it also serves Hyde Park, Red Hook, Tivoli, Milan, Pine Plains, Amenia, Dover, Millbrook, Clinton Corners, Salt Point and Pleasant Valley. The Northern Dutchess News provides coverage of local town, village and school news, the Dutchess County Legislature, county legal notices, obituaries, plus coverage of arts and entertainment, hospitals, 4-H clubs , farming news, businesses and organizations.
---
ADVERTISERS: Work together and save money
Click here for the Promotion Flyer
Click here for the list of locations, by community, where you can pick up Northern Dutchess News today....
---
01/15/20 Highlights of this week's edition...
County retailers, shoppers ease into new bag law
by Jim Donick
(continued from front page) The first indication to county shoppers may have been the signs on the doors and windows of local businesses indicating that they are no longer providing bags to their customers at the checkout stations.

County Legislature Chairman A. Gregg Pulver, the only active farmer in the Legislature, runs across the litter of bags on his farmland.

"I think we were ahead of the curve and I'm happy that Dutchess County passed the law," Pulver said. His District 19 covers North East, Pine Plains, Stanford and Milan.
---
Pulver re-elected Legislature Chairman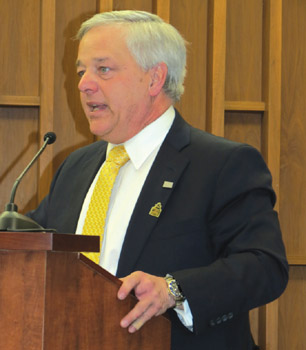 Gregg Pulver addresses members of the Dutchess County Legislature during the annual Organizational Board Meeting on Jan. 7. Photo by Curtis Schmidt
by Curtis Schmidt
The Dutchess County Legislature held its swearing-in ceremony for legislators who will be serving a two-year term of office at its Jan. 7 Organizational Board Meeting. The Hon. Ibis Guzman, Pine Plains Town Justice, presided.

The members of the Legislature also elected Gregg Pulver (R-Pine Plains, Stanford, Milan and North East) to remain as the Chairman. This will be Pulver's third year in the role.
---
'Tribal Harmony' series begins at Howland Cultural Center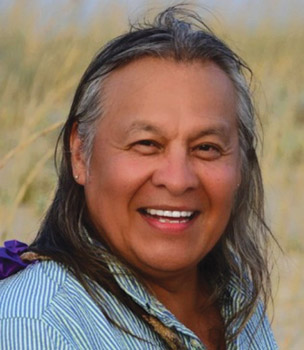 Tiokasin Ghosthorse is featured in the Jan. 15 "Tribal Harmony" performance at the Howland Cultural Center in Beacon. Other shows in the series will take place on Feb. 19 and March 18. Courtesy photo
Evan Pritchard's popular ongoing Native American music showcase, "Tribal Harmony," is launching an exciting new series at the Howland Cultural Center in Beacon. The Howland, known for its diverse music programs and remarkable acoustics, is at 477 Main St., Beacon.

First to appear is the extraordinary Tiokasin Ghosthorse, with his "Akantu: Earth Man" performance, featuring handmade flutes, with music that comes from his Lakota people, accompanied by Beacon's own Renaissance Man and master of improvisation, David Amram, at the piano. Ghosthorse and Amram begin at 8 p.m. on Wednesday, Jan. 15. Host Evan Pritchard(Mi'kmaq descendant, author, classical guitarist/songwriter) a longtime friend and associate of both Ghosthorse and Amram, will open at 7 p.m. with ceremony and song, with a surprise appearance by members of Beacon's own Judith Tulloch Band, long time friends of Tribal Harmony, performing "Mariposa" to kick off the new series. Tickets are $15 at the door.
ALSO in the Jan 15-21, 2020 issue:
Premier Urology opens in Eastdale Village

The physicians and staff of Premier Urology were joined by the team at Eastdale Village, members of the Dutchess County Regional Chamber of Commerce, as well as many local dignitaries for a ribbon-cutting event on Friday, Jan. 10. Joining in the ribbon-cutting are, from left, Town of Poughkeepsie Supervisor Jay Baisley; NYS Senator Sue Serino; County Executive Marcus Molinaro; Dr. Sunil Khurana, CEO of Premier Medical Group, Dr. Jason Krumholtz, Managing Partner and Division Leader of Premier Urology, Joseph Kirchhoff, President & CEO of Kirchhoff Companies and Sarah Lee, CEO of Think Dutchess. Photo by Curtis Schmidt
Hudson Heritage development plans announcement
Millbrook Historical Society to hold 'Archive Show & Tell'
Salt Point Community Pages: Spotlight on Salt Point Fire Company
In Creative Living:
That's Italian! Alfredo Sauce
Morton Library seeks local talent for community show
Applications accepted for Powerhouse training program
North East Historical Society's Dine Out for History returns for 2nd year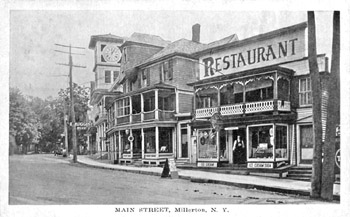 This is an early-20th-century image of Main Street in Millerton. Courtesy of North East Historical Society
Decoding Dutchess' Past: Voices & talents of county women a century ago
State grant allows Friends of Clermont to move forward with restoration plans
Read the full story in this week's print edition.
School of the Week: