Northern Dutchess News This Week...
The Northern Dutchess News is a member of the Southern Dutchess News group and is fast becoming a staple in the lives of individuals in communities north and east of Poughkeepsie. Already named an "official newspaper" of Stanfordville and Rhinebeck, it also serves Hyde Park, Red Hook, Tivoli, Milan, Pine Plains, Amenia, Dover, Millbrook, Clinton Corners, Salt Point and Pleasant Valley. The Northern Dutchess News provides coverage of local town, village and school news, the Dutchess County Legislature, county legal notices, obituaries, plus coverage of arts and entertainment, hospitals, 4-H clubs , farming news, businesses and organizations.
---
ADVERTISERS: Work together and save money
Click here for the Promotion Flyer
Click here for the list of locations, by community, where you can pick up Northern Dutchess News today....
---
11/14/18 Highlights of this week's edition...
Recovery under way after devastating Pleasant Valley Library fire
By jim donick
(Continued from Home Page) Pleasant Valley Fire Chief Jeff Hickman was there in minutes. Hickman entered the building and quickly determined that a serious fire was under way. It had started in the basement, but the upper floor was filled with smoke. He called out his own department and they arrived in less than five minutes.

The library building, dating from the late 19th century, is of wood construction and the walls are mostly hollow. That chimney-like characteristic allowed the smoke to spread quickly to the upper floor and it gave the fire quick access, as well. By the time the fire was extinguished a few hours later, there were representatives from nine different departments on site and assisting. One came from as far as Hughsonville.
---
Smythe not conceding to Serino in NY 41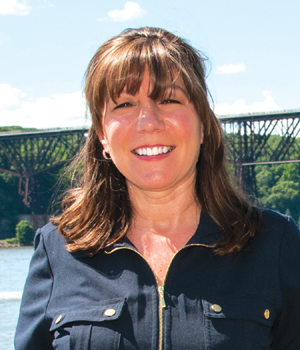 Sue Serino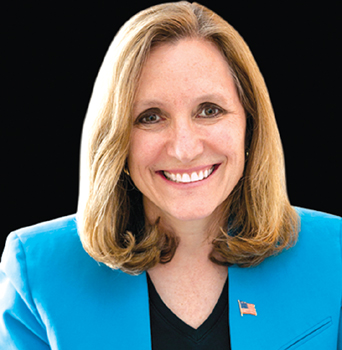 Karen Smythe
by Curtis Schmidt
While incumbent Republican Sue Serino has declared victory in the NYS Senate District 41 race, her Democratic Party challenger Karen Smythe is not conceding.

Serino holds a lead of just over 2,100 votes (56,462 to 54,316 with 100 percent of polling places reporting), but Smythe pointed out that more than 10,000 absentee and provisional ballots still need to be counted. The counting of these ballots began on Tuesday in both Dutchess County and Putnam County.

"We conducted our campaign with every intention of winning and we're not giving up yet. Anything is possible," said Smythe.

"We're holding out hope and waiting for the final outcome."
In the meantime, Serino has been moving forward, saying, "I am not only incredibly proud to be able to serve the people of the 41st Senate District once again, I am truly humbled."
---
World premieres highlight ABT Studio Company program at Kaatsbaan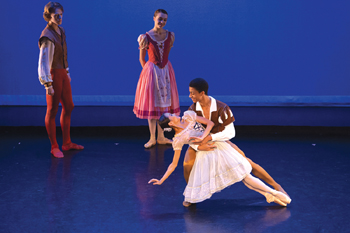 Members of American Ballet Theatre Studio Company perform. The company will perform three world premieres this Saturday at Kaatsbaan. Photo by Erin Baiano
American Ballet Theatre (ABT) Studio Company and Kaatsbaan International Dance Center have partnered to present three world premieres at Kaatsbaan in Tivoli on Saturday, Nov. 17, at 7:30 p.m.

ABT Artistic Director and Kaatsbaan Co-Founder Kevin McKenzie said, "I am very happy to see the symbiotic energy that Kaatsbaan and ABT have forged to champion the creation of new ballet works in the Hudson Valley. We all look forward to developing the ongoing relationship between ABT Studio Company and Kaatsbaan."
Read the full story in this week's print edition.
---
ALSO in the Nov 14-20, 2018 issue:
Delgado wins NY19 Congressional seat
Photos: Veterans saluted throughout area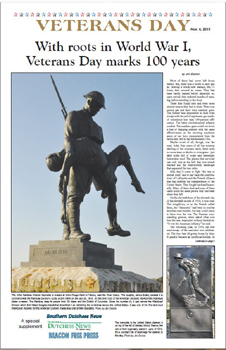 Congressman John Faso was the guest speaker at the Town of Hyde Park Veterans Day ceremony and is pictured with three World War II Veterans from Hyde Park. From left are U.S. Army Veteran John Golden, Faso, U.S. Army Veteran Ralph Osterhoudt and U.S. Navy Veteran Al Genovese. Photo by Curtis Schmidt
Barrett defeats Truitt, gains 4th Assembly term
Community rushes together during and after PV Library fire
FDR Library to present discussion on midterm outcome Nov. 15
Village of Rhinebeck to be named Autism Supportive Environment
Go Red for Women Luncheon draws attention to healthy lifestyle choices
Cuomo prevails for 3rd term as Gov., but Molinaro gets more upstate votes
In Creative Living:
Get Growing! Native wildflowers
Love to Cook: Pumpkin Custard Mousse
Civic Center to host Natural History Exhibition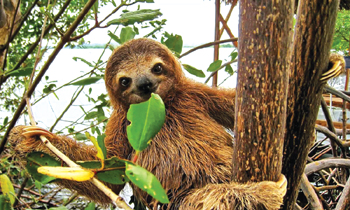 Meet a sloth and a host of other animals at the Natural History Exhibition on Nov. 17-18 at the Mid-Hudson Civic Center. Courtesy photo
The magic of 'Mary Poppins' comes to Rhinebeck
Veteran Arts Showcase at Wallace Center this weekend
Double-feature film screening at Wallace Center on Saturday
Read the full story in this week's print edition.
School of the Week:
Chancellor Livingston Elementary, Rhinebeck