Northern Dutchess News This Week...
The Northern Dutchess News is a member of the Southern Dutchess News group and is fast becoming a staple in the lives of individuals in communities north and east of Poughkeepsie. Already named an "official newspaper" of Stanfordville and Rhinebeck, it also serves Hyde Park, Red Hook, Tivoli, Milan, Pine Plains, Amenia, Dover, Millbrook, Clinton Corners, Salt Point and Pleasant Valley. The Northern Dutchess News provides coverage of local town, village and school news, the Dutchess County Legislature, county legal notices, obituaries, plus coverage of arts and entertainment, hospitals, 4-H clubs , farming news, businesses and organizations.
---
ADVERTISERS: Work together and save money
Click here for the Promotion Flyer
Click here for the list of locations, by community, where you can pick up Northern Dutchess News today....
Notice of early deadline
Due to a holiday press schedule for Labor Day, the ad deadline for the Sept. 4 issue of Northern Dutchess News is Thursday, Aug. 29, at noon. Editorial and calendar listings must be submitted by Wednesday, Aug. 28. Call (845) 297-3723 for more information.
---
8/21/19 Highlights of this week's edition...
History, records abound - It's Ray Vail's 80th Fair
by Jim Donick
(Continued from Home Page) Vail has raised Holsteins on a family farm in Dutchess County his entire life and has influenced the dairy farming industry in the county in any number of ways.

In February 2017, the Dutchess County Legislature issued a proclamation on the occasion of his 90th birthday, listing his many contributions to Dutchess County agriculture and the local community.

The Legislature's proclamation might be mistaken as the final punctuation mark on Vail's career in the dairy industry – because now, a couple of years later, he is still active with the herd and still enthusiastically looking forward to the annual County Fair.
---
Life skills at heart of 4-H Livestock Sale at DC Fair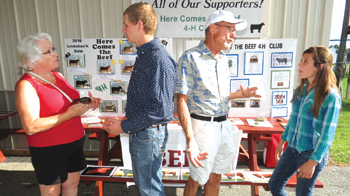 4-H'ers James Hicks and Ashley Keck speak to prospective buyers Sandra and Ray Hicks. Sandra, owner of Custom Touch Upholstery in Hyde Park, showed dairy cows, rabbits, chickens and sewing garments at the Fair and was a 4-H leader for 13 years. She and Ray have been purchasing steers at the 4-H Livestock Sale for 17 years. Photo by Curtis Schmidt
by Hannah Malafy
Whenever I think of the Dutchess County Fair, the 4-H Livestock Sale always seems to stand out as one of the most-anticipated events.

Every year, 4-H'ers learn priceless life skills as they prepare to sell their steers, hogs, lambs, chickens, goats, rabbits and game birds in the Sale. When someone buys meat from the Sale, they receive not only healthy, quality meat, but the satisfaction of supporting our local youth in their project animals and personal growth.

The Livestock Sale is scheduled for 4 p.m. Saturday, Aug. 24, in the Livestock Show Arena. A reception and sign-up with 4-H members helping to educate prospective buyers begins at 2 p.m. in the Arena.
---
Composed in the Hudson Valley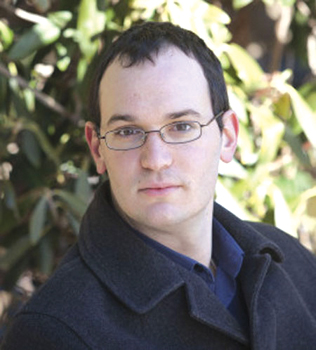 Soprano Suna Avci-Gunther and baritone Thomas Gunther rehearse for the Aug. 24 concert at Millbrook's Lyall Memorial Federated Church, which will mark the fifth anniversary of One Quiet Plunge, an organization that showcases contemporary Hudson Valley composers. Right: Millbrook native Joshua Groffman, founder and artistic director of One Quiet Plunge, will accompany them on piano. Courtesy photos
by Kate Goldsmith
Five years ago, Millbrook native Joshua Groffman founded One Quiet Plunge, an organization devoted to the promotion and performance of new music in the Hudson Valley. On Saturday, he returns to his hometown to mark the occasion with a fifth-anniversary concert at Lyall Memorial Federated Church (30 Maple Avenue, Millbrook) featuring soprano Suna Avci-Gunther and baritone Thomas Gunther. Groffman will accompany the singers on piano.

"I grew up on Maple Avenue," said Groffman, a multi-instrumentalist, composer, researcher and teacher. "I performed there [at the church] many times."

The program, part of the Music at Lyall series, returns to the theme of One Quiet Plunge's original production, a concert of vocal works by Hudson Valley composers that focus on the experience of place in the region through its weather, landscape and history. It will include works by Groffman, Chester Biscardi, Joseph Bertolozzi, Rachel DeVore Fogarty, Lawrence Kramer, Michael Levi, Jeffrey Miller, Bruce Roter, Hilary Tann, William Vollinger and Tianyi Wang.
---
ALSO in the Aug 21-27, 2019 issue:
Special section: 4-H at the DC Fair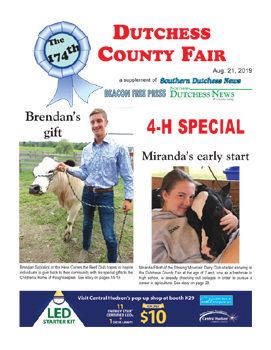 Learn what 4-H clubs from throughout the county are doing for the 174th Dutchess County Fair.
Nuvance Health launches new brand
Legislature passes animal welfare laws
Two die as plane crashesinto home in Union Vale
Town of Hyde Park appoints Pollard as Recreation Director
Salt Point Community Pages: Spotlight on Hummingbird Ranch at the DC Fair
Animal Cruelty Education and Prevention presentation comes to Town of Poughkeepsie
Teddy Bear Clinic at MidHudson Regional teaches children about emergency procedures
Rhinecliff Volunteer Fire Company continues fall tradition with Chili Cook-off, Pie-Baking Contest
In Creative Living:
Love to Cook: Fair time
Get Growing! Woodstock at the Fair
On the Couch with Netflix: 'The Wolf's Call'
Musical milestone: Concert to celebrate Folk Guild at 40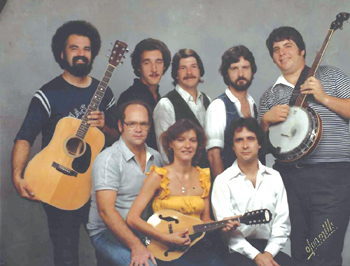 Hudson Valley Folk Guild (HVFG) will hold its "40 & Beyond" concert this Sunday at the Cunneen-Hackett Theatre in Poughkeepsie. The photo shows HVFG members who performed "Concert For Heart" in 1981 at the Bardavon. Top row, from left to right: Bob Payne, Mike Failla, Steve Kerins, Peter Crispell and Gary Strait. Bottom row, from left to right: Kevin Becker, Debbie Simpson Carroll, Joe Perna. Courtesy photo
Beacon MusicThon to celebrate Towne Crier Salon performers
Mount Gulian to reveal seldom-seen items from collection on special tour
Decoding Dutchess' Past: Political disagreements were the norm, despite 'Era of Good Feelings'
Read the full story in this week's print edition.
School of the Week: