Northern Dutchess News This Week...
The Northern Dutchess News is a member of the Southern Dutchess News group and is fast becoming a staple in the lives of individuals in communities north and east of Poughkeepsie. Already named an "official newspaper" of Stanfordville and Rhinebeck, it also serves Hyde Park, Red Hook, Tivoli, Milan, Pine Plains, Amenia, Dover, Millbrook, Clinton Corners, Salt Point and Pleasant Valley. The Northern Dutchess News provides coverage of local town, village and school news, the Dutchess County Legislature, county legal notices, obituaries, plus coverage of arts and entertainment, hospitals, 4-H clubs , farming news, businesses and organizations.
---
ADVERTISERS: Work together and save money
Click here for the Promotion Flyer
Click here for the list of locations, by community, where you can pick up Northern Dutchess News today....
---
1/9/19 Highlights of this week's edition...
From Cub Scouts to Eagle Scouts
Robotic system reshapes Red Hook dairy farm
By Jim Donick
(Continued from Cover) Imagine that 4 a.m. milking on a cold winter's morning and the farmer's wife says to him, "Wouldn't it be great if the cows could just milk themselves?" His response may have been unprintable that morning, but today one needs to only go as far as Red Hook to see changes beyond the imaginations of just a few years ago.

At Dels Dairy Farm on Route 9 just north of the village, the cows actually do milk themselves, and they do it whenever their udders are feeling full. But there's a lot more to it than that.
---
Sullivan-Bisceglia sworn in as first female justice in Town of LaGrange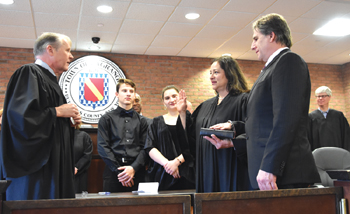 Judge Susan Sullivan-Bisceglia is sworn in on Jan. 1 in the Town Hall in LaGrange. Also pictured are her husband Paul, and children Brendan and Brianna. Photo by Jim Donick
by Jim Donick
In the company of nine other judges, Judge Susan Sullivan-Bisceglia was sworn in on Jan. 1 as first ever female Justice in the Town of LaGrange.

She was sworn in by Justice Steven O'Hare in the presence of her family and many friends and county dignitaries.

Judge Sullivan-Bisceglia is a long-time private pilot and has practiced law in the county for over 20 years. She brings these two areas together as an aviation lawyer, as well as one broadly experienced and widely respected in all areas of the law.
---
Thomas Cole site kicks off Sunday Salons Jan. 20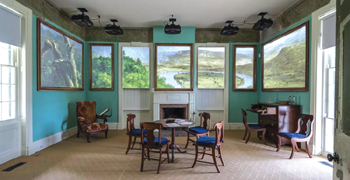 The Thomas Cole Historic Site in Catskill will be open for Sunday Salons and tours on select days during the winter season. "The Parlors," a multimedia installation bringing Cole's voice back into his historic home, is included the tour of the Main House. Courtesy photo
The Thomas Cole National Historic Site will open its 16th annual Sunday Salons lecture series on Jan. 20, bringing leaders in American art to Thomas Cole's New Studio in Catskill. The salons feature some of today's top scholars discussing their game-changing new projects and inviting audience discussions.

The talks are held once a month on Sundays at 2 p.m. and will be followed by audience discussions. Tickets for the Sunday Salons are $12 general admission and can be reserved at thomascole.org/events.

The Jan. 20 talk is "New Discoveries: Thomas Cole and Industrial Design," Jean Dunbar, Historic Design Inc. Join design historian and historic interiors expert Jean Dunbar for the unveiling of a new discovery at Thomas Cole's home inspired by Cole's first love, English design. Living and earning on the cusp between manufacturing and art, Cole acquired the skills to become a painter. Cole's home in Catskill illustrates his virtuosity as a designer and the unquenchable passion for decoration that permeated his life as an artist.
---
ALSO in the Jan 9-15, 2019 issue:
DEC offers free waterfront lifeguard course
Once again, it's 'mission accomplished' for Project Fala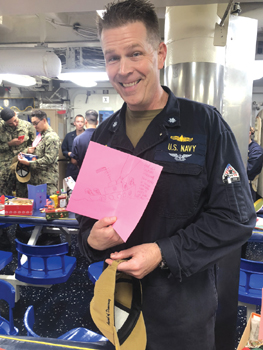 USS Roosevelt Commanding Officer Matthew Molmer displays a holiday card sent by a student in the Hyde Park school district. Courtesy photo
Cahill touts $87.1M investment in region through REDC
American Heart Association introduces opioid education courses
New: Seniors must enroll in Income Verification Program for property tax break
Clinton historian Marshall to speak Saturday at American Legion program in East Fishkill
In Creative Living:
Film Night set at Towne Crier
Love to Cook: Go for the goat (cheese)
Tan Dun appointed dean to Bard Conservatory
Get Growing! 2019 will be an interesting year in agriculture
New Column, "Decoding Dutchess' Past" - A Tivoli Attraction: The Catholic Worker Farm in June of 1964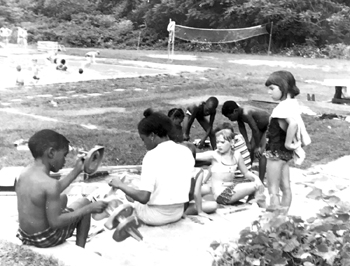 Children play at the Catholic Worker Farm pool – Tivoli, New York (1969). Courtesy of the Department of Special Collections and University Archives, Marquette University Libraries
Read the full story in this week's print edition.
School of the Week: