Northern Dutchess News This Week...
The Northern Dutchess News is a member of the Southern Dutchess News group and is fast becoming a staple in the lives of individuals in communities north and east of Poughkeepsie. Already named an "official newspaper" of Stanfordville and Rhinebeck, it also serves Hyde Park, Red Hook, Tivoli, Milan, Pine Plains, Amenia, Dover, Millbrook, Clinton Corners, Salt Point and Pleasant Valley. The Northern Dutchess News provides coverage of local town, village and school news, the Dutchess County Legislature, county legal notices, obituaries, plus coverage of arts and entertainment, hospitals, 4-H clubs , farming news, businesses and organizations.
---
ADVERTISERS: Work together and save money
Click here for the Promotion Flyer
Click here for the list of locations, by community, where you can pick up Northern Dutchess News today....

---
11/6/19 Highlights of this week's edition...
Production centers on life of Red Hook Navy SEAL
by Kate Goldsmith
(continued from front page) "Rancich," created and produced by Hudson Valley residents Jeremy Davidson and Mary Stuart Masterson of the Storyhorse Documentary Theater, will be staged at The Sanctuary at Murray's, 73 Broadway, in Tivoli. Times are 8 p.m. on Friday; 5 p.m. and 8 p.m. on Saturday; and 5 p.m. on Sunday. Each performance will include a post-show talk.

Proceeds from the performances will benefit the Red Hook VFW Post 7765.
---
LaGrange Town Board honors heroic first responders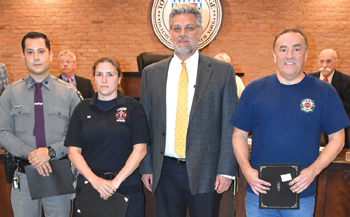 From left are, NYS Trooper David Sabillon, Paramedic Randi Port, LaGrange Town Supervisor Alan Bell and retired Yonkers Firefighter Ed Zillempe. Photo by Jim Donick
by Jim Donick
Officials at the Oct. 23 LaGrange Town Board meeting stopped their normal work to honor three heroic first responders for an episode in a local supermarket a month earlier.

There aren't likely too many more frightening experiences for a parent than to have a baby unable to breathe in the middle of a supermarket. That, though, was exactly the experience of a young mother in the Tops Supermarket in LaGrange on Sept. 25. Her 21-month-old toddler was not only in distress, she was turning blue and was completely unresponsive.
---
County Players to open Tennessee Williams' classic drama Nov. 8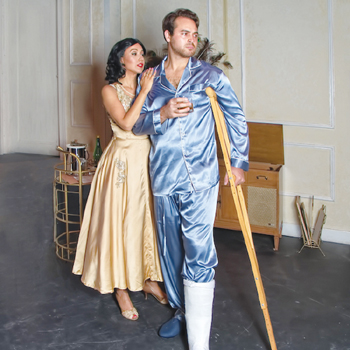 Alina I. Gonzalez and Michael Rinere are Maggie and Brick in County Players' November Main Stage production of the classic drama "Cat on a Hot Tin Roof" by Tennessee Williams. Photo by Harold Bonacquist
County Players, one of the longest-running community theater companies in the area, presents the Tennessee Williams Pulitzer Prize-winning classic drama, "Cat on a Hot Tin Roof," from Nov. 8 to 23. The show is directed by Fred Wolinsky.
---
ALSO in the Nov 5-12, 2019 issue:
Veterans Day Special Section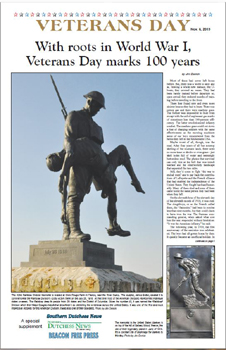 We salute our veterans and observe the centennial of the first Veterans Day in this special section.
2019 Veterans Day Community Observances
Historic tax cut tops Molinaro's proposed budget
Madagascar Day brings students, countries together
DAR awards $10,000 education grant to DC Historical Society
Millbrook Community Pages: Spotlight on J. E. Heaton Jewelers
In Creative Living:
That's Italian! Mocha Almond Biscotti
One-room schoolhouse tour set Nov. 17 in Hyde Park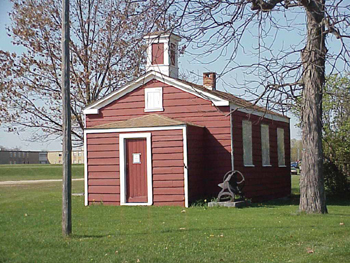 The Little Red Schoolhouse sits on the grounds of North Park Elementary School in Hyde Park. Courtesy photo
Vintage Glass and Pottery Show on tap Nov. 9-10 in Red Hook
Read the full story in this week's print edition.
School of the Week: