Northern Dutchess News This Week...
The Northern Dutchess News is a member of the Southern Dutchess News group and is fast becoming a staple in the lives of individuals in communities north and east of Poughkeepsie. Already named an "official newspaper" of Stanfordville and Rhinebeck, it also serves Hyde Park, Red Hook, Tivoli, Milan, Pine Plains, Amenia, Dover, Millbrook, Clinton Corners, Salt Point and Pleasant Valley. The Northern Dutchess News provides coverage of local town, village and school news, the Dutchess County Legislature, county legal notices, obituaries, plus coverage of arts and entertainment, hospitals, 4-H clubs , farming news, businesses and organizations.
---
ADVERTISERS: Work together and save money
Click here for the Promotion Flyer
Click here for the list of locations, by community, where you can pick up Northern Dutchess News today....
---
2/25/15 Highlights of this week's edition...
---
Salt delivery to county, towns at crisis stage
by Curtis Schmidt
(Continued from cover) Those are strong words, but consider these points.

•Robert Balkind, deputy commissioner of the Department of Public Works for Dutchess County, last week demanded that contractor Morton Salt Inc. switch the county from the Port of Albany to the Port of Newark as its origin for salt deliveries, because "it was getting to be a crisis situation."
•Town of Red Hook Highway Superintendent Theresa Burke says, "We're living from storm-to-storm. I've been here [in this position] for five years and I've never seen it this bad. Our account has been switched to different trucking companies. There are different priorities. We complain and we get no answers." Burke says she was promised a salt delivery from Morton last week in preparation for the weekend storm. It didn't arrive, so she was forced to borrow salt from the Town of Milan.
•Town Highway Superintendents Kathy Kinsella in Rhinebeck and Jim Myers in Stanford are still waiting for shipment on their salt orders of Jan. 28. Kinsella said, according to the contract, salt shipments should be delivered within three to five days of the order. These shipments are almost a month past due.

Morton Salt was awarded the contract to supply salt to Dutchess County and its towns and villages in October. Balkind noted that the county has ordered 10,800 tons of salt this winter on the $900,000 contract and, with deliveries from the Port of Newark last week, Dutchess County has only received approximately 4,500 tons.
Read the full story in this week's print edition.
---
State ban on invasive species goes into effect on March 10
Many homeowners will breathe a sigh of relief on March 10, when new regulations go into effect banning the sale, purchase and transportation of a long list of invasive species that have plagued our properties — and our ecosystem — for years.

As of March 10, it will no longer be legal to buy, sell or transport 126 species identified by the New York State Department of Environmental Conservation (DEC) as invasive. The list includes 69 plants, 15 fish, 17 aquatic invertebrates (including several snails, clams and snails), 13 terrestrial invertebrates (insects and land snails), five vertebrates (such as the mute swan) and seven species of algae, bacteria and fungi.

In addition, 29 species are "regulated," meaning that, while they may be sold and transported, they may not be knowingly introduced on or near public lands or natural areas.
Read the full story in this week's print edition.
---
Venturing into new territory
SummerScape turns to Latin America to explore the life and times of Carlos Chávez.

Many of the programs during Bard SummerScape (June 25-Aug. 16) will take place in the Fisher Center, designed by renowned architect Frank Gehry. Photo by Peter Aaron '68/Esto
This summer marks an historic season for the annual Bard SummerScape festival. Turning for the first time to Latin America, Bard expands its horizons with eight weeks of music, opera, theater, dance, film, and cabaret, all keyed to the theme of the 26th Bard Music Festival, "Chávez and His World." This intensive exploration of the life and times of Carlos Chávez, the central figure in 20th-century Mexican music, also represents something of a homecoming, for it is a full decade since SummerScape last trained its focus on the New World.

Addressing questions of American identity, and of marginalization by the classical community, the music festival provides the inspiration for SummerScape's other key highlights. These include the first fully staged American production of "The Wreckers," the foremost opera by Dame Ethel Smyth; a revelatory and unusual chamber version of Rodgers and Hammerstein's quintessential celebration of Americana, "Oklahoma!"; an al fresco presentation of "Everything by my side," a performance-installation by Argentina's Fernando Rubio; Pam Tanowitz Dance performing a world premiere set to the music of Chávez and more, featuring live music by the FLUX Quartet; a film series titled "Reinventing Mexico"; and the return of Bard's authentic and popular Spiegeltent, hosted by Justin Vivian Bond.

SummerScape 2015 will take place from June 25 to Aug. 16 in the Richard B. Fisher Center for the Performing Arts and other venues on Bard College's campus.
Read the full story in this week's print edition.
---
Also in the Feb 25-Mar 3, 2015 issue:
Clinic helps those who can't find a restful night

Joseph Garafolo, coordinator of sleep services at Health Quest Sleep Medicine, demonstrates the application of sensors on Lisa Yannarelli. Photo by Curtis Schmidt
Clearing snow efficiently takes a lot of planning
Proclamation to recognize local students on Pi Day
Office for the Aging to offer new balance program for seniors
DLC, Dover collaborate to add 50+ acres to Dover Stone Church Preserve
In a warmer world, pathogenic ticks arriving earlier, expanding their ranges
In Creative Living:
Ron reviews 'Paddington Bear'
Get Growing! Air-layering gangly houseplants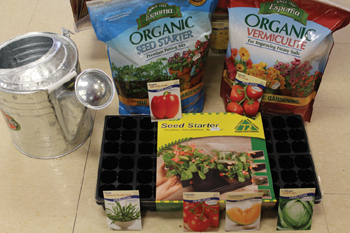 The process of air-layering can rejuvenate plants that have grown too tall. Mark Adams made a cut in the stem just below the healthy foliage, added moistened moss and then wrapped the area with plastic wrap. Photo courtesy of Mark Adams
'La Cage aux Folles' to open Friday at The Center
Love to Cook: Experiment on cold-weather meals that don't take forever
---
Schools of the Week:
North Park, Netherwood Elementary Schools, Hyde Park

Students in the Millbrook High School Drama Club are conducting final rehearsals for the presentation of "Sweeney Todd." The production will be presented in the high school auditorium on Thursday and Friday, Feb. 26 and 27, at 7 p.m.; and on Sunday, March 1, at 2 p.m. In the photo are Emily Houston (Mrs. Lovett), Michael Laibach (Sweeney Todd) and Peter Kollmar (Judge). Photo by Curtis Schmidt
If your school has a program you'd like to see featured in School of the Week this session, e-mail northerndutchess@sdutchessnews.com and put "School of the Week" in the subject line.