Northern Dutchess News This Week...
The Northern Dutchess News is a member of the Southern Dutchess News group and is fast becoming a staple in the lives of individuals in communities north and east of Poughkeepsie. Already named an "official newspaper" of Stanfordville and Rhinebeck, it also serves Hyde Park, Red Hook, Tivoli, Milan, Pine Plains, Amenia, Dover, Millbrook, Clinton Corners, Salt Point and Pleasant Valley. The Northern Dutchess News provides coverage of local town, village and school news, the Dutchess County Legislature, county legal notices, obituaries, plus coverage of arts and entertainment, hospitals, 4-H clubs , farming news, businesses and organizations.
---
ADVERTISERS: Work together and save money
Click here for the Promotion Flyer
Click here for the list of locations, by community, where you can pick up Northern Dutchess News today....
---
10/10/18 Highlights of this week's edition...
Scary happenings abound for season
By Curtis Schmidt
(Continued from Home Page) You can find all of these scares and many more at four family-friendly and largely volunteer community haunts that are open throughout the month of October. Included are the Haunted Fortress in Stanfordville, Grim's Mortuary in Red Hook, Tales from the Underground – A Costumed Living History Tour in Rhinebeck and the Haunted House at Hackett Hill Park in Hyde Park.
---
Home Fire Campaign saves lives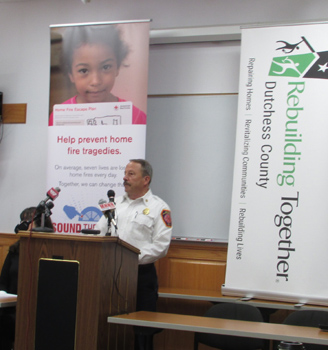 City of Poughkeepsie Fire Chief Mark Johnson explains that working smoke alarms cut the risk of death from a home fire in half. Photo by Anna Barton
by Anna Barton

To kick off National Fire Prevention Week, representatives from the American Red Cross and Rebuilding Together Dutchess County (RTDC) gathered at the City of Poughkeepsie Main Street Fire Station on Oct. 5 to report on the success of the partnership.

In 2016, the American Red Cross and RTDC teamed up to bring their Home Fire Campaign to local homeowners.

The American Red Cross nation-wide program, the Home Fire Campaign, provides free fire safety tips, as well as smoke detectors to homeowners in need. They provide RTDC volunteers with these supplies, and in turn, the volunteers reach out to the community and offer these free services to the community.
Read the full story in this week's print edition.
---
Jazz concert to benefit Coming Home Program


The Leonisa Ardizzone Quartet will perform a benefit concert for the Coming Home Program, a life-skills empowerment program for the previously incarcerated. The concert is set Oct. 13 at the Unitarian Universalist Fellowship in Poughkeepsie. From left are vocalist Ardizzone, pianist Jess Jurkovic, bassist Mark Wade and percussionist Justin Hines. Courtesy photos
by Kate Goldsmith
That music can be a powerful force for good will be illustrated once again this Saturday, Oct. 13, when the Leonisa Ardizzone Quartet plays a benefit concert at the Unitarian Universalist Fellowship of Poughkeepsie (UUFP). Proceeds from the jazz performance will benefit UUFP's Coming Home Program, a life-skills empowerment program for the previously incarcerated.

Ardizzone, interim minister at UUFP, has led the New York City-based quartet for 20 years. The lineup of pianist Jess Jurkovic, bassist Mark Wade and percussionist Justin Hines has been intact for much of that time.

"We do a mix of standards and originals," said Ardizzone. "Each of us composes and we collaborate, too."
---
ALSO in the Oct 10-16, 2018 issue:
Municipal Innovation Grants awarded
Coat Drive collecting through October
Millbrook Middle School earns statewide recognition
Clinton Library awarded grant to continue Optimistic Aging
County's 'Think DIFFERENTLY' website garners national praise
PV McDonald's reopens with donations to library, fire department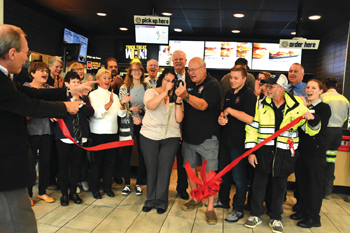 Pleasant Valley Library Director Daniella Pulice and Bill Geerlings, safety officer of the Pleasant Valley Fire Department, cut the ribbon at the grand re-opening of the McDonald's restaurant in Pleasant Valley. Photo by jim donick
DEC advises homeowners to check fuel oil tanks to prevent leaks & spills
In Creative Living:
BHVP season starts Oct. 13
That's Italian! Spaghetti Pie
NEA Big Read to kick off this weekend
Musical 'Ghost' to open Oct. 12 in Rhinebeck
Live Arts Bard to present 'Nervous/System' in LUMA Theater
Mid-Hudson Heritage Center sets Pasta & Pottery fundraiser Oct. 13
Year of the Veteran: Clinton's colorful & varied role in the World War 1917 to 1919
Read the full story in this week's print edition.