Northern Dutchess News This Week...
The Northern Dutchess News is a member of the Southern Dutchess News group and is fast becoming a staple in the lives of individuals in communities north and east of Poughkeepsie. Already named an "official newspaper" of Stanfordville and Rhinebeck, it also serves Hyde Park, Red Hook, Tivoli, Milan, Pine Plains, Amenia, Dover, Millbrook, Clinton Corners, Salt Point and Pleasant Valley. The Northern Dutchess News provides coverage of local town, village and school news, the Dutchess County Legislature, county legal notices, obituaries, plus coverage of arts and entertainment, hospitals, 4-H clubs , farming news, businesses and organizations.
---
ADVERTISERS: Work together and save money
Click here for the Promotion Flyer
Click here for the list of locations, by community, where you can pick up Northern Dutchess News today....
---
10/29/14 Highlights of this week's edition...
---
Red Hook celebrates 'everything chocolate'
First annual festival set Saturday, Nov. 1
by jim donick
(Continued from cover) "With Red Hook's early history of chocolate, making the idea of a festival to celebrate it has been a dream for many of us for a very long time now," says Red Hook Chamber of Commerce Executive Director Kimberly McGrath. "Our former president, Ed Pruitt, talked about the idea for years, and I finally looked at the calendar and said to myself, 'let's do it this year!'"

Red Hook's answer to Willie Wonka, local chocolate maven Dan Budd of Taste Budd's Cafe will act as resident expert on all matters chocolate, as well as helping to coordinate much of the education on the complexities and joys of the substance.
"Most people," says Budd, "are pretty much of the belief that chocolate comes in, maybe, three levels: Unsweetened, Semisweet and Milk Chocolate. Part of the fun of our chocolate festival will be to teach people how much more complex chocolate can be, as well as a little of its history."
Read the full story in this week's print edition.
---
Defending against Ebola
Local AARP chapters offer social interaction, education

The Golden Age Singers entertain members of Hyde Park Chapter #4561 on Oct. 15, during the chapter's monthly meeting. Photo by Kate Goldsmith
by Kate Goldsmith
Even in these days of increased life expectancies, turning 50 is a big deal. That's a half-century: five decades; 2,600 weeks; 18,200 days; 436,800 hours. One of the rites of passage involved with celebrating the Big Five-O arrives quietly in the mail: an invitation to become a member of AARP. This nonprofit organization, which boasts a membership exceeding 37 million, offers education and advocacy at the national, state and local levels for those age 50 and older and their families
Local chapters in Hyde Park and Rhinebeck serve AARP members in the region. Run by volunteers, these chapters host monthly meetings, informative talks, special presentations and trips throughout the year. They provide a social outlet for the 50-and-older set plus opportunities to learn about issues of particular concern to this cohort. In addition, charitable giving within their communities is a central element to the groups' mission.

According to Genevieve Johnson, president of Hyde Park Chapter #4561, members hail from Hyde Park and points east and south in Dutchess County. The local chapter reports to the state chapter, she said.

"A lot of people think AARP is only national," said Johnson, who served as treasurer, first vice president and second vice president before being elected president in 2013. Johnson also conducts AARP driver safety courses.

At an Oct. 15 meeting at the Moose Lodge in Hyde Park, Johnson talked about her chapter's various activities.

"We have trips, which we combine with Rhinebeck," she said. "At the monthly meetings, we always have some kind of program."

Rhinebeck Chapter #2381 has about 200 members throughout Dutchess County as well as from Kingston and southern Columbia County, according to Chapter President Rose Rider.

The group meets at the Rhinebeck Reformed Church at the corner of Mill Street and South Street.

"Each meeting we donate to a local church or food pantry," said Rider. Donations are also collected for Wounded Warrior, which the chapter sends to the organization around the holidays.

Rider values AARP's role as advocate for the 50-plus crowd.
"The big purpose of AARP is to give the adults – I don't like to say 'senior citizens'; [some people] don't consider themselves 'senior citizens' – to give us a voice, to make sure that Medicare and Social Security are there for all of us," she said.
Read the full story in this week's print edition.
---
Scotland's Battlefield Band returns to the Towne Crier to open their fall US tour

On Friday, Battlefield Band will help the Towne Crier celebrate its first anniversary at the Beacon location. The group also performed there during the Crier's grand opening, which was held the first weekend in October 2013. This image depicts the concept behind Battlefield Band's work-in-progress, which explores the historical connections between Scottish and Irish music and how those connections influenced American music through immigration. Courtesy photo
by Kate Goldsmith
Battlefield Band will continue moving "forward with Scotland's past" as the group kicks off an 18-date U.S. tour at the Towne Crier this Friday. The itinerary includes a Nov. 1 performance on "A Prairie Home Companion" and shows primarily in the Northeast and Mid-Atlantic.

Friday being Halloween, Battlefield Band's piper Mike Katz was asked if any holiday-themed songs are on the set list.

"I don't know yet. I'm looking into it," Katz said, speaking last week via phone from California. "Halloween's not quite as big an event in Scotland as it is here."

Battlefield Band was formed in 1969, one of several groups in the United King-dom who were part of a folk renaissance that infused new energy into traditional music and introduced it to audiences around the world. Personnel have changed through the years, but the spirit of Battlefield's mission shines through each incarnation of the group.

The current lineup includes longtime members Katz, Sean O'Donnell and Alasdair White—who among them play a number of stringed and wind instruments—as well as recent addition Mike Vass on tenor guitar and fiddle.
Read the full story in this week's print edition.
---
Also in the Oct 29-Nov 4, 2014 issue:
Dutchess to honor veterans Nov. 1
County 2015 budget calls for tax cut
Bard to host talk on power lines projects
Four towns to benefit from paving equipment grant
County improves bond rating with Standard & Poor's
Rosenberg details 'Foodshed' plan at CCEDC meeting

Steven Rosenberg, senior vice president of Scenic Hudson and executive director of The Scenic Hudson Land Trust Inc. presented a poster detailing the "Foodshed Conservation Plan for the Region" during last week's annual meeting of Cornell Cooperative Extension Dutchess County. Photo by Curtis Schmidt
Paranormal group makes a study of ghostly manifestations
In Creative Living:
That's Italian! The squeaky ghost
Theater Review: "Peter Pan" at The Center
Clinton Historical Society presentation set Nov. 7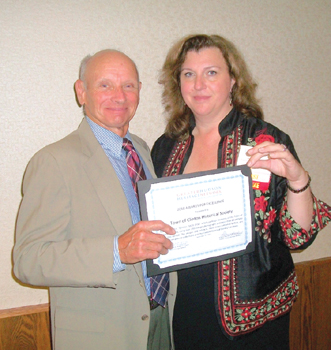 This archival photo of the M.J. Sweet Store is one of several to be featured in a Nov. 7 presentation by the Clinton Historical Society. Photo submitted
Earth Wise: Algorithms and ecology: A new partnership
---
Schools of the Week:
Linden Avenue Middle School, Red Hook
If your school has a program you'd like to see featured in School of the Week this session, e-mail northerndutchess@sdutchessnews.com and put "School of the Week" in the subject line.