Northern Dutchess News This Week...
The Northern Dutchess News is a member of the Southern Dutchess News group and is fast becoming a staple in the lives of individuals in communities north and east of Poughkeepsie. Already named an "official newspaper" of Stanfordville and Rhinebeck, it also serves Hyde Park, Red Hook, Tivoli, Milan, Pine Plains, Amenia, Dover, Millbrook, Clinton Corners, Salt Point and Pleasant Valley. The Northern Dutchess News provides coverage of local town, village and school news, the Dutchess County Legislature, county legal notices, obituaries, plus coverage of arts and entertainment, hospitals, 4-H clubs , farming news, businesses and organizations.
---
ADVERTISERS: Work together and save money
Click here for the Promotion Flyer
Click here for the list of locations, by community, where you can pick up Northern Dutchess News today....
---
6/19/19 Highlights of this week's edition...
Hard work creates high-quality raw milk at Brookby Farm
by Curtis Schmidt
(Continued from Home Page) It's the satisfaction of "seeing families coming to visit the farm, watching the kids help with the milking and seeing everyone enjoy the food at a picnic right here on the farm," said Steve's wife, Jaime.

And it's the satisfaction of "seeing the raw milk transformed into cheese products that are available in stores all over the Hudson Valley. That's really cool," said Steve.

The land of Brookby Farm, which has been preserved for farming via an agreement with the Dutchess Land Conservancy, has been in the Vincent family since the late 1700s. The original owner was Absolom Vincent.

Steve's great-great grandfather, Charles Vincent, received 400 acres as a wedding present from his father in 1850. The farm, including the 1850 farm house, has been handed down through the generations.
---
McCormack remembered for service to community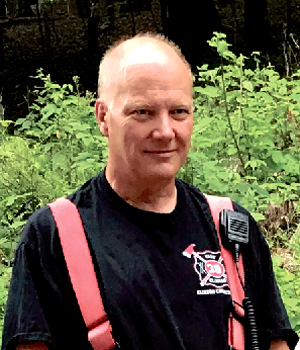 Tim McCormack of Clinton Corners, a longtime volunteer fireman and fire chief, died in a helicopter crash in Manhattan on June 10. Courtesy photo
by Kate Goldsmith
Officials and the local firefighting community expressed sorrow and condolences on the death of Clinton Corners resident Tim McCormack, in a helicopter accident in Manhattan on June 10.

McCormack, 58, was a professional pilot who attempted an emergency landing when his helicopter crashed and caught fire.
A longtime volunteer firefighter, McCormack served as chief of the East Clinton Fire Department for 10 years; according to his obituary, he was the longest sitting chief in the district's history. Previously, McCormack was a member of the LaGrange Fire Department.

The East Clinton Fire Department issued a statement via its website and on Facebook, noting McCormack "was a dedicated, highly professional and extremely well trained firefighter."
---
The Powerhouse season highlights theatrical works-in-progress.

Powerhouse provides fertile ground for the development of theatrical works before they debut on Broadway and other venues. Lin Manuel Miranda's hit show "Hamilton" got its start at Powerhouse Theater. Miranda is pictured, left. Photo by Buck Lewis/Vassar & New York Stage and Film
Vassar College & New York Stage and Film will host the 35th annual Powerhouse Theater season from June 20 to July 28 on the grounds of Vassar's Poughkeepsie campus. Powerhouse is renowned for bringing together some of the most influential theatrical voices for fully-staged productions, workshop presentations, readings and other development of new plays and musicals in progress.

This summer's programming includes new works by Pulitzer Prize winner Beth Henley; Pulitzer Prize, Emmy Award and two-time Tony Award winner Tom Kitt; Emmy Award winner Jason Katims; Tony Award nominee Rachel Chavkin; singer/ songwriters Ingrid Michaelson and César Alvarez; the Grammy Award-winning La Santa Cecilia and renowned playwrights Jocelyn Bioh, Harrison David Rivers and Lisa Loomer, among many others.
---
ALSO in the June 19-25, 2019 issue:
Local primaries set June 25
Renegades arrive, hope for another strong season
Dispatches from the VFW: Guardian angels help along the way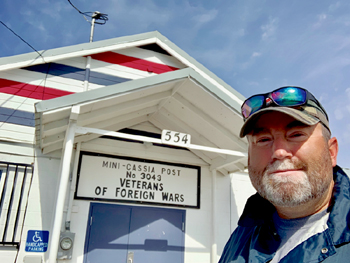 Writer, veteran and walker Tom Zurhellen is pictured with one of his "guardian angels." Courtesy photo
Salt Point Community Pages: Spotlight on Forever Green Property Maintenance
In Creative Living:
On the Couch with Netflix: 'When They See Us'
Rhinebeck Crafts Festival to offer variety of activities
The Center's stage to bloom with 'The Secret Garden'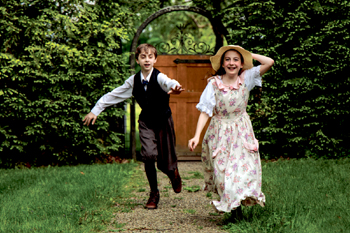 Sean Mahoney (Colin) and Janey Langan (Mary Lennox) play a game of chase in Rhinebeck Theatre Society's production of "The Secret Garden," opening June 21 at The Center for Performing Arts at Rhinebeck. Courtesy photo
That's Italian! Ditalini with Lemon, Tomatoes and Capers
Clinton Library kicks off summer concert series on June 28
Walkway to offer prime vantage point for viewing July 4 fireworks
Read the full story in this week's print edition.
School of the Week: