Northern Dutchess News This Week...
The Northern Dutchess News is a member of the Southern Dutchess News group and is fast becoming a staple in the lives of individuals in communities north and east of Poughkeepsie. Already named an "official newspaper" of Stanfordville and Rhinebeck, it also serves Hyde Park, Red Hook, Tivoli, Milan, Pine Plains, Amenia, Dover, Millbrook, Clinton Corners, Salt Point and Pleasant Valley. The Northern Dutchess News provides coverage of local town, village and school news, the Dutchess County Legislature, county legal notices, obituaries, plus coverage of arts and entertainment, hospitals, 4-H clubs , farming news, businesses and organizations.
---
ADVERTISERS: Work together and save money
Click here for the Promotion Flyer
Click here for the list of locations, by community, where you can pick up Northern Dutchess News today....
---
9/11/19 Highlights of this week's edition...
Community events set in Stanford, Hyde Park
Schoolhouse play tops Hyde Park Fall Fest schedule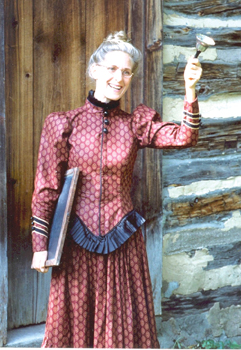 Kit's Interactive Theatre will present "One Room School House: An Interactive Play" at 3 p.m. during Hyde Park's Fall Fest community celebration. Courtesy photo
by Kate Goldsmith
The final preparations are in place for Fall Fest, Hyde Park's annual community day. Organized by the town's Recreation Department, Fall Fest is set Saturday, Sept. 14, from 1 to 5 p.m., at Hackett Hill Park, 59 East Market St., Hyde Park. It is free to community members, who are welcome to enjoy hay rides, face painting, crafts, and performances throughout the afternoon. More than 30 local nonprofit organizations, businesses and vendors will offer useful information – as well as some giveaways.

One of the highlights of this year's Fall Fest will take place at 3 p.m., when Kit's Interactive Theatre presents "One Room School House: An Interactive Play." Enroll in Miss Mabel's one-room schoolhouse for a taste of 19th-century education. You won't need your primers or a clean slate to delight in the square dance at the spring jubilee. Fun for ages 5 through adult.
---
Musical outreach: The Orchestra Now's new season to begin this weekend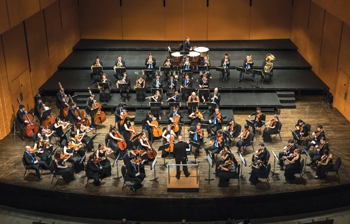 The Orchestra Now opens its season at the Fisher Center this weekend. Photo by Matt Dine
The Orchestra Now (TON), the orchestra and master's degree program founded by Bard College president, conductor, educator and music historian Leon Botstein, begins its fifth season on Sept. 14. Five different series and three special events will offer 19 diverse programs and 31 performances presenting novel combinations of both time-honored and lesser-known repertoire through May 17, 2020. TON's performances will take place in the Fisher Center's Sosnoff Theater, at major venues in New York City and a special program in Stanford, California.

The Orchestra Now's residency at Bard College's Fisher Center renews with 13 performances of seven different programs, all conducted by Music Director Botstein. The season opens Sept. 14-15 with the U.S. premiere of Galina Ustvolskaya's Symphonic Poem No. 1; R. Strauss: Four Songs, Op. 27; and Copland's Symphony No. 3 (the "Great American Symphony");
Performances are at 8 p.m. on Saturday and 2 p.m. on Sunday.
---
ALSO in the Sep 11-17, 2019 issue:
Co-working space opens in Bangall
Joseph's Italian Steakhouse re-opens in Hyde Park
Huge crowds enjoy 'community events' in Millbrook
Walk for Hope to honor local doctor/breast cancer patient
Dispatches from the VFW: Reflections on a life-changing experience
United Way celebrates renovations at historic Poughkeepsie location
Hyde Park Community Pages: Spotlight on the Hyde Park Brewing Company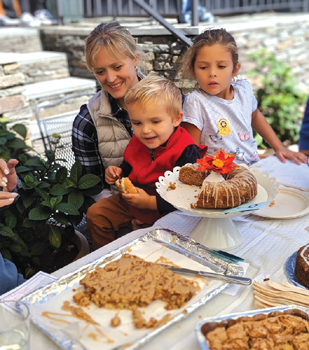 Millbrook Community Day took place on Saturday, Sept. 7. Amy Corso and her son, Luke, won the baking competition with their entry – Ruth Johnson's Apple Cake. Photo by Curtis Schmidt
In Creative Living:
On the Couch with Netflix: 'White Fang'
That's Italian! Grilled Eggplant Parmagiana
County Players' to present F-U-N musical comedy
Hot Tuna 50th Anniversary Tour to make a stop at Bardavon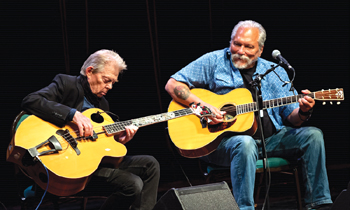 Hot Tuna (from left, Jack Casady and Jorma Kaukonen) is celebrating its 50th anniversary. The duo will be at the Bardavon on Dec. 5. Photo by Erik Kabik
Clinton groups set free showing of silent film 'College' on Sept. 28
Starr Library to host reading and reception for 'Art from the Inside' exhibition
Read the full story in this week's print edition.
School of the Week: