Southern Dutchess News This Week...
The Southern Dutchess News has served the area south of Poughkeepsie with news and features since 1959. It is an official newspaper of Dutchess County by vote of the Dutchess County Legislature. The Southern Dutchess News serves Spackenkill, Wappingers Falls, East Fishkill, Fishkill and Beacon. Coverage includes local town, village and school news and features, Dutchess County Legislature, county legal notices, obituaries, plus coverage of arts and entertainment, hospitals and health, education, libraries and local businesses and organizations.
---
ADVERTISERS: Work together and save money
Click here for the Promotion Flyer
---
9/19/18 Highlights of this week's edition...
American hero of Wappingers Falls honored on Saturday
By Anna Barton
(Continued from Home Page) Darrigan enlisted in 1942 and was the radio operator for the crew of 11 members on "Heaven Can Wait." He left behind his wife, Florence Darrigan, and his infant son, Tom. He was posthumously awarded the Purple Heart and the Air Medal.

Members of the B-24 crew were memorialized at Manila American Cemetery on the Tablets of the Missing, but for more than 70 years the families of the soldiers had no other information to go off of.

This changed in October 2017, when wreckage was found in the bottom of Hansa Bay, off the northern coast of Papua New Guinea. In May 2018 the wreckage was tentatively identified as "Heaven Can Wait." Much of the research leading to the discovery was conducted by the family of Second Lt. Thomas Kelly Jr., who was one of the bombardiers on "Heaven Can Wait." The research was handed over to Project Recover, a non-profit that collaborates with the Defense POW/MIA Accounting Agency, thus assisting them in pinpointing the final resting spot of the B-24.

---
Marist and Health Quest plan to open medical school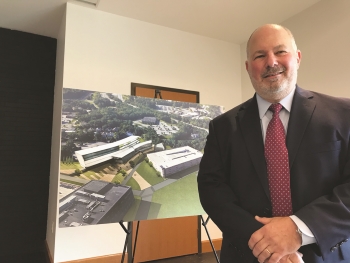 Marist College President David Yellen stands next to plans for the Marist Health Quest Medical School.
By Kristine Coulter
Marist College and Health Quest have announced plans to open a School of Medicine in 2022. The school would be located on the Vassar Brothers Medical Center property in Poughkeepsie. There would be special-purpose facilities on the Marist campus for medical students who are studying subjects such as gross anatomy.

"Marist and Health Quest are delighted to announce our partnership," said Marist College President David Yellen.
"We reached today's announcement after two years of intensive study," he said.

According to Yellen, there will be "positive impact" on the Hudson Valley and health care in the Hudson Valley region. The Marist president described the medical school one as one that would be "forward-looking" and "cutting-edge" with artificial intelligence being used.

The 10-year start-up costs would be $184.8-million, according to officials. It would be $100-million in operational costs and another $75-million in building costs.

"We will bring world-class, patient-centered medicine close to home," he remarked. "Our medical school will help meet this demand."
Read the full story in this week's print edition.
---
Inside the Sep 19-25, 2018 issue:
Jonathan Jacobson, an attorney and member of the Newburgh City Council won the primary for the Democratic line for the 104th Assembly District on Sept. 13. Jacobson received 2,222 votes in Dutchess, Orange and Ulster Counties. The district includes: cities of Beacon, Poughkeepsie, and Newburgh, as well as the Towns of Lloyd, Marlborough and Newburgh.
Book signing at Van Wyck Homestead Sept. 29
On Saturday, Sept. 29 at 4 p.m. there will be a book reading and signing at the Van Wyck Homestead Museum in Fishkill. The book Winter Eternal: the River That Flows Both Ways by E. Thomas Joseph will be the subject of the reading. The book captures the action, adventure, love, war and an epic hero, all set against the backdrop of one of History's darkest moments.
Gala at Grinnell on Sept. 22
By Anna Barton
The Friends of Grinnell Library in Wappingers Falls are hoping for high attendance at its largest fundraising event, Gala at Grinnell, on Sept. 22. The tenth annual fundraiser will run from 5:30 to 8 p.m.
The gala will feature food catered by Simply Gourmet and My Brother Bobby's Salsa. Background music will be provided by the Ben Basile Trio. The Roy C. Ketcham Drama Club, Masque & Mime Society, will be volunteering their time as servers.
Historic South Barn rises to meet future at Southlands
by Curtis Schmidt
An iconic Hudson Valley landmark on Route 9 near Rhinebeck is looking much more like its former self these days – but with several improvements.
Thanks to the efforts of members of the Southlands Foundation and contractor Mike Hericourt and his staff, the South Barn at the Southlands, an adapted dairy barn, has been historically restored and will be fulfilling a variety of essential needs for the future.
"It was a five-year project that was just completed last month," said Eve D'Ambra, president of the Southlands Foundation Board of Directors. "We are restoring history."
Read the full stories in this week's print edition.