Southern Dutchess News This Week...
The Southern Dutchess News has served the area south of Poughkeepsie with news and features since 1959. It is an official newspaper of Dutchess County by vote of the Dutchess County Legislature. The Southern Dutchess News serves Spackenkill, Wappingers Falls, East Fishkill, Fishkill and Beacon. Coverage includes local town, village and school news and features, Dutchess County Legislature, county legal notices, obituaries, plus coverage of arts and entertainment, hospitals and health, education, libraries and local businesses and organizations.
---
ADVERTISERS: Work together and save money
Click here for the Promotion Flyer
---
02/19/20 Highlights of this week's edition...
Storms get a management plan at Central Hudson
By Jim Donick
(Continued from Home Page) "The storm management plan is much more complex than simply a glib phrase like "go fix it." The current planning document runs almost a hundred pages and covers nearly any expected situation.

Even so, after every significant storm, the planning document is reviewed and updated with the lessons of the latest storm. Outages across the entire system are tracked and reported.

Often one might notice the lights in a home flicker once or twice but not stay out. Sometimes they may be out for a minute or two and then come back. An outage for reporting purposes is anytime the electricity is down for five to six minutes or more.

---
Sports Spotlight
Ketcham Boys Basketball team wins historic title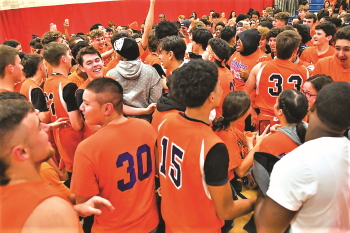 RCK boys basketball coach Mike Paino hugs senior Brendan Cassidy after the 49-47 win over Arlington to claim the league title. Cassidy connected on long three-pointer with 28 seconds left right in front of the Ketcham side of the bleachers to win the game. At left, Paino huddles with his team.
Photo by Todd McDonough
By Rich Thomaselli
If it seems as though we've focused the Sports Spotlight on the Roy C. Ketcham High School boys basketball team lately, well, that's when happens when you make history.

That's what happens when you have an improbable story to tell.

That's what happens when you win a championship for the first time in a generation.

Ketcham won the Section 1, Conference I, League A championship after a thrilling 49-47 victory over Arlington on Wednesday night.

The Indians were 0-5 to start the year and then pulled off an overtime victory over a very good Roosevelt team in the Duane Davis Memorial Tournament to kick start its run. The pieces all started to fall together that led to 12 wins in their final 15 games, including a 7-1 league mark. The only blemish was a loss to archrival John Jay.
Read the full story in this week's print edition.
---
Inside the Feb 19-25, 2020 issue:
LaGrange Challenger Bowling League
to collect items for SPCA on Feb. 26
By Jim Donick
It's pretty common for a local organization to plan an activity to give something back to the community. However, the LaGrange Challenger Bowling League is not exactly like most of the local organizations.
The league consists of a group of bowlers with special needs, often with "very" special needs. The currently 106 strong group, ranging in age from five to around 70, have learned to jointly overcome many of their challenges. They enjoy a long season of bowling and receive a great deal of support from the community.
Poughkeepsie VFW chapter sets
Commander's Carnevale Feb, 29
The Commander's Carnevale of the Poughkeepsie VFW chapter is shaping up to be a memorable event, with a photo lounge by Tom Duggan Photography, plenty of raffle prizes, a special performance by Caitlin Caporale of TV's "The Voice."
The event is set Saturday, February 29 from 5-9 p.m. at Poughkeepsie VFW Post 170, located at 1 Violet Avenue in Poughkeepsie. All are welcome, and as always, all proceeds will benefit local veterans through the VetZero project.
Time for WCSD kindergarten registration
By Rich Thomaselli
Parents, it's time.
Time to let go and start the next era of your child's life.
Whether that's cause for tears or celebration – or both – is your call.
Yep, it's time for kindergarten registration in the Wappingers Central School District.
Start by going to wappingersschools.org and download a registration packet. Prior to July 1, parents registering their child for kindergarten in WCSD should contact their neighborhood school to schedule an appointment. Children must be 5 years old by December 1 in order to register. All other grades must contact Central Registration.
Reel Life Film Club set Feb. 28
The Reel Life Film Club for tweens and teens returns to Beacon in February. On Friday, Feb. 28, at 6 p.m. the Howland Public Library will be screening the Academy Award winning documentary, "Free Solo."

Read the full stories in this week's print edition.