Southern Dutchess News This Week...
The Southern Dutchess News has served the area south of Poughkeepsie with news and features since 1959. It is an official newspaper of Dutchess County by vote of the Dutchess County Legislature. The Southern Dutchess News serves Spackenkill, Wappingers Falls, East Fishkill, Fishkill and Beacon. Coverage includes local town, village and school news and features, Dutchess County Legislature, county legal notices, obituaries, plus coverage of arts and entertainment, hospitals and health, education, libraries and local businesses and organizations.
---
ADVERTISERS: Work together and save money
Click here for the Promotion Flyer
---
7/10/19 Highlights of this week's edition...
Adventures, memories await
as balloon festival approaches
By Curtis Schmidt
(Continued from Home Page) Tod tells the story:
"The weekend I originally tried to do it was during the Poughkeepsie Balloon Festival in May of that year, but got bumped due to weather conditions. So we did it the following week. The plan was - as we got close to a landing spot - the pilot would alert the crew with a cue of saying there were 'turkeys in the field' (back then we communicated via hand-held radios) and the ground crew was supposed to roll out a 20-foot banner that said 'Beth I love you. Will you marry me?'

"As we approached the field, winds pushed us off target and we had to fly on with the pilot yelling 'No turkeys in that field.' Eventually we found a spot and I did get down on one knee and proposed as Beth was wondering what I was doing - since she was trying to enjoy the flight."

Not every flight – with all of the pre-flight and post-flight chores and fun - is quite that memorable, however, most of those who become involved are extremely enthusiastic about the activities.

---
Volunteers needed to renovate portion of Appalachian Trail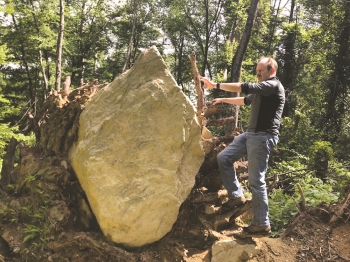 Appalachian Trail work leader Tim Messerich shows a rock that needs to be moved off of the Appalachian Trail.
By Kristine Coulter
Volunteers are needed for the annual Ralph's Peak Hikers (RPH) Cabin BBQ/Trail Work/ Campout on July 19, 20 and 21. This will be the 21st year of fixing a section of the Appalachian Trail in East Fishkill. All are welcome. To volunteer, call (845) 401-8817.

Tim Messerich is the trail work leader for the RPH Cabin Volunteers Club.

During a recent interview at the RPH Cabin, 731 Hortonrown Road in East Fishkill, Messerich showed trees that were still down – the result of the macroburst which happened on May 15, 2018.
There is one large rock that needs to be removed because it is blocking an area of the trail.

Messerich said, "We've been digging on this for two months. It's lot bigger than we thought." He was estimating that the 'rock' weighs more than two-thousand pounds.

"As we started cutting the dirt away, the rock kept getting bigger and bigger," he explained.
Read the full story in this week's print edition.
---
Inside the Jul 10-16, 2019 issue:
Central Hudson honors employee volunteers, organizations
Five employee-volunteers of Central Hudson Gas & Electric Corp., together with the Mid-Hudson Valley organizations they support, were honored last month at Central Hudson's 29th annual Community Service Award event.
"These employees exemplify what Central Hudson is all about, because everything we do is about serving the people of the Mid-Hudson Valley," said Central Hudson President and CEO Charlies A. Freni. "Employees from across Central Hudson volunteer beyond their normal course of work, helping to make this region a great place to work and live."
Fourth Friday at Carnwath Farms celebrates arts, culture
By Anna Barton
Carnwath Farms will serve as host location for the Town of Wappinger's "Fourth Friday" celebrations, as the arts are honored through spoken word and music.
The idea first came to fruition on June 28 for an evening to welcome numerous poets and spoken word artists.
Host Hayden Wayne performed his own musical composition as well as his works of poetry. Other samples were provided by local poets, including the Orange County Poet Laureate and the Poet Laureate of Beacon.
Alexander leads offense as Renegades aim for consistency
By Sam Rothschild
After a difficult two weeks on the field, the Hudson Valley Renegades righted the ship, winning the final two games and finishing the week with a .500 record.
Right-fielder Hill Alexander has been on a blazing tear at the plate lately, and has become the Gades most consistent hitter so far this season. In his last 13 games, the 28th round draft choice out of Lubbock Christian University has been hitting at a .313 clip (15-48) with two home runs and 14 runs batted in. From June 23-28, he batted .611 with his two dingers and nine of the 13 RBI.
Overall, Alexander is batting a team-high .340 with a .429 on base percentage (OBP), .528 slugging and a .957 on base plus slugging percentage. More impressively, Alexander is in the top four in five offensive categories in the NY Penn League: Avg. (4), SLG. (3), OPS. (2), RBI (4) and OBP (4).
4th Annual ThinkDIFFERENTLY Dash registration open
Registration is now open for the 2019 ThinkDIFFERENTLY Dash and Queen City Mile, a partnership between Dutchess County Government, Dutchess Tourism Inc., and First Friday Poughkeepsie. The ThinkDIFFERENTLY Dash and Queen City Mile is a run/walk through the City of Poughkeepsie for individuals of all abilities, and all are welcome to participate.
The Dash and Mile will join the citywide First Friday celebration again on September 6, beginning at 6 p.m. Pre-registration is $5 per person through September 3. Participants are guaranteed T-shirts and finisher medals if they register before Tuesday, August 13; day-of registration ($10) will be available beginning at 4:30 p.m. on September 6.
Read the full stories in this week's print edition.