Southern Dutchess News This Week...
The Southern Dutchess News has served the area south of Poughkeepsie with news and features since 1959. It is an official newspaper of Dutchess County by vote of the Dutchess County Legislature. The Southern Dutchess News serves Spackenkill, Wappingers Falls, East Fishkill, Fishkill and Beacon. Coverage includes local town, village and school news and features, Dutchess County Legislature, county legal notices, obituaries, plus coverage of arts and entertainment, hospitals and health, education, libraries and local businesses and organizations.
---
ADVERTISERS: Work together and save money
Click here for the Promotion Flyer
---
8/8/18 Highlights of this week's edition...
Vet2Vet celebrates local veterans at Aug. 18 picnic
By Anna Barton
(Continued from Home Page) This will be the first year for the picnic, but hopefully this will be an annual celebration for years to come, said Vet2Vet's program manager Adam Roche.

The idea for the picnic came about during this year's "Veterans Sunset Picnic." Roche witnessed five local WW II veterans sharing stories of their service, and enjoying their fellowship together. Roche said he wanted to "be a fly on the wall" for these conversations, and realized a picnic to recognize this great generation would be invaluable.

Nine or ten WW II veterans are currently signed up for the picnic, including a 101-year- old Hyde Park resident. Roche laughed as he described another local veteran who will be in attendance, a 98-year-old WW II veteran who recently enjoyed a rousing Vet2Vet paintball game.

---
Groundbreaking for Eastdale Village: A place to live, work, shop and play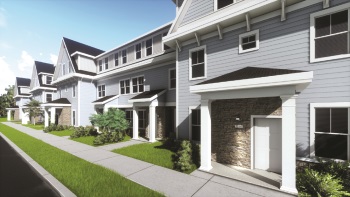 Eastdale Village - Courtesy photo
By Anna Barton
The groundbreaking ceremony was held amidst rain showers on Aug. 1 for the first walkable commercial and residential community in Dutchess County. Eastdale Village, in the Town of Poughkeepsie, is destined to be unique because it will afford the opportunity to live, work, shop and play all in one place. The concept is inspired by traditional Northeastern main streets and neighborhoods.

The 60 acres of land in the east side of Poughkeepsie will span the Dutchess Turnpike (Route 44) between Arlington and Pleasant Valley. Chairman of the Town Planning Board, John Weisman, stated that it will be the largest construction project in the town since the Poughkeepsie Galleria Mall was built in 1986.

Dutchess County-based Kirchhoff Companies, in partnership with Christopher Dyson and David Silver, are behind the development of Eastdale Village. All in attendance at the groundbreaking were excited that Kirchhoff Companies, known for their stellar, community-based work, is overseeing the project.
Read the full story in this week's print edition.
---
Inside the Aug 8-14, 2018 issue:
Festival set for Sunday at Pewte & Toshi Seeger Riverfront Park
By Kristine Coulter
The annual Beacon Sloop Club (BSC) Corn Festival will be held at Pete and Toshi Seeger Riverfront Park on Sunday, Aug. 12, from noon to 5 p.m. Cornbread Contest new addition to Corn Festival .
Revolutionary War Day at Mount Gulian Sunday
By Kristine Coulter
How did the colonists beat the British during the American Revolution? That is the topic of the upcoming Revolutionary War Day: How We Beat the British at Mount Gulian Historic Site, 145 Sterling St. in Beacon. The event will be held on Sunday, Aug. 12, from 1 to 5 p.m.
American Heart announces new executive director
The American Heart Association (AHA) announced Anna Trocino as the new Executive Director of the Hudson Valley Region, which includes seven Mid-Hudson counties. She will manage staff, awareness and fundraising campaigns in the region, including the Healthy For Good wellness campaign, Heart Walks, the Go Red for Women campaign and Luncheons, and the Dutchess-Ulster Board of Directors in Poughkeepsie.
Read the full stories in this week's print edition.