Southern Dutchess News This Week...
The Southern Dutchess News has served the area south of Poughkeepsie with news and features since 1959. It is an official newspaper of Dutchess County by vote of the Dutchess County Legislature. The Southern Dutchess News serves Spackenkill, Wappingers Falls, East Fishkill, Fishkill and Beacon. Coverage includes local town, village and school news and features, Dutchess County Legislature, county legal notices, obituaries, plus coverage of arts and entertainment, hospitals and health, education, libraries and local businesses and organizations.
---
ADVERTISERS: Work together and save money
Click here for the Promotion Flyer
---
8/21/19 Highlights of this week's edition...
History, records abound-
It's Ray Vail's 80th Fair
By Jim Donick
(Continued from Home Page) Vail started his passion for dairy cows in 1939 at the age of 12. It started in tragedy, but led to a very full and active life and to countless contributions to the community.
Ray's father had been killed in a tragic farming accident. To help him deal with the loss, his older brother took him out and bought him some calves to look after. Those calves were the first that he ever showed at the Dutchess County Fair.
Over the years, there have been countless cows and countless awards. Ray's daughter, Trish, said, "My dad has received 51 All-NY Winners, Reserve, or Honorable Mention awards and a couple of All-Americans too."

Among the many cows he's raised, there are more than a few that have stood out.

Cora-Sue was his first All American, back in the late 1950s. She was a one-year-old heifer and the award made her officially the best Holstein Heifer in the entire country. He took her to a number of shows in 1959 and 1960.

---
The Village of Fishkill Block Party Aug. 24, from 6 to 10 p.m.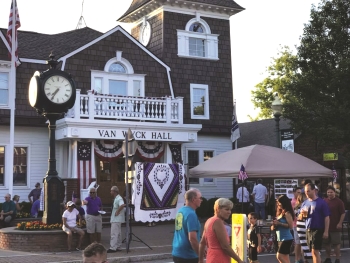 The Village of Fishkill Block Party
"This is the Village's Block Party, with the help of the Fishkill Business Association (FBA)," said Julie Spann, Village of Fishkill Activities Committee. The village and FBA combined two block parties into one. The one block party started in 2018 – it was scheduled for the Saturday, May 19, 2018 - but a macroburst hit the area earlier that week. It was held later that summer.

This year, there are "going to be a lot of informational booths," remarked Spann.

There will be food sold by local restaurants and nonprofits.
Spann said Rombout Fire Company will be selling hot dogs and hamburgers. Protection Engine Company #1 will sell beer, she added.

Vendors will be selling a variety of wares and items.
"We're going to be raffling off local T-shirts," said Spann.
Zippy the Clown will be attending the Village of Fishkill Block Party.

"I like getting the kids to think and smile at the same time," Zippy recently said. He has made previous appearances at the block party – approximately three times.

He said he enjoys being a clown because he "makes people laugh."
Read the full story in this week's print edition.
---
Inside the Aug 21-27, 2019 issue:
Life skills at heart of 4-H Livestock Sale at DC Fair
by Hannah Malafy
Whenever I think of the Dutchess County Fair, the 4-H Livestock Sale always seems to stand out as one of the most-anticipated events.
Every year, 4-H'ers learn priceless life skills as they prepare to sell their steers, hogs, lambs, chickens, goats, rabbits and game birds in the Sale. When someone buys meat from the Sale, they receive not only healthy, quality meat, but the satisfaction of supporting our local youth in their project animals and personal growth.
The Livestock Sale is scheduled for 4 p.m. Saturday, Aug. 24, in the Livestock Show Arena. A reception and sign-up with 4-H members helping to educate prospective buyers begins at 2 p.m. in the Arena.
I had the privilege of obtaining feedback from three 4-H'ers who have participated in the Sale - Annette Prezzano of the Got Goat Milk club, Lauryn Menz of the Got Goat Milk Club and 3R's Livestock Club, and James Hicks of the Here Comes the Beef Club. They have a combined 17 years selling in the Livestock Sale, and more than 25 years in 4-H.
One of the first themes that all the 4-H'ers noted was that their work ethic had grown through the Livestock Sale.
Nuvance Health launches new brand
To mark the creation of Nuvance Health, and as one of many steps to transform the healthcare experience for consumers in New York's Hudson Valley and western Connecticut, the non-profit system unveiled its new brand on Monday with an advertising campaign, a new system URL, nuvancehealth.org, and new social media pages.
The brand conveys Nuvance Health's motivation to challenge assumptions and expectations in healthcare and to deliver more convenient, accessible and affordable care throughout the region.
'Help Us, Help Them' Car Show to benefit Safe Haven Animal Shelter set Sunday
By Kristine Coulter
Safe Haven Animal Shelter and Wildlife Center's annual "Help Us, Help them" Car Show will take place on Sunday, Aug. 25, from 9 a.m. to 3 p.m., at the Smoke Haus & Deli, Route 82 and Old Hopewell Road, in East Fishkill. The rain date is Sept. 1.
There is a $15 donation per vehicle. The proceeds from the event will benefit the construction of the no-kill animal and wildlife center. It is located on South Greenhaven Road in Stormville.
Animal Cruelty Education and Prevention presentation comes to Town of Poughkeepsie
By Anna Barton
Animal lovers gathered at the Town of Poughkeepsie Town Hall on Aug. 14 to learn about animal cruelty education and prevention from local Animal Control Officers, Humane Law Officers and the legislators that push for a safer world for pets.
This event was hosted by the Friends of the Poughkeepsie Library District.
Read the full stories in this week's print edition.