Southern Dutchess News This Week...
The Southern Dutchess News has served the area south of Poughkeepsie with news and features since 1959. It is an official newspaper of Dutchess County by vote of the Dutchess County Legislature. The Southern Dutchess News serves Spackenkill, Wappingers Falls, East Fishkill, Fishkill and Beacon. Coverage includes local town, village and school news and features, Dutchess County Legislature, county legal notices, obituaries, plus coverage of arts and entertainment, hospitals and health, education, libraries and local businesses and organizations.
---
ADVERTISERS: Work together and save money
Click here for the Promotion Flyer
---
9/11/19 Highlights of this week's edition...
New K-9 reporting for duty
By Kristine Coulter
(Continued from Home Page) "He's also narcotics certified. He will extremely useful, especially with the opioid epidemic the way it is; he can be
a tool," noted the chief.

Bertoldi's previous canine partner was Victor, who retired in 2012 and died in 2016.

Bertoldi said when he first started with the department he watched how another officer and his dog worked.

"Ultimately, I said 'This is something I'd like to pursue,'" recalled Bertoldi.

---
Gala at Grinnell on Sept. 14 to benefit library patrons through extended programs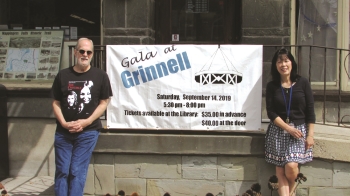 The annual Gala at Grinnell in Wappingers Falls will be held Saturday, Sept. 14. Friends of Grinnell Library President Denny Evaul and Library Director Fran Harrison noted that funds raised will go toward improving the selection of free library passes for patrons. - Photo by Anna Barton
By Anna Barton
The 11th annual Gala at Grinnell will be held on Saturday, Sept. 14 from 5:30 – 8 p.m. The event is hosted by Friends of Grinnell Library, the 501(c)(3) non-for-profit group responsible for supporting the historic library located in the Village of Wappingers Falls.

Funds raised from the Gala will go towards various improvements, events or programs throughout the year. Recent improvements provided by the Friends have included a new weatherproof drop-box outside the library, enhancements to the front gardens, and a new "buzzer system" for Grinnell's 2019 Battle of the Books season.

This year in particular, Friends President Denny Evaul is hoping to expand the museum pass program for the library in the upcoming year.
Read the full story in this week's print edition.
---
Inside the Sep 11-17, 2019 issue:
United Way celebrates renovations at historic Poughkeepsie location
By Anna Barton
A ribbon cutting held on Sept. 5 celebrated the completion of a large scale renovation of United Way of the Dutchess-Orange Region's (UWDOR) historic Poughkeepsie location.
Major renovations were done in the basement space and exterior repainting of the brickwork of UWDOR's main office, the Evelyn Samuels Memorial Building (Hasbrouck House), which is listed on the National Register of Historic Places. The building is located at 75 Market Street in Poughkeepsie.
City of Poughkeepsie releases applicant submissions for former YMCA site, appoints advisory committee
The City of Poughkeepsie has released the applicant submissions it has received regarding possible future uses of the former YMCA property on Montgomery Street.
The city will hold a public information session at a later date to receive input about the plans from residents. The city also has appointed an advisory committee that includes members of the public to review the applications and make recommendations to the administration.
World of the wolf:
The tale of 'White Fang' says a lot about human behavior.
A computer 3-D-generated animated film (2018) from France, "White Fang" ("Croc-Blanc") was written by Philippe Lioret, Serge Frydman and Dominque Monfery. It's adapted from a Jack London novel, and it is set in the 1890s Yukon Territory during the harshness and brutality of the Klondike Gold Rush.
Directed by Alexandre Espigares, it's well worth a look.
County Players' to present F-U-N musical comedy
County Players, one of the longest-running community theatre companies, continues its Main Stage Shows with the musical comedy, "THE 25th Annual Putnam County Spelling Bee," opening Friday, Sept. 13, at 8 p.m.
Six middle school misfits are thrown into a cutthroat, high-stakes competition, and P-A-N-D-E-M-O-N-I-U-M takes first place. Welcome to the 25th Annual Putnam County Spelling Bee, where eccentric adolescents (all played by adults) get their chance to shine as they vie to prove they are worthy of a shot at "Nationals." A touching and irreverent coming-of-age comedy with a high-spirited, improvised spelling bee, this Tony Award-winning musical is a laugh-out-loud. Note: the show contains some mild adult humor.
Read the full stories in this week's print edition.