Southern Dutchess News This Week...
The Southern Dutchess News has served the area south of Poughkeepsie with news and features since 1959. It is an official newspaper of Dutchess County by vote of the Dutchess County Legislature. The Southern Dutchess News serves Spackenkill, Wappingers Falls, East Fishkill, Fishkill and Beacon. Coverage includes local town, village and school news and features, Dutchess County Legislature, county legal notices, obituaries, plus coverage of arts and entertainment, hospitals and health, education, libraries and local businesses and organizations.
---
ADVERTISERS: Work together and save money
Click here for the Promotion Flyer
---
7/18/18 Highlights of this week's edition...
The 5K Orchard Run will take place at Fishkill Farms in East Fishkill on Sunday, July 29
By Kristine Coulter
Then there is the final race, "The Donut Run (or Walk)," which is the fun run. Participants may walk or run by tables which will have donuts and drinks every mile for stopping.

The courses will be marked to make it easy for runners to run along the courses.

The Fishkill Rotary helps the Fishkill Food Pantry, collects warm coats in the winter for students who need them at Fishkill Elementary School, the Rotary adopts families at holidays to support and awards scholarships to local students, said Kessler. There are approximately 25 members in the Fishkill Rotary.

"We're always looking to do different fundraisers," she remarked.

Tristan Smith, Fishkill Rotary Secretary, said, "It's everything goes back into the community." He also noted this could become the Rotary's largest event.
---
John Jay welcomes Kedzielawa as new principal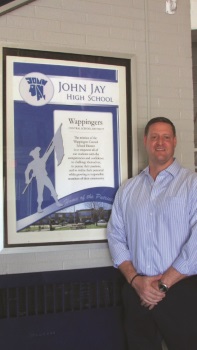 John Jay welcomes David Kedzielawa as its new principal.
By Anna Barton
On July 9, the Wappingers Central School District (WCSD) board appointed David Kedzielawa as John Jay High School's new principal.

It doesn't take long to see that Kedzielawa is committed to his new role, and the district as a whole. "I love what I do and where I do it," is what it all it boils down to for the new leader of the vast, but closely knit John Jay community.

Kedzielawa has an extensive history in the WCSD, which makes the transition to the role of principal a smooth one. His mother taught in the district for thirty years, and Kedzielawa attended Vassar Road Elementary School, Myers Road Elementary School, Wappingers Junior High School, and graduated from Roy C. Ketcham High School. As his brother went on to teach kindergarten at Fishkill Elementary School, the family was now up to two Kedzielawas in the district.
Read the full story in this week's print edition.
---
Inside the July 18-24, 2018 issue:
Keep reading all summer long at Grinnell Library
By Anna Barton
Grinnell Library is a staple of Wappingers Falls as it towers above the village, residing in the same historic location on East Main Street since 1887. It is the sixth oldest library in the state, but mixes its historic feel with a modern day touch that serves its community well. The public library is bustling with residents who come to study, use the computers, or to do some research, but it also hosts an extensive array of programs year-round.
Mid-Hudson Children's Museum honors Hudson River Housing, Inc.
Mid-Hudson Children's Museum has selected Hudson River Housing Inc., as the recipient of its "2018 Great Friend to Kids award." The award will be presented on Thursday, July 19 during the Museum's "Taste of the Market" event to be held from 6 to 9 p.m. in its waterfront pavilion in Poughkeepsie.
Hudson Valley Renegades to host special needs baseball camp at Dutchess Stadium
Dutchess County will again partner with the Hudson Valley Renegades to host the second annual Disability, Dream & Do (D3) Baseball Camp, a "ThinkDIFFERENTLY" event, at Dutchess Stadium in Fishkill on Saturday, August 18.
Historic Tavern Trail series stops in East Fishkill Friday
The Dutchess County 2018 Historic Tavern Trail series continues this month with a special "Summer Lawn Party" on Friday, July 20 at 6:30 p.m. hosted at the East Fishkill Historical Society, one of Dutchess County's largest municipal historical sites with multiple preserved buildings, a WWI-era touring car and much more.
Read the full stories in this week's print edition.