Southern Dutchess News This Week...
The Southern Dutchess News has served the area south of Poughkeepsie with news and features since 1959. It is an official newspaper of Dutchess County by vote of the Dutchess County Legislature. The Southern Dutchess News serves Spackenkill, Wappingers Falls, East Fishkill, Fishkill and Beacon. Coverage includes local town, village and school news and features, Dutchess County Legislature, county legal notices, obituaries, plus coverage of arts and entertainment, hospitals and health, education, libraries and local businesses and organizations.
---
ADVERTISERS: Work together and save money
Click here for the Promotion Flyer
---
11/14/18 Highlights of this week's edition...
Center for Physical Therapy
celebrates 25th anniversary
By Curtis Schmidt
(Continued from Home Page) Twenty-five years ago, Lynn and Chris Campilii and Beth and Tod Snyder were young physical therapists who had recently graduated from college. In spite of their young age, they knew they wanted to venture out on their own.
Lynn and Chris had just returned from a one-year stint in Hawaii. "We were young and figured 'why not?' We enjoyed it, but we knew that we wanted to come back home to our families and friends," said Chris.

In the beginning, he said "a quiet confidence" was the guiding force. "We were also probably too young to be scared of all the negative aspects (of owning your own business)," he said with a laugh.

The two couples purchased the single house at the corner of Delavergne Avenue and Main Street in Wappingers Falls and then the first huge chore was turning a "normal" house into a physical therapy center.

---
Wappinger to remember WWII veteran at ceremony Sunday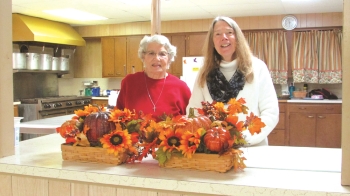 Millie Milkovich, left, and Rev. Peggy Fabrizio will be helping serve a Thanksgiving meal at the United Methodist Church of Wappingers from 1 to 4 p.m. on Thanksgiving Day. - Photo by Anna Barton
By Anna Barton
For those who may be alone this Thanksgiving or may not have access to turkey and trimmings, members of the United Methodist Church (UMC) of Wappingers are opening the doors to welcome all to a free meal. Beginning seven years ago, members of UMC have opted to spend their Thanksgiving hours giving back to the community. They continue again this year, hosting a free Thanksgiving meal from 1-4 p.m.

Millie Milkovich is a member of the UMC of Wappingers and is in charge of the meal once again this year. She reported that 100-120 people usually come to eat at the church's dining area. The meal is open to all locals, young and old.

The previous pastor, Rev. Dorsey, decided to host the meal because she felt the church needed to further reach out to the community. "We have several members of the church
that are alone, so it's good for them, too," Milkovich said.
Volunteers, from inside and outside the church, are vital to a smooth operation, and Milkovich is thankful that many have already signed up to assist. More volunteers are always welcome, though!
Read the full story in this week's print edition.
---
Inside the Nov 14-20, 2018 issue:
Smythe not conceding to Serino in NY 41
by Curtis Schmidt
While incumbent Republican Sue Serino has declared victory in the NYS Senate District 41 race, her Democratic Party challenger Karen Smythe is not conceding.
Serino holds a lead of just over 2,100 votes (56,462 to 54,316 with 100 percent of polling places reporting), but Smythe pointed out that more than 10,000 absentee and provisional ballots still need to be counted. The counting of these ballots began on Tuesday in both Dutchess County and Putnam County.
Town of Wappinger passes 2019 Budget
By Anna Barton
The Town of Wappinger approved its 2019 Budget during a meeting on Nov. 1. A public hearing was held during a special meeting on Nov. 7. This was the first budget passed under Richard Thurston as Town of Wappinger Supervisor. The Town adopted the budget early, as the deadline was Nov. 20.
The Town was able to stay within the State proposed tax levy increase cap of two percent.
DC probation officer Heller receives agency's top honor
Jonathan "Jon" Heller, Principal Probation Officer with the Dutchess County Office of Probation and Community Corrections, has received the 2018 Ennis J. Olgiati Award from the New York Association of Pretrial Service Agencies (NYAPSA).
The award is presented annually at the NYAPSA Conference, held this year in Troy on October 21-22. The award, the association's highest honor, recognizes agencies and individuals who have had significant impact on pretrial policies and operations in the state and is given in memory of Joe Olgiati, one of the early guiding forces in the pretrial diversion movement. Mr. Heller, as well as several other Dutchess County Probation Officers and staff, also spoke on various panel discussions at the conference.
Arlington firefighters donate time, funds to Habitat project
A team from the Arlington Professional Firefighters Local 2393 donated their time and muscle to Habitat for Humanity of Dutchess County's "Abundance of the Heart" project on Friday, Oct. 26.
The Abundance of the Heart project is for a local Poughkeepsie family of seven people, three of which have mobility issues. This project includes a 65-foot ramp, as well as a new, safe, concrete sidewalk to provide accessibility to the outside and community for all members of the family.
Read the full stories in this week's print edition.