Southern Dutchess News This Week...
The Southern Dutchess News has served the area south of Poughkeepsie with news and features since 1959. It is an official newspaper of Dutchess County by vote of the Dutchess County Legislature. The Southern Dutchess News serves Spackenkill, Wappingers Falls, East Fishkill, Fishkill and Beacon. Coverage includes local town, village and school news and features, Dutchess County Legislature, county legal notices, obituaries, plus coverage of arts and entertainment, hospitals and health, education, libraries and local businesses and organizations.
---
ADVERTISERS: Work together and save money
Click here for the Promotion Flyer
---
12/4/19 Highlights of this week's edition...
Habitat for Humanity Dutchess County expands to larger location
All services under one roof on Neptune Road, Poughkeepsie
By Anna Barton
(Continued from Home Page) The ReStore is a home improvement and donor center that accepts donations and sells home goods to the public at a fraction of the retail price. Proceeds directly support Habitat for Humanity's goal of building homes and improving the lives of the homeowners, as well as helping to shape communities and inspire volunteers.

Previously, the ReStore on Burnett Blvd only had 5,700 square feet of floor space. Now the ReStore is pleased to expand to more than triple that size at 17,000 square feet of floor space, and nearly 22,000 square feet of space in total.

Due to their increased space, Lashlee believes they'll be able to build a house much faster. There were almost 700 sales on Opening Day alone, she stated. While the ReStore obviously values recycling and repurposing (the Poughkeepsie location alone has kept more than 1,000 tons of product out of landfills in their years of business), their ultimate purpose is to build homes, Lashlee reiterated. Sales go directly to local home building projects.

---
Village of Fishkill couple
celebrates 80 years of marriage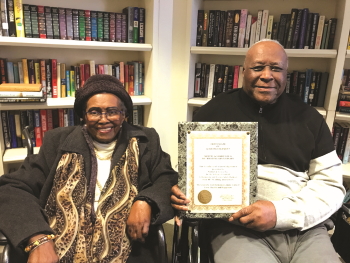 Lossie Lee and Samuel Lee Sr. were honored by the Village of Fishkill for celebrating 80 years of marriage. They were married on December 1, 1939 in Georgia. The Lees are pictured in the library at Wingate at Dutchess in Fishkill, where Mr. Lee resides.
-Photo by Kristine Coulter
By Kristine Coulter
Lossie Lee and Sam Lee Sr. celebrated their 80th wedding anniversary on Dec. 1. The couple was married in 1939 in Georgia. He was 19 at the time of the wedding and she was 17 years old.

Asked how they met, Mrs. Lee replied, "In school."
Mr. Lee told of walking "at least 10 miles one way" to see her.

"She was loved at first sight," remarked Mr. Lee. Asked if he knew she would be the woman he would marry, he replied, "At that particular time, I didn't think so." He said about a year later he was sure.

Se responded "No," as to if she knew Mr. Lee was going to be the man she married.

"He kept coming around, coming around. Things change," she noted.

When asked by their granddaughter Heather Pitcher if he asked for her grandmother's hand in marriage from her great-grandfather, Mr. Lee said, "Yeah, I told him. It's not like it is now…"

Asked if she was surprised when he asked her, "Mrs. Lee replied, "No, I wasn't surprised."
Read the full story in this week's print edition.
---
Inside the Dec 4-10, 2019 issue:
Nuvance Health opens new HQMP Division of Primary Care facility
Health Quest Medical Practice, now part of Nuvance Health, is growing. A new Division of Primary Care office recently opened at 66 Middlebush Road in the Town of Wappinger, providing a convenient and accessible location for the community.
Masque & Mime to present 'Shakespeare in Love' at RCK
By Anna Barton
Roy C. Ketcham High School's Masque & Mime Club will be presenting "Shakespeare in Love" for its fall production this weekend.
The production is based on the screenplay by Marc Norman and Tom Stoppard. It was adapted for stage by Lee Hall.
"I love this play because it imagines a really young William Shakespeare," said Director Tanya Clifton. The fictional story takes place in 1593 struggling London. Since there are no biographies on Shakespeare's life, Clifton explained, "his life is a mystery."

PV Library marks fire anniversary
with kickoff of fundraising efforts
By Jim Donick
It's been just over a year since the tragic fire at the Pleasant Valley Library. On Nov. 20, the community gathered in the library's temporary quarters to thank all of the people and organizations that got them through the fire and the dark days that followed.
More importantly they were there to celebrate the recovery that has taken place and the progress made towards rebuilding and expanding the damaged building.
"The Library is truly the center of this community," said library board president, Dave Kruger, "and to see how the community has come together to support us is simply wonderful."
Cornwall resident wins Fall Foliage Photo Contest
Cornwall resident wins Fall Foliage Photo Contest
The winner of Central Hudson Gas & Electric Corporation's seventh annual Fall Foliage Photo Contest's $500 prize is Brian Hodge of Cornwall, Orange County, who submitted his photograph taken from the Storm King State Park at Pitching Point. Of the 15 finalists, Hodge's photograph received 633 votes, the most cast by Central Hudson's Facebook followers. In total, more than 170 photo entries were submitted this year, and more than 3,600 votes were cast.
Read the full stories in this week's print edition.