Southern Dutchess News This Week...
The Southern Dutchess News has served the area south of Poughkeepsie with news and features since 1959. It is an official newspaper of Dutchess County by vote of the Dutchess County Legislature. The Southern Dutchess News serves Spackenkill, Wappingers Falls, East Fishkill, Fishkill and Beacon. Coverage includes local town, village and school news and features, Dutchess County Legislature, county legal notices, obituaries, plus coverage of arts and entertainment, hospitals and health, education, libraries and local businesses and organizations.
---
ADVERTISERS: Work together and save money
Click here for the Promotion Flyer
---
12/05/18 Highlights of this week's edition...
Bottini Fuel will pay $3.2 million in criminal restitution and civil damages
By Kristine Coulter
(Continued from Home Page) Underwood announced the company's civil settlement agreement resolving a qui tam action alleging false claims act violations. Bottini Fuel will pay over $3.2 million in criminal restitution and civil damages, according to state officials.

"Bottini Fuel orchestrated a brazen scheme to defraud its customers for the benefit of the company and its owners," said Attorney General Underwood. "This conduct was longstanding and harmed individual, business, and government customers. We are grateful to the whistleblower who helped bring this illegal conduct to light and are pleased to be able to give back the money rightfully owed to Hudson Valley customers," Underwood said in a statement.

---
Enjoy holiday events at Mount Gulian Historic Site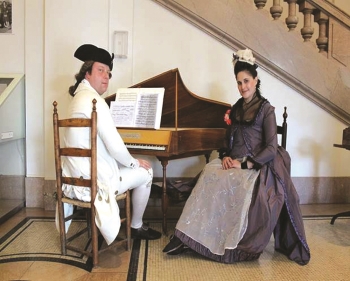 Erik Lichack and Eliza Vinczon will perform during the Mount Gulian Historic Site Holiday Tour on Sunday, December 16.
-Courtesy photo
By Kristine Coulter
Visitors to Mount Gulian Historic Site can celebrate the holidays during two special events. Mount Gulian Historic Site Holiday Tours will take place Tuesday, Dec. 18 and Wednesday, Dec. 19, from 1 to 5 p.m. (last tour at 4 p.m.). Then there will be live music being played on Sunday, Dec. 16, from 3 to 6 p.m. There will be the annual Children's Holiday Tea on Thursday, Dec. 27. Pre-paid reservations for the tea must be made by Friday, Dec. 14. Admission is $22 for adults and $17 for children.

The home was once owned by the prominent Verplanck family.
"The Verplancks would open their house up to the neighbors. It was viewed as special by the neighbors to get an invitation," explained Elaine Hayes, Executive Director of Mount Gulian.
"The rooms look very, very different with the decorations. There will be fresh greens. The sparkle from the candles make the house look so beautiful," said Hayes.

Tour admission on Dec. 18 and Dec. 19 will be $8 for adults, $6 for seniors and $4 for children, Mount Gulian members are free. For the Dec. 16 tours, costs are: $10 for adults, $8 for seniors and $6 for children, Mount Gulian members are free.

Read the full story in this week's print edition.
---
Inside the Dec 5-11, 2018 issue:
Celebrating 30 years of festivities on Poughkeepsie Christmas Tree Farm
By Anna Barton
"Fabulous Firs Christmas Tree Farm" at VanScott Farms is celebrating its 30th year serving the public a great Christmas this year. The family-owned and operated award-winning tree farm has been growing Christmas trees and nursery stock for four generations in the Hudson Valley.
Located in Poughkeepsie, Scott and Vanessa Case offer thousands of trees on 65 acres, encompassing both the east and west sides of Van Wagner Road. Vanessa calls her husband the "worker bee" that's busy behind the scenes, while she's the one up front with the smile and the customer service.
Join the 'Great Toy Swap' at Grinnell Library
By Anna Barton
This Christmas season, do you have toys that your children have outgrown? Are you looking to spend less this year? Do more de-cluttering? A great solution to all these problems is taking place at Grinnell Library on Dec. 14 and 15. The "Great Toy Swap" will allow old toys to be traded in for ones that are "new" to the family.
First capital project in 50 years would save, consolidate for BOCES
By Curtis Schmidt
For Dr. Richard Hooley, it's about providing better educational opportunities for K-12 students in Dutchess County, with the added benefits of consolidation and saving money for the long term.
The Dutchess County BOCES (Board of Cooperative Educational Services) has not had a major capital project in over 50 years. But that will change if the $36.8 million project designed to consolidate K-12 programs to one campus gets the approval of voters on Tuesday, Dec. 11.
Update on Public Justice & Transition Center status Dec. 11
On Tuesday, Dec. 11, the Dutchess County Department of Public Works will host a public information meeting providing an update on the Dutchess County Justice & Transition Center (DCJTC) project, including the near-complete construction of the new Law Enforcement Center (LEC). Public Works Commissioner Robert Balkind will provide residents with an update on the project's budget, design, and timeline. The event will be held at the Dutchess County Department of Behavioral & Community Health (DBCH) Training Room at 230 North Road in Poughkeepsie and will begin at 6 p.m. with a "County Government on the Road" informational fair with various county departments providing information on programs and services related to mental health and the criminal justice system, including the various efforts to divert individuals from the criminal justice system and reducing recidivism. The information meeting will begin at 7 p.m.
Read the full stories in this week's print edition.