Southern Dutchess News This Week...
The Southern Dutchess News has served the area south of Poughkeepsie with news and features since 1959. It is an official newspaper of Dutchess County by vote of the Dutchess County Legislature. The Southern Dutchess News serves Spackenkill, Wappingers Falls, East Fishkill, Fishkill and Beacon. Coverage includes local town, village and school news and features, Dutchess County Legislature, county legal notices, obituaries, plus coverage of arts and entertainment, hospitals and health, education, libraries and local businesses and organizations.
---
ADVERTISERS: Work together and save money
Click here for the Promotion Flyer
---
01/15/20 Highlights of this week's edition...
Library celebrates patron's 100th birthday with cards, cake and presents
By Kristine Coulter
(Continued from Home Page) Mr. Commisso was born in White Plains, Westchester County. He was a printer in White Plains, he said.

"I always loved reading. I started reading in the sixth grade and I never stopped. It immediately piqued my interest," remarked Mr. Commisso. He continued, "When I first started to read it was like a revelation to me, and I never stopped. I used to buy three papers a day."

He said he loves all types of books. "I love biographies. I love Westerns," he said.

Annette Sciacchitano, a Wappingers Falls resident, is Mr. Commisso's daughter. She calls him MVP, "Most Valuable Pop."
"We had a party at the Joe DiMaggio Lodge," she said about how they celebrated her father's birthday. There were approximately 90 people in attendance that day, she stated.

---
County retailers, shoppers
ease into new bag law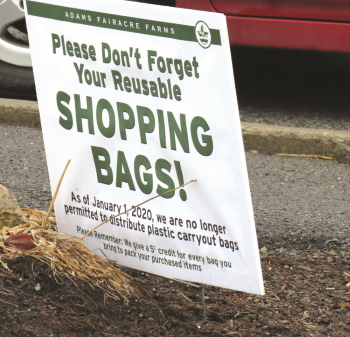 Signs at retail locations around the county have been telling shoppers to prepare for the new bag laws. Photo by Jim Donick
By Jim Donick
The New Year has brought a significant change to the shopping experience in Dutchess County.

On Jan. 1, the county's new single-use bag law, passed by the Dutchess County Legislature in December 2018, came in to effect. In the interim, the State of New York passed a similar law that will go into effect on March 1.

The first indication to county shoppers may have been the signs on the doors and windows of local businesses indicating that they are no longer providing bags to their customers at the checkout stations.

County Legislature Chairman A. Gregg Pulver, the only active farmer in the Legislature, runs across the litter of bags on his farmland.
Read the full story in this week's print edition.
---
Inside the Jan 15-21, 2020 issue:
Albra leads first Fishkill meeting
By Kristine Coulter
Town of Fishkill Supervisor Ozzy Albra led his first Town of Fishkill Board meeting on Wednesday, Jan. 8 at the Fishkill Town Hall.
During his remarks, Albra congratulated council members Ori Brachfeld and Louise Daniele on their November 2019 election wins. He said he plans to "deliver positive results" for the people of Fishkill. Albra told those in attendance he spent the past months planning for this position. He thanked Dutchess County Executive Marc Molinaro, state Senator Sue Serino, City of Beacon Mayor Lee Kyriacou, Town of East Fishkill Supervisor Nicholas D'Alessandro, Town of Wappinger Supervisor Richard Thurston and .
Kenya Gadsden, who was a Vice President of the Beacon City School District School Board and candidate for Dutchess County Clerk, was appointed as the interim town board member. There was a vacant seat due to Councilman Douglas McHoul being elected to the Dutchess County Legislature.
Daniele called Gadsden "a great pick." She said Gadsden would "do a good job for the town."
Habitat receives $10,000 donation
By Kristine Coulter
A $10,000 donation from Immediate Credit Recovery (ICR) will allow Habitat for Humanity of Dutchess County to construct affordable homes in Wappingers Falls, Poughkeepsie, Beacon and East Fishkill. The donation from ICR was recently presented to Habitat Dutchess representatives in Poughkeepsie.
Maureen Brennan Lashlee, Executive Director for Habitat Dutchess stated, "We are immensely grateful for ICRs long-term commitment to Habitat and to our families in need of a safe, affordable place to call home."

East Fishkill appoints acting police chief
Acting chief warns of three connected burglaries
By Kristine Coulter
The East Fishkill Police Department (EFPD) has a new acting police chief. Christopher Bellino was appointed by the East Fishkill Town Board as acting police chief. There is currently no civil service list for chief and the next test will be offered in March.
During the town board's January 9 meeting, East Fishkill Supervisor Nicholas D'Alessandro thanked Bellino, who was a lieutenant with the EFPD, for stepping up.
"As everyone knows, we have a vacancy," he said.
Pulver re-elected Legislature Chairman
The Dutchess County Legislature held its swearing-in ceremony for legislators who will be serving a two-year term of office at its Jan. 7 Organizational Board Meeting. The Hon. Ibis Guzman, Pine Plains Town Justice, presided.
The members of the Legislature also elected Gregg Pulver (R-Pine Plains, Stanford, Milan and North East) to remain as the Chairman. This will be Pulver's third year in the role.
In his acceptance speech, Pulver described the 2018-19 term as the "most productive Legislature in history" and cited the passage of an Animal Abuse Registry, Canine Tethering Regulations, Ethics Reform, Term Limits, Right to Farm, and Independent Reapportionment (which is on the 2020 ballot as a referendum) as their greatest accomplishments. Acknowledging that continuing a course, for the 2020-21 term, of passing such monumental and impactful laws will be a difficult task, Pulver encouraged legislators to "be prepared, be polite, and be productive."

Read the full stories in this week's print edition.