Southern Dutchess News This Week...
The Southern Dutchess News has served the area south of Poughkeepsie with news and features since 1959. It is an official newspaper of Dutchess County by vote of the Dutchess County Legislature. The Southern Dutchess News serves Spackenkill, Wappingers Falls, East Fishkill, Fishkill and Beacon. Coverage includes local town, village and school news and features, Dutchess County Legislature, county legal notices, obituaries, plus coverage of arts and entertainment, hospitals and health, education, libraries and local businesses and organizations.
---
ADVERTISERS: Work together and save money
Click here for the Promotion Flyer
---
1/9/19 Highlights of this week's edition...
A Seabee's experience during the Vietnam War
American Legion program set Saturday in East Fishkill
By Kristine Coulter
(Continued from Home Page) "I was enjoying the IBM job and my goal was to get back to the IBM job," Marshall remarked.
He said the Seabees was a clear choice for him.

"This Civic Action program was begun in 1942 when the USN Seabees were formed, and has continued through all wars. It is a largely unknown non-combat program by this military organization which is also not well known. My purpose is to bring more awareness and appreciation to both, and to honor the contributions of all veterans this year," explained Marshall.
According to http://usnhistory.navylive.dodlive.mil/2017/03/03/10-things-you-need-to-know-about-your-seabees/, "After the attack on Pearl Harbor on Dec. 7, 1941, the need for a militarized Naval Construction Force to build advance bases in the war zone was self-evident. Rear Admiral Ben Moreell determined to activate, organize and man Navy construction units. On Dec. 28 1941, he requested specific authority to carry out this decision, and Jan. 5, 1942, he gained authority from the Bureau of Navigation to recruit men from the construction trades for assignment to a Naval Construction Regiment composed of three Naval Construction Battalions."

"We Build, We Fight" is the motto of the Seabees. In March of 1942, the "CBs" were given official permission to assume the name of Seabees.

---
IBM employee volunteers time to provide technology education for seniors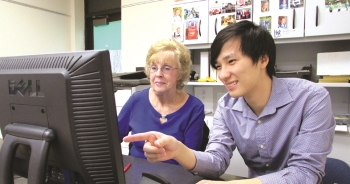 Xin Ding assists Dorothy Groark with a computer question at Wappinger Town Hall. Ding will be providing technology seminars to local seniors on Jan. 22 and 24.
by Anna Barton
If you're a senior frustrated with a piece of technology in your home or in your hand, you're welcome to come out to a seminar offered by the Town of Wappinger Senior Center on Jan. 22 and 24.

Xin Ding, a project manger at IBM, will be leading the seminars for any local over the age of 55. A Wappingers Falls resident himself, Ding will be educating seniors on how to leverage technology in their daily lives.

Wappinger Recreation Director Jessica Fulton said that Ding reached out to the Senior Center initially to discuss his generous offer. "He felt seniors were really the group he wanted to reach," Fulton said.

Ding has grandparents at home that have had a hard time adjusting to the technology-driven world we live in, he said. Ding recounted that last year his grandpa was scammed by the IRS phone scam. Without technology education, Ding explained, it's hard to know "what's safe, what's not safe." While much of the STEM education (Science, Technology, Engineering and Mathematics) is focused on kids and technology, seniors need to understand it, too.

Read the full story in this week's print edition.
---
Inside the Jan 9-15, 2019 issue:
Get Growing: Looking ahead - Mark highlights what's blooming for 2019 in local agriculture.
Let's just say that 2019 will be an interesting year. Because of my experience in local agriculture, I have been given the honor to serve on six committees and boards of directors that advocate for local farmers. I go to so many meetings that people think I don't have to work for a living (I still do). I get to meet all kinds of fantastic, dedicated people. Here are a few of the ideas we're working on in the coming year:
• Dutchess/Putnam/Westchester Farm Bureau – Dairy farmer Isaac Coon has just succeeded me as president, so now I serve on the board, with local farmers including Mark Doyle of Fishkill Farms, Mary Stephens and equestrian Betty Albrecht. We advocate for legislation that will help farmers. A recent win was the Inherent Risk in Agricultural Tourism law that protects the public, farmers and equine operations. We are currently working with Assembly member Didi Barrett on a law that would reduce the impact of agriculture on the climate – "carbon farming."
Mount Saint Mary College awards nursing pins to nearly 30 students
Mount Saint Mary College honored nearly 30 graduates of its prestigious Nursing program at a pinning ceremony on Sunday, Dec. 16.
Fr. Gregoire Fluet, chaplain and director of Campus Ministry at the Mount, blessed the pins, which were presented to the graduates by chosen family members and friends.
The Mount Saint Mary College nursing pin displays the college seal and motto, doce me veritatem, which translates as "teach me the truth."
Kathleen Kightlinger-Steiger, assistant professor of Nursing, welcomed the students and their families. She offered the graduates words of encouragement and advice for their upcoming careers.
Mid-Hudson Children's Museum to offer "Free Pizza and Play Night" for Families of Federal Workers
The Mid-Hudson Children's Museum invites local families of federal employees affected by the current government shutdown to a free night of pizza and play on Thursday, January 10 from 5- 8 p.m.
Free admission to the event is for two adults (one of whom must be a federal employee) and their children living in same household. The event is free, but pre-registration is required. Tickets may be reserved online at: http://bit.ly/MHCMFederalemployeefreenight or by calling the museum during business hours at (845) 471-0589.
Seniors must enroll in Income Verification Program for property tax break
The New York State Department of Taxation and Finance reminded property owners age 65 and over who are applying or reapplying to receive the Enhanced STAR exemption in 2019 that they must now enroll in the Income Verification Program (IVP).
Those already enrolled in the IVP don't need to take any action to continue receiving their Enhanced STAR exemption checks.
Read the full stories in this week's print edition.