Southern Dutchess News This Week...
The Southern Dutchess News has served the area south of Poughkeepsie with news and features since 1959. It is an official newspaper of Dutchess County by vote of the Dutchess County Legislature. The Southern Dutchess News serves Spackenkill, Wappingers Falls, East Fishkill, Fishkill and Beacon. Coverage includes local town, village and school news and features, Dutchess County Legislature, county legal notices, obituaries, plus coverage of arts and entertainment, hospitals and health, education, libraries and local businesses and organizations.
---
ADVERTISERS: Work together and save money
Click here for the Promotion Flyer
---
3/20/19 Highlights of this week's edition...
Making sap into maple syrup at Sharpe Reservation
By Kristine Coulter
(Continued from Home Page) Pat Farrell, Sharpe Educator, demonstrated the process of making syrup for students from Glenham Elementary School in the Beacon City School District recently.

"When they get a taste of the sap, some say they taste the sweetness. Some say it tastes like water," stated Farrell.
It takes 40 gallons of sap to make one gallon of syrup, she noted.

The evaporator at Sharpe, which is used to make syrup, at full potential can boil off 25 gallons of water an hour, said Farrell.

Those who visit Sharpe for the Maple Celebration "can meet the logger, trapper and currier," said Timothy Stanley, Sharpe Reservation. "They were friends of Dr. Sharpe who conducted the first Maple Celebration, according to legend."

---
Partnership of Sprout Creek Farm, Marist College look to educate together at Summer Camp 2019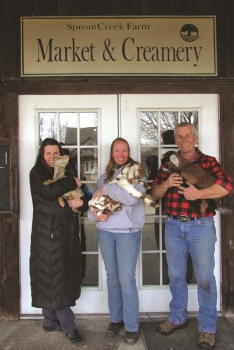 Baby goat time at Sprout Creek Farm welcomes the community in. From left to right, Kim Bodendorf, Marist liaison to Sprout Creek Farm, Lisa Dunne, Associate Director of Education and Program Development at Sprout Creek Farm and Farm Director Sean O'Sullivan. Wiggly goat kids from left to right are Toast, Marbles and Socks. - Photo by Anna Barton
by Anna Barton
More than a year after the January 2018 decision to transfer control of operations to Marist College, Sprout Creek Farm in the Town of LaGrange is ready for spring and new life on the farm. More than 40 goat kids have been born, and it's only halfway through the birthing season! The farm and the college are anticipating Summer Camp 2019, where their official collaboration will begin.

The decision last year was a positive one for both entities, as they both focus heavily on education. While Sprout Creek was able to maintain its non-for-profit status, Marist planned to come alongside the farm and use it as a "hands-on," experiential classroom. Sprout Creek remains an active working-farm, raising goats, donkeys, cows, sheep, pigs, turkeys, and chickens.

Marist has "strategic control' of the Board of Directors, said Marist liaison to Sprout Creek Farm, Kim Bodendorf, and the transfer has remained a positive one. Sprout Creek has retained much of its way of life while having the support of Marist to collaborate and assist.
Read the full story in this week's print edition.
---
Inside the Mar 20-26, 2019 issue:
Quakers, early Women's College
influenced local women's history
By Bill Jeffway
The celebration of history is not so much about the past, as it is the present, and what we hope others will remember in the future.
In this way, celebrating Women's History Month is important. It allows us to put a greater focus on women's experiences that may have been overlooked, or otherwise forgotten.
Like Black History month, it would be impossible to claim any reporting of the complete history of the topic in Dutchess County. So instead, we will take a kind of "sampler" approach to introduce you to some individuals - and point you in the direction of more information.
City of Poughkeepsie projects 2018 surplus
Mayor Rob Rolison announced last week that the City of Poughkeepsie is projecting a year-end general fund surplus of approximately $313,000. The favorable result for 2018 will reduce the city's cumulative general fund deficit, and further builds on the success achieved in 2016 and 2017.
Against a 2018 general fund budget of $49.6 Million, the actual year-end results are expected to be within 0.63% of the adopted budget, which stayed under the state tax cap, did not increase water or sanitation rates, and slightly lowered sewer rates.
Poughkeepsie Awesome Foundation presents grant for The Art Effect
By Anna Barton
On Friday, March 15, members of The Art Effect, as well as grateful City of Poughkeepsie teenagers, gathered at their other home, a studio in The Underwear Factory. The group gathered to receive a $1,000 grant from The Poughkeepsie Awesome Foundation.
The funds will go directly towards City of Poughkeepsie youth who want to participate in the annual "Exposure" national high school photography competition.
V\SkillsUSA Regional Conference held at DCC
By Anna Barton
Once a year, BOCES schools from around the region gather together for friendly competition to show off their trade skills for SkillsUSA.
"SkillsUSA's mission is to help its members become world-class workers, leaders and responsible American citizen," their website states. It is a "partnership of students, teachers and industry working together to ensure America has a skilled workforce."
SkillsUSA for Area 4 was held at Dutchess Community College (DCC) on March 14.
The winners of this regional conference are then given the chance to go on to the State conference from April 24-26. The National conference is held in Louisville, Kentucky in June.
A troubled youth reaps what his parent has sown in 'Standing Tall.'
Ron reviews Standing Tall
In France, the number of single-parent homes has risen 16 percent, while in the United States, by comparison, it has soared to 26.5 percent ... all the result of some conjugal instability. If a point can be made, the rate of juvenile delinquency -- drug violations, theft, assault and vandalism et al -- has doubled in France during the last five years; during the same period of time, in our country, it has doubled, as well, to nearly 25.6 percent of all crimes committed.
Wow! That's a lot!
Can correlations be drawn between the two sets of figures? I think so; and sociologists, of course, will have their field day.
"Standing Tall," a film from France, subtitled and written by Emmanuelle Bercot and Marcia Romano, is the story of a boy, Malony (played, incredibly, by Rod Paradot), a 16-year-old whose fists are always tight, his voice is always angry, and his demeanor is constantly over-reactive.
Read the full stories in this week's print edition.