Southern Dutchess News This Week...
The Southern Dutchess News has served the area south of Poughkeepsie with news and features since 1959. It is an official newspaper of Dutchess County by vote of the Dutchess County Legislature. The Southern Dutchess News serves Spackenkill, Wappingers Falls, East Fishkill, Fishkill and Beacon. Coverage includes local town, village and school news and features, Dutchess County Legislature, county legal notices, obituaries, plus coverage of arts and entertainment, hospitals and health, education, libraries and local businesses and organizations.
---
ADVERTISERS: Work together and save money
Click here for the Promotion Flyer
---
11/6/19 Highlights of this week's edition...
DAV seeks drivers
(Continued from Home Page) "We pick up patients at their houses in Dutchess County. Then we take the patients to Castle Point," explained Matragrano.

Volunteers must:
- Be in good health and able to pass a simple physical
- Have a valid and clean New York State driver's license (No CDL required)
- Must have proof of valid and current insurance

Volunteers drive a government van, said Matragrano.
There are currently about eight volunteer drivers, he said.
One of the drivers is John Simpson, a resident of Fishkill. Simpson was in the U.S. Army for approximately 12 years.
"We have a great volunteer staff. They're a pleasure to work with – all of them," said Simpson.

He began volunteering, he said, because he was retired and "wanted to give back to the community."

---
Vet2Vet continues programs that bring physical, emotional, social assistance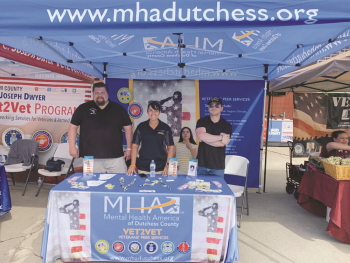 Vet2Vet's Adam Roche, Angela Garcia and Tyler Mendelson speak to the public about their services at a Renegades game last summer. - Courtesy photo
By Anna Barton
Mental Health of America Dutchess County's Vet2Vet Program is constantly seeking new ways to help local veterans. Their programs have expanded so rapidly that they will be moving in December to create more space.

Vet2Vet first fell under the umbrella of Mental Health of America in Dutchess County in August 2016. Adam Roche, a Marine Corps veteran himself, essentially built the program from the ground up.

"We call ourselves the boots on the ground," Roche said in describing the work they do.

The program works through whichever avenue necessary to get homeless veterans off the street, place veterans in rehab if needed, and offer peer support services to let veterans know they are never alone. They also work with local police forces for crisis intervention for veterans at risk of self-harm or suicide.

The entire program is run for veterans, by veterans. The program leaders are combat veterans themselves, and have years of experience helping others heal.

Currently Vet2Vet employs four full-time veterans with multiple interns on staff.
Read the full story in this week's print edition.
---
Inside the Nov 6-12, 2019 issue:
Ground breaks at Spook Hill Park - Improvements will create an ADA destination spot for Wappinger
By Anna Barton
A groundbreaking ceremony was held on Nov. 2 at Spook Hill Park in Wappingers Falls, where work will begin shortly to create an ADA accessible destination for those with special needs.
In April, a $100,000 grant through Dutchess County's 2019 Community Development Block Grant (CDBG) Program was awarded to the Town of Wappinger in order to transform the space located at 38 Spook Hill Road.
Town of Wappinger joins pending Opioid Class Action Lawsuit
By Anna Barton
During the Oct. 28 Town of Wappinger Board Meeting, Resolution 2019-202 was passed, allowing the town to join the pending Opioid Class Action Lawsuit.
The U.S. Department of Health and Human Services declared the opioid crisis a public health emergency in 2017. There were 47,761 opioid-related overdose deaths in the United States that year.

County seeks proposals for Youth Program Funding
Grant workshops set for Nov. 12
The Dutchess County Department of Community and Family Services' Division of Youth Services is requesting proposals for youth development services from municipalities and non-profit, community-based organizations for calendar year Jan. 1 to Dec. 31, 2020. Program funding will be awarded in the following categories:
• Youth Development Programs (YDP)
• Runaway and Homeless Youth Act (RHYA)
Grants ranging from $5,000 to $25,000 will be awarded to programs that provide free, direct services designed to improve youth and community outcomes, as outlined in the Life Areas funding priorities of the Dutchess County Youth Board and Coordinating Council. The New York State Office of Children and Family Services' six Life Areas are: Economic Security, Physical and Emotional Health, Education, Citizenship/Civic Engagement, Family, and Community.
Shop for holiday gifts at annual Wappinger Craft Fair in coming weeks
By Anna Barton
While there have been many changes over the years, the Town of Wappinger has been committed to its craft fairs for nearly 30 years.
2019 is no different, as there will be four locations in under 3 miles, all featuring talented crafters and their handiwork, just in time for holiday shopping. All craft fair vendors will be open from 9 a.m. to 3 p.m.
The goal is to make Wappinger a destination on the second — and now fourth — Saturdays of November.
The craft fairs will be held at First Presbyterian Church, St. Nicholas-on-the-Hudson, Wappinger Town Hall and Zion Episcopal Church.
Read the full stories in this week's print edition.