Southern Dutchess News This Week...
The Southern Dutchess News has served the area south of Poughkeepsie with news and features since 1959. It is an official newspaper of Dutchess County by vote of the Dutchess County Legislature. The Southern Dutchess News serves Spackenkill, Wappingers Falls, East Fishkill, Fishkill and Beacon. Coverage includes local town, village and school news and features, Dutchess County Legislature, county legal notices, obituaries, plus coverage of arts and entertainment, hospitals and health, education, libraries and local businesses and organizations.
---
ADVERTISERS: Work together and save money
Click here for the Promotion Flyer
---
10/16/19 Highlights of this week's edition...
Great Give Back allows library patrons to contribute to their community
By Anna Barton
(Continued from Home Page) Out of the 66 libraries in the Mid-Hudson Library System, 35 are participating in the Great Give Back. "The energy around it has been so good," Aldrich noted.

Dutchess County libraries that are participating are Beekman, East Fishkill Community, Howland, Hyde Park Free, North-east Millerton, Pleasant Valley Free, Poughkeepsie Public Library District, Red Hook Public, Morton Memorial Library and Community House, Stanford Free and Tivoli Free.

"It gives our patrons an opportunity to give back," said Courtney Wimmers, Outreach and Engagement Specialist for the MHLS.

There are more than 300,000 library card holders in the Mid-Hudson Library system. Imagine, Aldrich asked, the countless volunteer opportunities that could exist if all these card holders worked together to improve the Hudson Valley.

---
Fire Prevention Week brings education to students in Wappingers Falls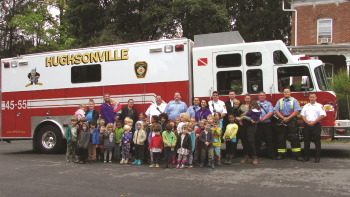 Pre-kindergarten and 1st grade students, teachers, and firefighters gather in front of one of the Hughsonville Fire Department trucks during Fire Prevention Week at the Randolph School. Firefighter Tom Gallman shows 1st grader Grey how to use a fire hose. - Photos by Anna Barton
By Anna Barton
During Fire Prevention Week (Oct. 6 – Oct. 12), local fire companies made it a priority to ensure their communities are aware of fire safety protocol.

Hughsonville Fire Department prioritized visiting every school within their fire district to educate students on fire prevention and familiarize them with their firefighters and equipment, said William Beale, former fire chief of the Hughsonville Fire Department.

This year's Fire Prevention Week national campaign is "Not Every Hero Wears a Cape. Plan and Practice Your Escape!"
"The idea of this year's campaign is to educate everyone about the small but important actions they can take to keep themselves and those around them safe," Beale explained.

Firefighters recognize that in a typical home fire, there may be as little as one to two minutes to escape safely from the time the smoke alarm sounds. Escape planning and practice can help make the most of the time you have, giving everyone enough time to get out.

Pre-schoolers through first graders at the Randolph School were able to learn about basic fire safety techniques, parts of the fire truck and fireman gear, and see the fire hose in action.
Read the full story in this week's print edition.
---
Inside the Oct 16-22, 2019 issue:
Get growing! By Mark Adams
Crabbing in the Hudson: Mark shines a light on a little-known local pastime.
"Come out with your hands up."
I suppose I shouldn't have been surprised to hear that command from a New Jersey State Trooper's bullhorn. After all, it was mid-October 2001, only a few weeks after the 9-11 terrorist attacks, and Sue and I were trespassing on the grounds of a nuclear power plant.
"Another fine mess you've gotten us into," Sue lamented, as she dropped her trap line and a good-sized blue claw crab scurried back into the murky waters of Oyster Creek.
Last week I touched briefly on the prospect of crabbing in the Hudson River. Several of my faithful readers (OK, all three of them) asked me to expand on the issue. Easily done, as crabbing is one of my favorite pastimes.
The blue claw crab is a crustacean related to lobsters and shrimp. Starting in July, the crabs swim upstream, or drift on the tide, all the way to the Troy dam north of Albany. (The Hudson is actually an estuary, an arm of the sea, with salty or brackish water as far north as Beacon). Probably millions of blue crabs live in the river during the summer months.
Celebrate Halloween at Stony Kill during the Not-so Haunted Barn and Hayride
By Kristine Coulter
The Stony Kill Foundation will host its annual Not-so-Haunted Barn and Hayride on Saturday, Oct. 19 from 4 to 7 p.m. Stony Kill is at 79 Farmstead Lane in Wappingers Falls. The event will be held rain or shine. Admission is a suggested donation of $5. For children three years and younger, there is no admission charge.
Molinaro signs law establishing Independent Reapportionment Committee
Dutchess County Executive Marc Molinaro was joined on Oct. 3 by Gregg Pulver, Chairman of the Dutchess County Legislature, Don Sagliano, Majority Leader, Hannah Black, Minority Leader and Kristofer Munn, Assistant Minority Leader, as he signed a local law, establishing an Independent Reapportionment Committee to evaluate existing legislative districts and reapportion them as necessary, following each decennial census, to ensure equal and fair representation of all people in Dutchess County.
McCord family farm grows with Sheep & Wool Festival -
39th annual event set on weekend at DC Fairgrounds
By Curtis Schmidt
For the McCord family of Upper Red Hook, sheep farming began when Karen and Bruce bought a Suffolk ewe at the very first New York State Sheep & Wool Festival in 1980.
"We brought it back to the farm in the back of our Chevy station wagon," Bruce said with a laugh. "I grew up working with dairy cows and my wife grew up working with horses. We both love animals, so we kind of figured raising sheep would be a good compromise and give us plenty of options."
Read the full stories in this week's print edition.