Southern Dutchess News This Week...
The Southern Dutchess News has served the area south of Poughkeepsie with news and features since 1959. It is an official newspaper of Dutchess County by vote of the Dutchess County Legislature. The Southern Dutchess News serves Spackenkill, Wappingers Falls, East Fishkill, Fishkill and Beacon. Coverage includes local town, village and school news and features, Dutchess County Legislature, county legal notices, obituaries, plus coverage of arts and entertainment, hospitals and health, education, libraries and local businesses and organizations.
---
ADVERTISERS: Work together and save money
Click here for the Promotion Flyer
---
10/10/18 Highlights of this week's edition...
Village of Wappingers Falls aims for festive afternoon on Sunday
By Anna Barton
(Continued from Home Page) "Anyone in costume can come and march in it, they're welcome to come," said Recreation Director for the Village of Wappingers Falls, Tammy Vitulli.

If your dog is feeling festive, they can hop in the parade, too. Pre-registration is not required, but preferred. Email tvitulli1970@gmail.com for more information.

Alpacas from Small Paws Alpaca Farm will be among the furry parade participants as well, Vituli said.

Tony Scott of Wappingers Falls will be bringing his 1,515-pound pumpkin to Mesier Park for the festivities as well. Scott's pumpkin recently took fourth place in the Great Pumpkin Commonwealth sanctioned weigh-in event in Connecticut in September. The pumpkin will stay in Mesier Park after the event to show off hometown, home-grown pride.

The parade will end at Mesier Park, where the rest of the afternoon's activities will take place. Street performers, belly dancers, and fire dancers from the Chapel of Sacred Mirrors will be performing in the park. A Costume Contest at 2 p.m. in Mesier's gazebo will welcome participants up to 12 years old. Two trophies will be given out per category.

---
Partnership announces saved lives for National Fire Prevention Week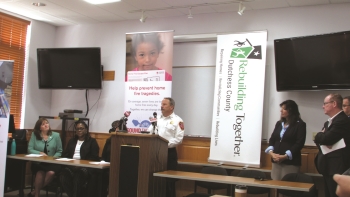 Poughkeepsie Fire Chief Mark Johnson explains that working smoke alarms cut the risk of death from a home fire in half.
-Photos by Anna Barton
By Anna Barton
To kick off National Fire Prevention Week, representatives from the American Red Cross and Rebuilding Together Dutchess County (RTDC) gathered at the City of Poughkeepsie Main Street Fire Station on Oct. 5 to report on the success of the partnership.

In 2016, the American Red Cross and RTDC teamed up to bring their Home Fire Campaign to local homeowners.

The American Red Cross nation-wide program, the Home Fire Campaign, provides free fire safety tips, as well as smoke detectors to homeowners in need. They provide RTDC volunteers with these supplies, and in turn, the volunteers reach out to the community and offer these free services to the community.
Together they work to install smoke detectors and offer fire safety tips to residents. Additional resources such as carbon monoxide detectors and fire extinguishers are offered through RTDC's Home Safety and Fire Prevention Program. Motion-activated solar lights and reflective house numbers are also installed to assist in safe entry and exit ways and help first responders better identify houses during emergencies.
Read the full story in this week's print edition.
---
Inside the Oct 10-16, 2018 issue:
Dutchess Outreach holding annual coat drive
Fall is here and with it comes Dutchess Outreach's annual Susan DeKeukelaere Memorial Coat Drive, sponsored by Guardian Self Storage. They are collecting adult and children's winter coats and jackets that are clean and in good condition. There are nine distribution sites around Dutchess County that will give coats to those in need and help keep neighbors warm this winter. Last year more than 5,500 coats were collected and distributed.
The East Fishkill Historical Society hosts a Farm to Table Fundraiser
The East Fishkill Historical Society will host a Farm to Table Fundraiser on Sunday, Oct. 21, from 2 to 5 p.m., at Tomas Tapas Bar and Restaurant, 900 Route 372, in Wappingers Falls. Admission is $45 per person. The proceeds will benefit the Brinckerhoff Farmhouse Roof Replacement Fund.
"We need to replace the roof on this house. It's not leaking yet. I don't feel we can wait much longer," said Rick Soedler, with the East Fishkill Historical Society.
The roof has not been done for decades, he said.
WCSD students selected for All-State Ensembles
Six students from the Wappingers Central School District have been selected to participate in various 2018 All-State Ensembles. They will perform in concerts held at the acclaimed Eastman Theatre in Rochester, NY during the annual Winter Conference of the New York State School Music Association (NYSSMA) to be held November 29 - December 2.
Pasta and Pottery Dinner set Saturday
The Mid-Hudson Heritage Center's Pasta and Pottery Dinner will take place on Saturday, Oct. 13, from 4 to 7 p.m. at the Poughkeepsie Underwear Factory Cafe, aka PUF Café at 8 North Cherry St in downtown Poughkeepsie. This inaugural event will be an opportunity to bring together people about downtown Poughkeepsie, art, and quality handmade goods. Many people understand how art and craft are revitalizing the city of Poughkeepsie; this fundraiser offers the opportunity for more people to participate in this revival. Tickets to the dinner cost $50 each and are available for purchase at www.midhudsonheritage.org.
Read the full stories in this week's print edition.