Southern Dutchess News This Week...
The Southern Dutchess News has served the area south of Poughkeepsie with news and features since 1959. It is an official newspaper of Dutchess County by vote of the Dutchess County Legislature. The Southern Dutchess News serves Spackenkill, Wappingers Falls, East Fishkill, Fishkill and Beacon. Coverage includes local town, village and school news and features, Dutchess County Legislature, county legal notices, obituaries, plus coverage of arts and entertainment, hospitals and health, education, libraries and local businesses and organizations.
---
ADVERTISERS: Work together and save money
Click here for the Promotion Flyer
---
5/15/19 Highlights of this week's edition...
Notre Dame fire in Paris
Pleasant Valley writer, CIA chef reflect
on event that touched France, world
By Jim Donick
(Continued from Home Page) It's ALWAYS the roof that catches fire in a medieval cathedral. Stone doesn't burn as well as wood. When Reims burned, the heat caused the sheets of lead that covered the roof to melt and to flow out through the mouths of the gargoyles like rain water. Most of it was recovered from the ground below and turned back into roofing sheets and is up there today.

Reims Cathedral recovered beautifully - though it took some time and some American money. Over the years we've been to Mass in Reims many times. One would never know it had burned.
When in Paris of late, we have been staying in a little hotel across the river from the Notre Dame cathedral, about a five-minute walk away. We are in and out of the cathedral nearly daily when in Paris. It's full of memories.

An early favorite was climbing to the top with our baby daughter in a pack on my back and wandering amongst the gargoyles.

There have been countless evening walks after dinner to simply stare at the cathedral lit up at night and to occasionally see the ad hoc entertainment, musicians, jugglers, dancers, fire eaters, or nearly anything on the square in front entertaining the crowds.


---
WCSD Festival of Arts to be held Saturday at Mesier Park
80,000 pieces of artwork, musical performances highlight student talent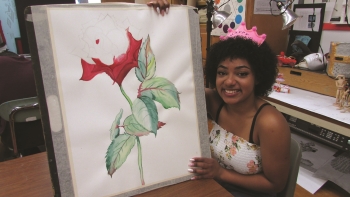 Roy C. Ketcham High School junior Franchesca Stephens works on her drawing for the Festival of the Arts while celebrating her 17th birthday in class. The piece is a birthday gift for her mother, whose favorite flower is the red rose. - Photo by Anna Barton
By Anna Barton
If you happen to drive by Mesier Park in Wappingers Falls this Saturday, you may think the space has been transformed into an art and musical gallery. From the hours of 10 a.m. until 4 p.m., the space will indeed be altered into a showroom for the Wappingers Central School District (WCSD) to showcase the Fine Arts talent of nearly every single one of their students.
The Festival of the Arts is in its 69th year of production, displaying visual and musical art pieces representative of every school and grade level in WCSD.

WCSD Director of Fine & Performing Arts & Languages Bonnie King estimates that there will be nearly 80,000 pieces of artwork on display.

"By recognizing the whole child in education and by providing enriching opportunities for them to create and connect with their learning, students get to celebrate their work and take pride in their creativity," King stated.
Read the full story in this week's print edition.
---
Inside the May 15-21, 2019 issue:
Firefighters commended for work on railroad bridge fire 45 years later
By Kristine Coulter
Local first responders were honored for their actions 45 years ago during the great fire that broke out on the Poughkeepsie – Highland Railroad Bridge in 1974. The commemoration took place on the Walkway Over the Hudson in Poughkeepsie on Wednesday, May 8.
WCSD Budget and Board of Election vote to be held May 21
By Anna Barton
The Wappingers Central School District proposed 2019-2020 budget vote will take place on Tuesday, May 21.
The Superintendent Recommended Budget of $234,950,988 is the maximum allowable budget for the 2019-2020 school year. There was a 1.57 percent increase from the 2018-2019 Budget.
The Board of Education approved the budget on April 23.
11th Millbrook Literary Festival showcases top authors on May 18
Now in its 11th year, the 2019 Millbrook Literary Festival (MLF) will welcome visitors and more than 40 authors on May 18 from 10 a.m. – 5 p.m. at the Millbrook Library.
Authors of adult, teen and children's books will participate in the daylong celebration of panel- and author-led discussions, plus book signings, music and more.
The event also will include award presentations for the Scott Meyer Award, honoring the MLF founder at 10 a.m. This year's event will recognize the author of an unpublished children's book.
The Festival's Young Writers Showcase will recognize writers ages 5-18 in the short story category.
Community Foundations announces grants to Dutchess nonprofits
Community Foundations of the Hudson Valley announces grants totaling more than $140,000 to invest in quality of life for Dutchess residents experiencing poverty. Through the Jeannette F. Schlobach Fund, these awards will support programs that promote economic stability, create access and opportunity.
"The Foundations is proud that Mark Dennis, CPA entrusted us to steward Mrs. Schlobach's generosity and community dedication," said March Gallagher, President & CEO of the Community Foundations. "Her interest in making life better for those she would never meet demonstrates the charitable spirit of our community. By transferring her trust to the Foundations, her vision will continue to enhance the work our local nonprofit partners do."
Read the full stories in this week's print edition.