Southern Dutchess News This Week...
The Southern Dutchess News has served the area south of Poughkeepsie with news and features since 1959. It is an official newspaper of Dutchess County by vote of the Dutchess County Legislature. The Southern Dutchess News serves Spackenkill, Wappingers Falls, East Fishkill, Fishkill and Beacon. Coverage includes local town, village and school news and features, Dutchess County Legislature, county legal notices, obituaries, plus coverage of arts and entertainment, hospitals and health, education, libraries and local businesses and organizations.
---
ADVERTISERS: Work together and save money
Click here for the Promotion Flyer
---
2/20/19 Highlights of this week's edition...
Sign up to support Community-Supported Agriculture on Friday
By Anna Barton and Kristine Coulter
(Continued from Home Page) Small Farm Central, the company that began CSA Day in 2015, is led by Simon Huntley.

"CSA farmers typically teach members what's in season throughout the year, and help them appreciate and cook food to which they may not otherwise be exposed," Huntley stated.

Shares can be picked up weekly at a local distribution center. Most farms offer seasonal shares, although others are able to offer their services year-round. Prices vary depending on the duration of the shares, as well as how many items are included in the share.

CSA Day always falls on the last Friday in February. It's a day meant to celebrate local agriculture and allow members to sign up early, giving farmers the revenue needed most for the upcoming growing season. Often promotions or discounts are offered to encourage early sign-ups.

---
Great prizes top Garrison Bridal Show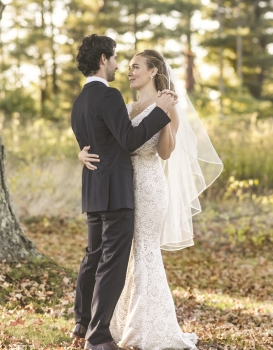 You can win a three-night all-inclusive stay for two at the Iberostar Resort in the New Prestige Tower in Cancun, Mexico at this year's Bridal Show with Fashions on Sunday, March 3, from Noon – 3 p.m. at The Garrison.

You must sign up prior to the show to be eligible to win prizes. It's easy –just send an email to garrisonbridalexpo@sdutchessnews.com. You will receive a confirming response.

The Garrison and Highlands Country Club will be giving away an overnight inn room with golf and a gift certificate for Hudson Valley Dining.

It's just the beginning of a memorable afternoon. We'll also present stunning fashions, a fantastic list of over 60 vendors to plan every facet of your wedding, plus great food from the chefs at The Garrison and The Pastry Garden.

The setting is exquisite – incredible views of the Hudson River and surrounding mountains from spacious (or intimate) gathering rooms at The Garrison. It is located at 2015 Rt. 9, just 10 minutes south of the I-84 exchange.

To keep you entertained, models from Lambs Hill in Beacon and Sossi Formals will be strolling through the show.

It's going to be a fantastic afternoon – with prizes, food, fashions and more. For more information, check out the Southern Dutchess News page on Facebook and pre-register by sending an e-mail to garrisonbridalexpo@sdutchessnews.com. To register by phone, call the Southern Dutchess News offices at (845) 297-3723.

Read the full story in this week's print edition.
---
Inside the Feb 20-26, 2019 issue:
Kearney appointed to replace Tyner on Legislature
By Kate Goldsmith
Former Rhinebeck Town Board member Brennan Kearney is the new county legislator for District 11, representing the towns of Rhinebeck and Clinton. She succeeds fellow Democrat Joel Tyner, who resigned last month amid accusations of sexual harassment.
"I look forward this year to being a friendly and effective liaison for my communities," Kearney said. "I have begun reaching out to my constituents to hear what their concerns, goals and priorities are for this year on my new Facebook page: @Kearney4ClintonRhinebeck."
Kearney was appointed at Rhinebeck Town Hall on Feb. 6, in a joint meeting with the town boards of Rhinebeck and Clinton. She was sworn in at the end of the meeting. As state law prohibits simultaneously serving as a town and county official, she immediately resigned from the Rhinebeck Town Board.
Nominate businesses, organizations for Dutchess Tourism Awards of Distinction
Dutchess Tourism, Inc. is requesting nominations from Dutchess County residents and businesses for its 6th Annual Dutchess Tourism Awards of Distinction. Awards will be presented to winners who provide exceptional offerings to visitors and contribute to a Distinctly Dutchess experience in the following categories: Arts; Culinary; Family Fun; History; Outdoors; and Hospitality.
National Park Service authorized to acquire 89 acres of land adjacent to the Home of FDR National Historic Site in Hyde Park
U.S. Senator Kirsten Gillibrand announced that her legislation to expand the Home of Franklin D. Roosevelt (FDR) National Historic Site just passed the Senate as a provision in the Natural Resources Management Act. Gillibrand's FDR Historic Preservation Act authorizes the National Park Service to acquire 89 acres of land that are directly adjacent to the Home of FDR National Historic Site in Hyde Park and are currently owned by Scenic Hudson.
High School Education classes: not a typical classroom at Grinnell Library
By Anna Barton
Quietly yet steadily, school is going on in the basement of Grinnell Library in Wappingers Falls.
"It is not a typical classroom here," said Mary Laurelli, a teacher in the Continuing Education program for Wappingers Central School District (WCSD). She's been teaching High-School Equivalency (HSE) classes since 1999 – and she still loves it. "These are my people," she says of her students.
She and her co-worker, Anthony Fiege, team-teach young adults and adults in the HSE classes each weekday. The classes accept anyone from the age of 17 to 107, said Laurelli.
Read the full stories in this week's print edition.