Beacon Free Press This Week...
The Beacon Free Press has been Beacon's primary center of news and entertainment coverage for over 25 years. Coverage includes local city and school news and features, Dutchess County Legislature, county legal notices, obituaries, plus coverage of arts and entertainment, hospitals and health, education, libraries and local businesses and organizations.
---
ADVERTISERS: Work together and save money
Click here for the Promotion Flyer
---
7/18/18 Highlights of this week's edition...
---
Salierno named new Howland Public Library director
By Kristine Coulter
(Continued from cover) "The culmination was landing here and knowing my decision was right," remarked Salierno.

Salierno worked for five years at Blodgett Memorial Library in the Village of Fishkill. While working at Blodgett, Salierno said she learned "the importance of community connections and forging lasting relationships." They are "critical in providing a high level of service," she added.

Salierno explained, "I felt like I learned so much in five years. I was ready to spread my wings and see what I'm capable of. Once I came here and met the board, I knew it would be a good thing."

Read the full story in this week's print edition.
---
Search is on for the next Beacon Poet Laureate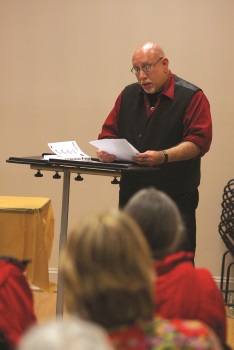 Beacon seeks poet
By Goldee Greene
Staff Writer/Arts & Entertainment
"The lunatic, the lover, and the poet, are of imagination all compact," William Shakespeare penned in blank verse in "A Midsummer Night's Dream." That being said, the City of Beacon will soon begin its search for its fourth Poet Laureate. Applicants must reside within the boundaries of the Beacon City School District. The two-year term runs from January 1, 2019, through December 31, 2020.

"We are elated to turn the page to a new chapter in this City tradition," said Alison Herrera, director of Adult Services at the Howland Public Library, which organizes the program. "The responsibilities of the Beacon Poet Laureate will include presenting poetry readings at select government and community-wide events.
Read the full story in this week's print edition.
---
Inside the July 18-24, 2018 issue:
A family barbecue, with entertainment and games will be held on Saturday July 21 from 12 noon to 4 p.m. at the Elks Lodge lawn, 900 Wolcott Avenue in Beacon to raise funds for the Spirit of Beacon Day.

Hudson Valley Theatre Initiative is excited to share a celebration of musical theatre with a concert performance of Cole Porter's classic, KISS ME, KATE. This afternoon of musical theatre memories will be the first in a series titled Broadway in Beacon designed to provide unique opportunities for the community. The performance will take place at the Howland Cultural Center (477 Main St, Beacon) at 4 p.m. on July 22, 2018.
Midsummer Magic Legends and Songs at the Howland Public Library
Movies That Matter Beacon will be showing "Immigrant Prisons" on July 16, from 7 to 10 p.m. This documentary explores the conditions inside these prisons. This film was created in partnership with advocates for detainee rights. The movie will be held with free admission at First Presbyterian Church of Beacon, McKinley Hall, 50 Liberty St., Beacon. Refreshments and discussion will be offered as well. For more information, visit www.moviesthatmatterbeacon.org.
Tax cap 2 percent for 2019
Property tax levy growth for local governments with fiscal years that close on Dec. 31 will be capped at 2 percent for the 2019 fiscal year, according to State Comptroller Thomas P. DiNapoli. This figure affects the tax cap calculations for all counties, towns, fire districts, 44 cities and 10 villages.
Read the full story in this week's print edition.