Beacon Free Press This Week...
The Beacon Free Press has been Beacon's primary center of news and entertainment coverage for over 25 years. Coverage includes local city and school news and features, Dutchess County Legislature, county legal notices, obituaries, plus coverage of arts and entertainment, hospitals and health, education, libraries and local businesses and organizations.
---
ADVERTISERS: Work together and save money
Click here for the Promotion Flyer
---
8/8/18 Highlights of this week's edition...
---
Cornbread Contest new addition to Corn Festival
Festival set for Sunday at Pewte & Toshi Seeger Riverfront Park
By Kristine Coulter
(Continued from Home Page) "We do have something new this year," she said. "You need something to keep people on their toes."

This year there will be Cornbead Contest. The cornbread must be made from scratch, emphasized Thomas. Anyone may enter.
There will be the Contest Tent. Entrants must bring their entries of cornbread to the tent by 2 p.m. on the day of the festival.

Bring the entry on a dish, along with a card. On the card, put your name, phone number, name of recipe, recipe ingredients and the recipe. Attach the card to the plate.

Read the full story in this week's print edition.
---
Revolutionary War Day at Mount Gulian Sunday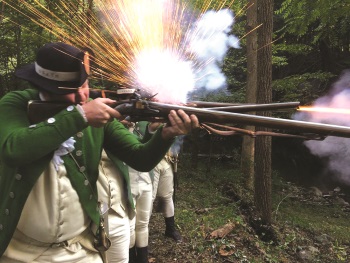 Revolutionary War Day will be held at Mount Gulian Historic Site on Sunday, Aug. 12. - Courtesy photo by Lisa Kilroy
By Kristine Coulter
How did the colonists beat the British during the American Revolution? That is the topic of the upcoming Revolutionary War Day: How We Beat the British at Mount Gulian Historic Site, 145 Sterling St. in Beacon. The event will be held on Sunday, Aug. 12, from 1 to 5 p.m.

"People often ask us, 'How is it that the colonists won?'" remarked Elaine Hayes, Mount Gulian Executive Director. She said the question prompted the idea this would be a good topic to talk about.

"We're also going to have General [Friedrich Wilhelm] Von Steuben present," noted Hayes. Von Steuben will be portrayed by Bob Gleason. Gleason, who recently performed at Mount Gulian as Mark Twain, is with the American Historical Theatre out of Philadelphia.
Read the full story in this week's print edition.
---
Inside the Aug 8-14, 2018 issue:
As of Saturday, Aug. 4, Dutchess County Public Transit's Route G improved access between the Beacon train station and popular cultural and tourist destinations, such as Dia:Beacon, The Beacon Theater, and the Mount Beacon Trailhead, as well as the many art galleries, shops and restaurants along Main Street and Route 9D within the City of Beacon. The revised route will operate in the city from 5:30 a.m. through 9:15pm Monday through Saturday.

"Beacon Dance Beat plays a vibrant mix of music mostly from the 60s to present with a special love for R&B, disco, soul and all Latin rhythmic styles. The song list, ever expanding, also includes Funk, Blues, Reggae, Rock, Swing, Afro-Latin, Jazz, Gospel, International and more, always aiming for the music to be moving, exciting and beautiful," said Rhoda Averbach, who organizes the dances and is one of the DJs.
Averbach said, "Requests, which are welcome and encouraged, are one of their hallmarks. The music catalog contains nearly 3,000 songs and most requests are available. If not, note is taken, and the song is always made available for the next dance."
On Sunday July 29, Clara Lou Gould, a member of the Beacon Elks Lodge #1493, was presented the New York State Elks Association, Veterans Female Volunteer of the Year Award. This award is only given annually in the state to one female and one male member.
Read the full story in this week's print edition.