Beacon Free Press This Week...
The Beacon Free Press has been Beacon's primary center of news and entertainment coverage for over 25 years. Coverage includes local city and school news and features, Dutchess County Legislature, county legal notices, obituaries, plus coverage of arts and entertainment, hospitals and health, education, libraries and local businesses and organizations.
---
ADVERTISERS: Work together and save money
Click here for the Promotion Flyer
---
02/19/20 Highlights of this week's edition...
---
Soup4Greens
By Kristine Coulter
(Continued from Home Page) The fundraiser will feature a variety of soups, including vegetarian, vegan, and gluten-free options. All were donated by local businesses and supporters of the Farmers' Markets. The fundraiser will be held 10 a.m. - 2 p.m. at the Veterans Memorial building, 413 Main Street, in Beacon.

"All money goes to funding Greens4Greens. Every dollar spent on soups, or on any of the pottery, available goes towards creating greater food access for our community," noted Weinman. She said as of press time, the organizers were looking at 20 gallons of soup being donated but they continue to accept donations.
Read the full story in this week's print edition.
---
Freezin' For a Reason to raise funds for Special Olympics Saturday in Fishkill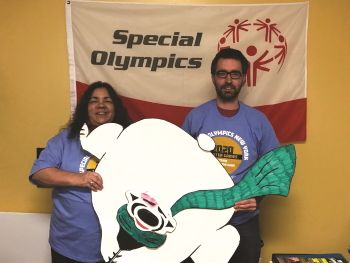 Teresa Gilli and Will Smith, Special Olympics New York, hold the polar bear mascot for the annual Freezin' For a Reason Polar Plunge in Fishkill. The plunge is set for Saturday, February 22 at Sharpe Reservation in Fishkill. - Photo by Kristine Coulter
By Kristine Coulter
This year is the 50th anniversary of the Special Olympics NY. The state chapter serves more then 67,000 athletes across the state – the largest state chapter in the nation.

So why not take the 'plunge' in celebration of the 5-0? The 22nd annual Freezin' For a Reason Fishkill Polar Plunge is set for Saturday, Feb. 22 at Sharpe Reservation's Camp Mariah in Fishkill.

The annual event raises funds for New York's Special Olympics athletes.

Teresa Gilli, Director of Development Special Olympics New York, said the goal for this year is $150,000 - $175,000. Last year the fundraiser raised almost $140,000. "This is our 50th annual for Special Olympics NY. I want to make it great this year," Gilli said recently.

Gilli noted, "For our athletes, it's the best experience."
---
Inside the Feb 19-25 2020 issue:
Community Development Forums will be held on Thursday, Feb. 20 at 7 p.m. and Saturday, Feb. 29 at 10 a.m. in Veterans Memorial Hall, 413 Main St. Mayor Lee Kyriacou has outlined the agenda for two community forums to solicit input on building and development in Beacon. The forums are designed to be educational, and to encourage participation from residents. All are welcome to attend.
Need an extra tote bag now that the Dutchess County plastic bag ban is in effect? Community members ages 11 to adult are invited to paint their own tote bag at the Howland Public Library on Thursday, Feb. 27, from 4-5 p.m. Personalize a canvas reusable tote bag with your own design using painters tape, acrylic paints and fabric markers. Once finished the bag will be perfect for carrying home books and movies borrowed from the library and so much more.
All supplies are provided and no experience is needed. Registration is required as supplies and spots are limited. Adults can register via the sign-up sheet at the library's front desk. Tweens and teens can register by emailing Michelle at community@beaconlibrary.org.
Dutchess County Executive Marc Molinaro has announced the County has launched the Agricultural Resources Inventory Application (ARIA), a searchable, online tool that includes descriptions and contact information for a variety of local, state and federal agricultural agencies, as well as local food hubs and distributors. Organized by desired topic, this application aids farmers, producers, residents, visitors and municipal officials in navigating and utilizing these agricultural resources throughout Dutchess County.
Intro to Beekeeping Saturday
Thinking about starting a backyard beehive? Are you unsure or curious about what's involved with keeping bees? Learn about beekeeping from start up to your first year of beekeeping on Saturday, Feb. 22, from 10 a.m. to 3 p.m., at Stony Kill Farm, 78Farmstead Lane, in Wappingers Falls. It is $45 per student, ages 12 and older.
Read the full story in this week's print edition.