Beacon Free Press This Week...
The Beacon Free Press has been Beacon's primary center of news and entertainment coverage for over 25 years. Coverage includes local city and school news and features, Dutchess County Legislature, county legal notices, obituaries, plus coverage of arts and entertainment, hospitals and health, education, libraries and local businesses and organizations.
---
ADVERTISERS: Work together and save money
Click here for the Promotion Flyer
---
12/05/18 Highlights of this week's edition...
---
First capital project in 50 years
would save, consolidate for BOCES
By Curtis Schmidt
(Continued from Home Page) TEach of the county's 13 school districts will host a polling site. A poll will also be open at the Dutchess BOCES Administration Building at 5 BOCES Road in Poughkeepsie. Residents do not have to vote in their home school district; they may vote at the most convenient site. For a list of sites, visit dcboces.org/capitalproject.

Dr. Hooley, BOCES District Superintendent, termed the 50-year span without a capital project "pretty outlandish. Most school districts have a capital project every six to eight years," he said.
The major components of the project include the renovation of the Career & Technical Institute (CTI), relocation of the Alternative High School from a business park on Route 44 to the BOCES campus on Salt Point Turnpike and reconditioning the Salt Point Center.
Read the full story in this week's print edition.
---
7th Annual Bicycle Tree Lighting in Beacon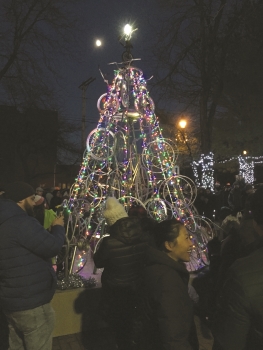 Beacon Tree lighting
By Goldee Greene
Staff Writer/Arts & Entertainment
Time to bundle up in cozy winter wear and mosey on down to the festive 7th Annual Bicycle Tree Lighting, this Second Saturday, Dec. 8. Family-centered holiday fun starts at 4 p.m., at Polhill Park, near the Beacon Visitor's Center, corner of Main and Route 9D/Wolcott Avenue. Live entertainment and activities for kids are scheduled. Sponsored by City of Beacon Recreation Department and BeaconArts.

Here's what will be happening: 4:30 p.m.-7th night of Hanukkah celebration with Benavente's Illumin8 Bicycle Menorah, in conjunction with Beacon Hebrew Alliance; 4:45 p.m.-community caroling with Gina Samardge and Compass Arts; 5 p.m.- Santa arrives, leading the jubilant count down to the Bicycle Christmas Tree lighting; Santa stays to greet families until 6 pm.

Founded in 2002, Beacon Arts/Beacon Arts Community Association has been "dedicated to the advancement of the city of Beacon as an arts and cultural center, building community through the arts."

Acclaimed Beaconite sculptor Ed Benavente's Christmas tree made of recycled bicycles, is once again the centerpiece. The work, doubled in size and still growing since its inaugural appearance in 2011, is fabricated entirely of recycled bicycle parts.
Read the full story in this week's print edition.
---
Inside the Dec 4-11, 2018 issue:
Beacon Players will present "A Chorus Line" on Friday, Dec. 7, 7:30 p.m.; Saturday, Dec. 8, 7:30 p.m. and Sunday, Dec. 9 at 2 p.m. The shows will be at the Becon High School Pete & Toshi Seeger Theater, 101 Matteawan Rd. The classic, Tony Award-winning story of "A Chorus Line" takes the audience on a heart-rending, nail-biting roller coaster of emotions as a group of dancers audition for coveted roles in a musical. As the performers are put through a vigorous series of dance numbers, their numbers are gradually reduced to 17, from which the director, Zach, must make his final choice.
Instead of making them read a short audition, Zach asks the hopefuls to individually deliver a personal history of how they came to be in show business and to share their hopes and inspirations. By the end of the show the audience can identify with each performer and why they have endured a life filled with rejection, injury, pain, and heartache to be involved with what is, to them, the glamorous world of the musical theatre.
The holidays are a special time of the year for both children and adults….and for the Howland Cultural Center that spells out The No Strings Marionettes. On Sunday, Dec. 9, the No Strings Marionette Company from Randolph, Vermont returns to the Howland Cultural Center, Beacon, for the 15th consecutive holiday season to present two dazzling and magical marionette performances. The Howland Public Library and the Howland Cultural Center have now collaborated for 15 years in sponsoring and bringing this enchanting world of marionettes to children and the young-in- heart.
The last meeting of the 2018 Tioronda Garden Club will take place on Wednesday, Dec. 12 at the Howland Cultural Center in Beacon at 7 p.m. There will be no meetings during the months of January and February, 2019; meetings will resume again on March 13, 2019.
The program scheduled for this meeting is the annual decorating of centerpieces and sharing of ideas and assistance with each other's creations. Members will also share homemade treats, which everyone anticipates. They are encouraged to bring a container of their choice and a significant amount of pine boughs, sprigs of holly, and anything else which they would like to include in creating something for their holiday decorating. For the final meeting of the year, coffee, wine and other beverages will be offered by the club, and members will bring in hors d'oeuvres.
By Anna Barton
An increase on phone scams within the last couple weeks has the Dutchess County Sheriff's Office warning residents to take extra caution when dealing with taking calls from those they don't know.
A press release from the Sheriff's Office explained, "Phone scams are ways in which criminals will attempt to get money from people by calling them and making up elaborate stories. In some cases the perpetrators have tried, sometimes successfully, to use the victim's emotions about a loved one in trouble to get money."
Read the full story in this week's print edition.