Beacon Free Press This Week...
The Beacon Free Press has been Beacon's primary center of news and entertainment coverage for over 25 years. Coverage includes local city and school news and features, Dutchess County Legislature, county legal notices, obituaries, plus coverage of arts and entertainment, hospitals and health, education, libraries and local businesses and organizations.
---
ADVERTISERS: Work together and save money
Click here for the Promotion Flyer
---
9/11/19 Highlights of this week's edition...
---
Celebration of Life for former legislator Saturday in Beacon
By Kristine Coulter
(Continued from Home Page) Dexter was a member of the Beacon High School (BHS) Class of 1950. After graduating from BHS, he attended Rutgers University in New Jersey.

"He was always a joker. He always liked making people laugh," recalled his daughter Sandee Dexter Versace.

Sandee, who lives in Florida, said she is looking forward to meeting the people up here in Dutchess County that knew her father.

"He was always the man to get up and say the right words," she noted.

"What I think people know of him is he cared for people in hundreds of different ways," said Dexter's son, Jeff Dexter.
Jeff said his father was "dedicated to the community." His dad lived by caring for others, Jeff remarked.

Dexter was a great athlete, noted his son. His passion was for football and baseball.
Read the full story in this week's print edition.
---
Walk for Sickle Cell Disease Awareness set Saturday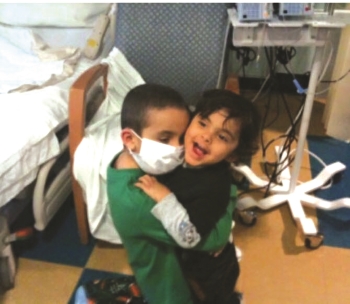 Local resident Jessica Salomon began the annual Sickle Cell Disease Awareness Walk in honor of her son, Jayden. Above, Jayden Salomon and Justin Salomon in current photos. Above right, Jayden and Justin one day before Justin donated the bone marrow for his brother's transplant surgery in 2011. The annual Walk will be held on Saturday, September 14 at Long Dock Park
in Beacon. - Courtesy photo
by Kristine Coulter
September is Sickle Cell Awareness Month. There will be a walk to bring awareness to sickle cell disease (SCD) on Saturday, Sept. 14 at Long Dock Park in Beacon. Registration begins at 9 a.m.

To sign up, visit https://curesicklenow.org/index.php/event/sickle-cell-disease-awareness-5k-walk-run/

"This is my sixth year hosting the 5K Walk/Run for Sickle Cell Disease (SCD)," said local resident Jessica Salomon. Her son, Jayden, was born with SCD.

According to the Centers for Disease and Prevention (CDC), SCD "is a group of inherited red blood cell disorders. Healthy red blood cells are round, and they move through small blood vessels to carry oxygen to all parts of the body. In someone who has SCD, the red blood cells become hard and sticky and look like a C-shaped farm tool called a "sickle."
---
Inside the Sep 11-17, 2019 issue:
Dutchess County Executive Marc Molinaro has announced the County will host four regional meetings for students, giving teens the opportunity to provide critical feedback on the innovative "Path to Promise" initiative to ensure every child in Dutchess County has access to the assets they need to become successful young adults.
Attendees will receive a brief overview of the County's "Path to Promise" and the progress that has already been made; provide input about the service and programming needs specific to their respective geographic area; and help develop the County's next steps in the implementation of the program.
The Greater Newburgh Symphony Orchestra (GNSO) will open its 25th concert season on Saturday, September 14 at 7:30 p.m. at Aquinas Hall on the Mount Saint Mary College campus in Newburgh. The "Core of My Heart" program features works by Apollonio Maiello, Richard Wagner, Bedrich Smetana and Edward Elgar.
By Sam Rothschild
The Hudson Valley Renegades had a mission this year - get to the championship series for the third straight season.
That mission didn't quite pan out, as Hudson Valley lost two games to one in a tough Wild Card bout with the Brooklyn Cyclones last week.
Each game of the NY Penn League (NYPL) Semifinal Series was a one-run contest. However, the Renegades could never quite solve the mystery of the Cyclones this year, losing 4-3 on a series-clinching walk-off RBI double on Friday evening at MCU Park.
If you wanted to describe the Renegades' season in one word, it would be "almost" - almost won the MacNamara Division, almost reached the championship series.
The Dutchess County Division of Veterans' Services will hold a Veterans Liaison Conference on Tuesday, Sept. 17, from 6:30 to 8 p.m. in the Legislative Chambers, located on the sixth floor of the County Office Building, 22 Market Street in Poughkeepsie. Advocates, veterans, their families, and the public are encouraged to attend this overview of services throughout Dutchess County that are available to veterans and engage with local officials.

Read the full story in this week's print edition.