Beacon Free Press This Week...
The Beacon Free Press has been Beacon's primary center of news and entertainment coverage for over 25 years. Coverage includes local city and school news and features, Dutchess County Legislature, county legal notices, obituaries, plus coverage of arts and entertainment, hospitals and health, education, libraries and local businesses and organizations.
---
ADVERTISERS: Work together and save money
Click here for the Promotion Flyer
---
5/15/19 Highlights of this week's edition...
---
Beacon City School District Board of Education election on May 21
By Kristine Coulter
(Continued from Home Page) According to Beacon Superintendent Dr. Matthew Landahl's post on the school's website, and presentations held, the proposed 2019-2020 budget is $73,563,000, with a levy increase of 4.4 percent. The proposed budget is an increase of 3.1 percent from last year.

"We work on the budget year-round by listening to constituents, analyzing current programs, and prioritizing programs and positions for upcoming years. This year along with meeting with staff, community members, and PTOs, I also met with about 150 students from grades 5-12 in over 10 different focus groups to discuss their hopes and dreams for the school district and the school budget. This listening process helps us refine and improve the budget process on a continual basis," Landahl explained in his post.
Read the full story in this week's print edition.
---
BEACON OPEN STUDIOS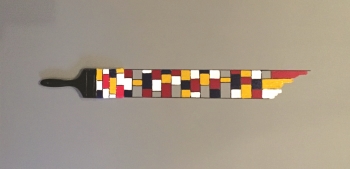 Beacon Open Studios will be held May 17 to May 19. More than 50 artists are participating in the event. - Courtesy photo
By Goldee Greene
Arts & Entertainment Column
More than fifty local artists signal that spring has finally arrived with the 11th annual Beacon Open Studios (BOS) weekend. They will present group and solo shows in some forty city galleries as well as other entertainment venues in one of the "largest of its kind in the Hudson Valley."

The Kick-off Party takes place this Friday May 17, 6 p.m. to 9 p.m., at Oak Vino Wine Bar, at 389 Main St. Exhibits will be on display Saturday, May 18 and Sunday, May 19, noon until 6 p.m. Also, for folks looking to "up their step count," four walking studio tours will be offered in four different city locales.

BOS sponsors include Dogwood Bar, Loopy Mango, Denise Gianna Designs, Beacon of Light Wellness Center, Drink More Good, Oak Vino Wine Bar, Howling on the Edge of Chaos, Matteawan Gallery and Photo Book Works.
Read the full story in this week's print edition.
---
Inside the May 15-21, 2019 issue:
By Anna Barton
In honor of National Travel Rally Day on May 7, Dutchess Tourism announced the winners of the 2019 Dutchess Tourism Awards of Distinction. The sold-out crowd at the FDR Presidential Library & Museum in Hyde Park included three finalists for each of the seven award categories.
This was the sixth year of recognition for Dutchess Tourism's partners, said Dutchess Tourism President and CEO Mary Kay Vrba. "The reason we have had so many repeat visitors and more and more new visitors each year, is because our lodging sites, restaurants and attractions work together to provide a truly unforgettable experience," she stated.
The Howland Public library is located in the heart of Beacon's historic Main Street. While the library may be at the center of the community, the library feels that the community is the center of the library. As Beacon grows and transforms, the Library needs to look to the future in order to continue to meet the needs of the community. With this forward thinking in mind, the Library will be hosting a series of informal "kitchen table" style group discussions at different locations throughout the City of Beacon. People who live or work in the Beacon City School District are invited to come and discuss their hopes for Beacon, along with any challenges they believe need to be addressed. Each conversation is a chance for the library to better understand people's aspirations for the community, the concerns they have and what they believe might make a difference in strengthening the community.
Decoding the past: Gardening digital scrapbook highlights historic gardens, gardeners, landscape architects
by Bill Jeffway
The digital "scrapbook" on the Dutchess County Historical Society (DCHS) website called "Gardening and Growing Things" in Dutchess County, like other DCHS online "scrapbooks," is a loosely curated workspace with bits and pieces of information.
It is intentionally the opposite of a complete or comprehensive review of a topic so that more people, like you, can contribute to the process of helping the story grow over time. You might find a book referral, photos, a newspaper article, or a DCHS collections guide. Please consider sharing something you feel is relevant or important.
Cornell Cooperative Extension Dutchess County (CCEDC)'s Environment & Energy Program, Dutchess County Planning Federation, and Hudsonia Ltd. will host a forum from 6 to 8 p.m. on Wednesday, May 22 entitled "Biodiversity in Dutchess County: Municipal Planning for Conservation." The forum will be held at the Dutchess County Farm & Home Center, 2715 Route 44, Millbrook and is designed for members of local planning and legislative boards and conservation advisory councils. Interested community members are also welcome to attend.
Read the full story in this week's print edition.