Beacon Free Press This Week...
The Beacon Free Press has been Beacon's primary center of news and entertainment coverage for over 25 years. Coverage includes local city and school news and features, Dutchess County Legislature, county legal notices, obituaries, plus coverage of arts and entertainment, hospitals and health, education, libraries and local businesses and organizations.
---
ADVERTISERS: Work together and save money
Click here for the Promotion Flyer
---
1/9/19 Highlights of this week's edition...
---
Tweens, teens can learn about Seeger through 'The Power of Song' at Howland Library
By Kristine Coulter
(Continued from Home Page) Jackie Wlodarczak, a Reel Life Film Club committee member remarked, "Pete Seeger's life shows children how music, film, and other artistic venues can be guided by joy, moral values, social justice, and personal responsibility."
The Reel Life Film Club offers tweens and teens an opportunity to view award-winning documentary films and talk about them with the filmmakers. Desmond-Fish Library in Garrison, Butterfield Library in Cold Spring, and Howland Library in Beacon work together to make this possible.

Karen Thompson, Desmond Fish Library, stated, "The Reel Life Film Club helps kids step outside of themselves and broadens their worldview in many ways... meeting interesting speakers, watching documentaries that were created around the globe and last but not least, being part of a group of kids from different communities."
Read the full story in this week's print edition.
---
Film Night set at Towne Crier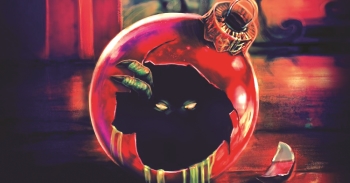 By Goldee Greene
Arts & Entertainment Columnist
The next monthly Towne Crier Film Night takes place Thursday, Jan. 17 at 7 p.m. with "All the Creatures Were Stirringg."
Admission is free of charge. There will be a Question & Answer session after the screening. The Towne Crier recently restarted its monthly film series showcasing works of local filmmakers.
"This is a tradition that started way back, when the Crier was in Beekman," said host Mark Gamma, of Newburgh, who coordinates the series with owner Phil Ciganer. "We're happy to revive it. This is a great opportunity for independent filmmakers in the area to have a platform, free of charge to the audience. Although admission is free of charge, drinks and an excellent menu will be available."

Read the full story in this week's print edition.
---
Inside the Jan 9-15, 2019 issue:
Representative Sean Patrick Maloney (NY-18) was officially sworn into office as a member of the 116th Congress. This marks the beginning of Rep. Maloney's fourth term serving as the representative for New York's 18th Congressional District in the Hudson Valley, and his first term serving as a member of the majority party. Over the next term in Congress, Rep. Maloney plans to continue his fight to protect health care access while reducing cost, combat the heroin and opioid epidemic, support our veterans, and invest in our infrastructure – especially our access to clean water.
ALBANY, NY—Senator Sue Serino announced that she has been named Ranking Member of both the Senate's Aging and Social Services Committees.
Serino said, "Since taking office, I have worked tirelessly to ensure that New York's seniors have a strong voice in Albany and I am honored to be able to continue my work on their behalf as the Committee's Ranking Member. I look forward to taking on the new challenge of serving as the ranker on the Social Services Committee, as well as working with colleagues old and new to ensure that New York's seniors have the resources they need to age with dignity in the communities they know and love."
The Howland Chamber Music Circle's ever popular Piano Festival will begin with a recital by Natasha Paremski and continue with performances by Jeremy Denk, Michael Brown, and Simone Dinnerstein.
Natasha Paremski has been compared with Martha Argerich by American Record Guide, which "comparison should not be given lightly, but Paremski is so clearly of the same temperament and technique that it is unavoidable here." With her consistently striking performances, she reveals astounding virtuosity and voracious interpretive abilities. She continues to generate excitement from all corners as she wins over audiences with her musical sensibility and flawless technique.
On January 17 at 7 p.m., The Beacon Sloop Club's 2018 Winter Lecture Series begins with Climate Change, Hope and the Beacon Community – with Tim Guinee, a presentation and discussion of the latest science regarding climate change, and the many reasons we have to be hopeful in confronting this crisis.
Warmer temperatures have real consequences for all of us. Sea levels around the world have risen 20 cm (7.8 inches) since 1901, swallowing entire islands and creeping closer to populated areas of great coastal cities like New York, Melbourne, and Dakar. Locally the level of the Hudson River has risen nearly 13 inches.
Read the full story in this week's print edition.