Beacon Free Press This Week...
The Beacon Free Press has been Beacon's primary center of news and entertainment coverage for over 25 years. Coverage includes local city and school news and features, Dutchess County Legislature, county legal notices, obituaries, plus coverage of arts and entertainment, hospitals and health, education, libraries and local businesses and organizations.
---
ADVERTISERS: Work together and save money
Click here for the Promotion Flyer
---
10/30/19 Highlights of this week's edition...
---
Beacon:
EF vet to be keynote speaker at Veterans Day Ceremony
(Continued from Home Page) C"My mother, the daughter of an immigrant from South America, worked in a Hallmark store in the Galleria Mall for over 30 years. I continue to learn many things from her; among them, the art and value of writing a "Thank You" note,' Satryano will remark in her speech.
Satryano will discuss being a veteran.

"For me, being a veteran was a choice. As a woman, I am under no legal obligation to register and potentially serve in any armed service," she noted. "As a Social Studies teacher, it was difficult to look at the young men in my classroom and know that they were under an obligation simply because of their gender. That did not resonate with my sense of equality. To be equal and to be grateful, for me, would mean to choose to serve. Enlisting, deploying and serving for nearly 20 years is my humble "Thank You" note for the generosity bestowed upon me as an American."

It has been through serving America, that she said she has become "more connected" to her country and fellow citizens.

Read the full story in this week's print edition.
---
Historic tax cut tops Molinaro's
proposed budget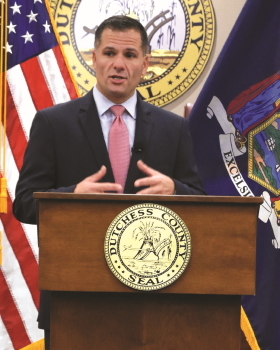 Dutchess County Executive Marcus Molinaro speaks about topics in his 2020 proposed budget in the Dutchess County Legislature chambers on Oct. 30. Photo by Jim Donick
by Jim Donick
Dutchess County Executive Marcus J. Molinaro presented his 2020 Executive Budget proposal to county officials and community leaders in the Dutchess County Legislature's chambers in Poughkeepsie on Oct. 30.

"Plans and ideas are wonderful," he said, "but it's often been said - 'don't tell me what you believe in, show me your budget.'"

He went on to explain that the proposed 2020 budget plan features the largest property tax levy reduction in 20 years and cuts the county property tax rate for the fifth consecutive year for homeowners and businesses, while enhancing and expanding programs and services for all residents.

The 2020 property tax levy (amount collected countywide from property taxes) proposed in the Executive Budget is $105,347,280, down more than $1 million from 2019. If the budget proposal is approved by the County Legislature, property taxpayers will also see a five-percent reduction in the tax rate on their property tax bill with the tax rate cut from $3.45 to $3.27 per $1,000 of true value assessments. Total 2020 appropriations equal $512,931,209, a 1.4-percent increase over 2019.
---
Inside the Oct 30-Nov 5, 2019 issue:
Join local writer, Jodé Millman, as she talks about her recently released courtroom thriller titled, The Midnight Call at the Howland Public Library on Wednesday, November 13th from 2 – 3 p.m. The Midnight Call was short-listed for the Clue Award and received the First Place Blue Ribbon as "Best Police Procedural" by Chantireviews.com.
Health Quest Community Education, now part of Nuvance Health, instructs more than 9,000 people annually. For more information, call 845-475-9742 (TTY: 1-800-421-1220) or visit www.healthquest.org/CommunityEducation for full class descriptions.
On Nov. 17, the Howland Chamber Music Circle will welcome back the Jasper String Quartet, J. Freivogel and Karen Kim, violin, Sam Quintal, viola and Rachel Henderson, cello, who will be joined by flutist Mimi Stillman.
Winner of the prestigious CMA Cleveland Quartet Award, the Jasper is the Professional Quartet in Residence at Temple University's Center for Gifted Young Musicians and the Founder and Artistic Director of Jasper Chamber Concerts.
Proposed budget includes special Zurhellen Fund for veterans support
by Jim Donick
This past spring and summer saw a local veteran, Tommy Zurhellen, walk across the U.S. to raise awareness of the plight of often homeless veterans. When he returned to Dutchess County, he was greeted by hundreds of well wishers, among them many county officials.
"Tommy said two things that really struck me," said County Executive Marcus Molinaro. "He said 'being homeless is expensive,' and he asked 'I wonder if anyone is really listening.' "
The proposed county budget reflects thought on both points.
Read the full story in this week's print edition.