Beacon Free Press This Week...
The Beacon Free Press has been Beacon's primary center of news and entertainment coverage for over 25 years. Coverage includes local city and school news and features, Dutchess County Legislature, county legal notices, obituaries, plus coverage of arts and entertainment, hospitals and health, education, libraries and local businesses and organizations.
---
ADVERTISERS: Work together and save money
Click here for the Promotion Flyer
---
01/15/20 Highlights of this week's edition...
---
Pulver re-elected Legislature Chairman
(Continued from Home Page) In his acceptance speech, Pulver described the 2018-19 term as the "most productive Legislature in history" and cited the passage of an Animal Abuse Registry, Canine Tethering Regulations, Ethics Reform, Term Limits, Right to Farm, and Independent Reapportionment (which is on the 2020 ballot as a referendum) as their greatest accomplishments. Acknowledging that continuing a course, for the 2020-21 term, of passing such monumental and impactful laws will be a difficult task, Pulver encouraged legislators to "be prepared, be polite, and be productive."

Pulver pointed to his friend Guzman, an immigrant who moved to Dutchess at a young age, as an example for the type of County that Dutchess was and should be - a welcoming place that affords opportunity to all.
Read the full story in this week's print edition.
---
County retailers, shoppers ease into new bag law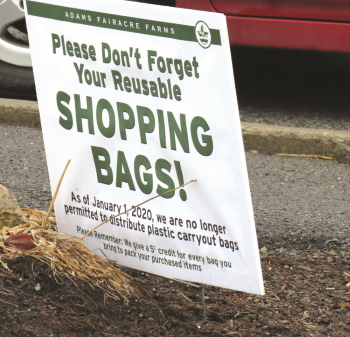 Signs at retail locations around the county have been telling shoppers to prepare for the new bag laws. Photo by Jim Donick
By by Jim Donick
The New Year has brought a significant change to the shopping experience in Dutchess County.

On Jan. 1, the county's new single-use bag law, passed by the Dutchess County Legislature in December 2018, came in to effect. In the interim, the State of New York passed a similar law that will go into effect on March 1.

The first indication to county shoppers may have been the signs on the doors and windows of local businesses indicating that they are no longer providing bags to their customers at the checkout stations.

County Legislature Chairman A. Gregg Pulver, the only active farmer in the Legislature, runs across the litter of bags on his farmland.
---
Inside the Jan 15-21, 2020 issue:
By Goldee Greene
Bundle up and embrace the vision of freedom for all as the 42nd annual Beacon celebration of Dr. Martin Luther King Jr.'s birthday takes place Monday, Jan., 20. Enjoy a full day of festivities, sponsored by The Southern Dutchess Coalition (SDC) held at Springfield Baptist Church, at 8 Mattie Cooper Square. Inclement weather date is set for Monday, February 17, which is Presidents Day.
"All are welcome," said SDC chair Jennifer McClinton.
"This gathering promises to be yet another glorious example of Beacon's unity, community and diversity." Sharlene Stout serves as co-chair and music coordinator.
In the past there was a moment of silence held. Kyraicou said, "What I would like to do is say thank you to those in public service. He suggested rotating that to other members of the council as different meetings.
"I think it's an honor to be mayor of the city," he said.
One of the topics discussed was the proposal, which was approved by the council members, to host community forums regarding development in the city and the repercussions. According to the mayor, the forums will be set for the evening and weekend. The dates would be scheduled in the next few months.
"Given the rapid pace of Beacon's turnaround and its recent development, it's important for us as a community to have a two-way conversation on development and its impacts – to understand what zoning changes have already taken place, and what still needs to be done." said Kyriacou. "I trust residents to have an open and respectful dialogue on a topic that affects the future of the community we all love."
A comprehensive grant writing conference catering to nonprofits, municipalities, and developers will be held at Clarkson University's Beacon Institute Water Ecology Center at Denning's Point State Park in Beacon, on Wednesday, Jan. 22.
The conference, presented by the Hudson Valley-based grant writing firm Choice Words LLC, will offer grant seekers at all levels pragmatic insights from both successful Hudson Valley fundraisers and the funders themselves, including representatives from the Dyson Foundation, Community Foundations of the Hudson Valley, the Community Foundation of Orange and Sullivan, and Grant Professionals of the Lower Hudson.
Art is Elementary reception Saturday
The Howland Public Library is pleased to present Art is Elementary, the fourth annual exhibition of student artwork from the Beacon City School District elementary schools. A reception for the students and teachers will be held on Saturday, January 18, from 2-4 p.m. All are welcome. The exhibit will be on view in the Community Room through Feb. 1.
Read the full story in this week's print edition.