Beacon Free Press This Week...
The Beacon Free Press has been Beacon's primary center of news and entertainment coverage for over 25 years. Coverage includes local city and school news and features, Dutchess County Legislature, county legal notices, obituaries, plus coverage of arts and entertainment, hospitals and health, education, libraries and local businesses and organizations.
---
ADVERTISERS: Work together and save money
Click here for the Promotion Flyer
---
6/19/19 Highlights of this week's edition...
---
Primary Election June 25
By Kristine Coulter
(Continued from Home Page) Asked about running for office, Ellenwood said, "Since moving to Beacon in 2002, I have actively and honorably participated as an effective leader in our city. Through my work with the Wee Play Community Project, BeaconArts, and other community organizations, I have created community, found solutions and encouraged good ideas that benefit us all. My work in conceiving, coordinating and implementing the Beacon Free Loop alongside Mayor Casale and Dutchess County officials, has shown me how a good idea to help make people's lives better can get done. The seat for my neighborhood was open, and I am ready and qualified to serve Ward 4 and the Beacon in an official leadership role."

"I am running for City Council Ward 4 because there is a feeling in Beacon that, even though our city has had an incredible revival, it is not working for everyone. Taxes are rising and pricing out families who have lived here for generations. Seniors cannot afford to downsize in their hometown. Renters are seeing big hikes. Artists are relocating their studios. Parking is impossible. The list goes on," replied Aymar-Blair about why he is running. "Meanwhile, big buildings that do not seem to fit the needs or character of the city are popping up all around. People feel this disconnect. It is the very definition of gentrification."
Read the full story in this week's print edition.
---
BPD officers honored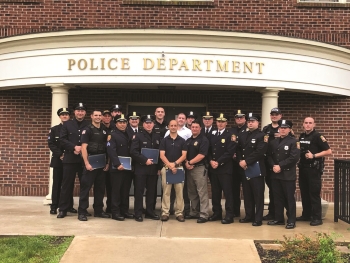 Members of the City of Beacon Police Department were recently recognized for their service by the City Council during the June 10 City Council meeting. Pictured are the officers outside the police department. - Courtesy photo
By Kristine Coulter
Members of the City of Beacon Police Department were recognized during the June 10 City Council meeting. Mayor Randy Casale introduced the presentation. Lt. Thomas Figlia read a bit about each officer's actions while on duty to receive the award.
Casale, Police Chief, Kevin Junjulas and council members
congratulated the officers.

"I want to thank the mayor, the city administrator, the council and all those in attendance for giving us the time,"
Figlia said.

The first Meritorious Service Award went to Officer Michael Confiled and Sgt. Christian Alencastro.

They stopped a vehicle. Suspect went for a purse that contained an unlicensed handgun. They subdued the suspect.

Officer Joe Deleno administered Narcan to a female who overdosed and brought her back to life. He received an Honorable Mention award.
Read the full story in this week's print edition.
---
Inside the June 19-25, 2019 issue:
After collecting and reviewing thousands of survey responses and input from stakeholders and the public, Dutchess County Executive Marcus Molinaro announced the Dutchess County Parks Master Plan has identified several opportunities to make Dutchess County Parks more modern, safe, convenient and accessible. A variety of outreach events have been planned for this summer that will feature special attractions and opportunities for the public to offer feedback on the proposed future improvements.
Molinaro said, "We have identified several exciting opportunities, both short and long-term, to improve our popular parks, while remaining fiscally and environmentally conscious. As we work to complete the Parks Master Plan, public engagement remains a critical component to ensuring we have a relevant plan that reflects what our residents and visitors need and want. I invite everyone to join us at one of the upcoming events to see the great changes we have planned for our parks and share your feedback, all while enjoying family-friendly fun."
By Sam Rothschild
The Hudson Valley Renegades are once again preparing for the new season, after a strong 2018 campaign. The team hopes it will be another deep September run.
After a nine-game winning streak helped spur them on last June, the Renegades hope to make a third-straight appearance in the New York-Penn League Championship Series.
''It's a testament to what these guys do in the organization," second-year manager Blake Butera said, discussing the winning environment the organization has set in recent years "I wouldn't change anything about last year."
Hudson Valley captured a division title for the third time in the last seven seasons, ultimately losing 2-0 in the championship series.
Vassar Brothers Medical Center has received the Mission: Lifeline® Silver PLUS Receiving Quality Achievement Award for implementing specific quality improvement measures outlined by the American Heart Association for the treatment of patients who suffer severe heart attacks.
Every year, more than 250,000 people experience an ST elevation myocardial infarction (STEMI), the deadliest type of heart attack, caused by a blockage of blood flow to the heart that requires timely treatment. To prevent death, it's critical to restore blood flow as quickly as possible, either by mechanically opening the blocked vessel or by providing clot-busting medication.
Cardiologist Dr. Sunny Intwala has joined Health Quest affiliate The Heart Center in Poughkeepsie. He will see patients at its City of Poughkeepsie location and has privileges at Vassar Brothers Medical Center.
"As a member of The Heart Center, I will provide expertise and education in preventive cardiology to help patients achieve optimal cardiovascular health," said Intwala, who has a background in complex cholesterol management, nutrition and personal training.
Intwala is board certified in internal medicine, general cardiology, echocardiography and nuclear cardiology. He specializes in advanced cholesterol management, sports cardiology and cardiac rehabilitation.
Read the full story in this week's print edition.