Beacon Free Press This Week...
The Beacon Free Press has been Beacon's primary center of news and entertainment coverage for over 25 years. Coverage includes local city and school news and features, Dutchess County Legislature, county legal notices, obituaries, plus coverage of arts and entertainment, hospitals and health, education, libraries and local businesses and organizations.
---
ADVERTISERS: Work together and save money
Click here for the Promotion Flyer
---
9/19/18 Highlights of this week's edition...
---
Stony Kill Foundation hosts its annual Country Fair on Saturday, Sept. 22
By Kristine Coulter
(Continued from Home Page) "There will be wagon rides," she said. They will also do demonstrations with their oxen, she continued.

"The horses will be pulling the wagons to give rides," Adnams noted.

There will be a new cow for visitor s to meet. The 11-month-old is named "Lulu" She was donated by a local Beaconite to SKF.

Lulu is a Scottish Highland Angus mix, said Adnams.

"The barn will be open to visit the animals," she said.

The Verplanck Garden Club (VGC) will be there. "They'll be selling their homemade soups," Adnams mentioned.

They will also be selling artwork and flower arrangements.

Read the full story in this week's print edition.
---
Marist and Health Quest plan to open medical school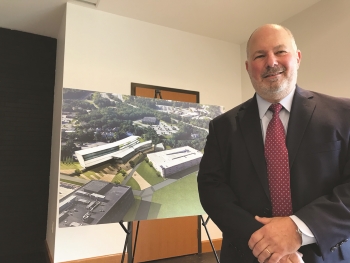 Marist College President David Yellen stands next to plans for the Marist Health Quest Medical School.
By Kristine Coulter
Marist College and Health Quest have announced plans to open a School of Medicine in 2022. The school would be located on the Vassar Brothers Medical Center property in Poughkeepsie. There would be special-purpose facilities on the Marist campus for medical students who are studying subjects such as gross anatomy.

"Marist and Health Quest are delighted to announce our partnership," said Marist College President David Yellen.

"We reached today's announcement after two years of intensive study," he said.

According to Yellen, there will be "positive impact" on the Hudson Valley and health care in the Hudson Valley region. The Marist president described the medical school one as one that would be "forward-looking" and "cutting-edge" with artificial intelligence being used.
Read the full story in this week's print edition.
---
Inside the Sep 19-25, 2018 issue:
The Dutchess County Commission on Human Rights 2018 100 Cups of Coffee Transformative Dialogue Project series continues on Tuesday, Sept. 25 at the Department of Behavioral and Community Health Training Room at 230 North Road in Poughkeepsie from 6 to 7:30 p.m. This theme for this installment will be "Making A Difference in Poughkeepsie" – how has the 100 Cups of Coffee project helped interaction between people in Poughkeepsie and supported change in the community?
A non-partisan group of City of Beacon citizens are working together to get out the vote this year using the national online platform "When We All Vote."
There will be volunteers giving out registration forms and answering questions at the following locations and times:
Saturday, Sept. 22: 10 a.m. – 11 a.m.
Hamilton Fish Plaza Large Community Room, 31 Eliza Street
Saturday, Sept. 22: 3:30 p.m. – 4:30 p.m.
Forrestal Heights Community Room, 1 Forrestal Heights
Saturday, Sept. 22: 5 p.m. – 7 p.m.
Beacon Recreation Center Pavilion, 23 West Center
Tuesday, Sept. 25: Ntional Voter Registration Day
Howland Public Library, 313 Main Street, 11 a.m. – 7 p.m.
Sunday, Sept. 30: Spirit of Beacon Day
When We All Vote Booth and other locations on Main Street
Noon – 4 p.m.
On Sunday, Sept. 30, at 4 p.m., the Telegraph Quartet joins forces with oboist James Austin Smith for a performance presented by the Howland Chamber Music Circle at the Howland Cultural Center, 477 Main Street, Beacon. The Telegraph Quartet will open the program with Erwin Schulhoff's Five Pieces for string quartet. Together, the musicians will perform Wolfgang Amadeus Mozart's Oboe Quartet in F Major, K. 370 and Arnold Bax's Oboe Quintet. The Telegraph Quartet concludes with Antonin Dvořák's String Quartet No. 10 in E- flat Major, Op. 51 "Slavonic."
by Tom Zurhellen
Editor's note: Dispatches from the VFW will appear bi-weekly in the Northern & Southern Dutchess News and Beacon Free Press.
As Commander of the Poughkeepsie VFW, the best part of my job is the opportunity to help local veterans.
Recently I got a call from Hudson River Housing asking for help with a young Army veteran; let's call her Maude. She was a single mom working a full-time job, but her car was about to fall apart and even worse, she could no longer afford her rent because of her kids' mounting medical bills. Maude needed help, and fast; unless someone stepped up, this Iraq veteran and her young children would quickly find themselves on the street.
I wish Maude's story was an isolated one in America, but it's not. So many of our young veterans are simply a paycheck away from facing the same dilemma, and so many others find it difficult to find the services they need to transition from military life. On any given night in America, there can be as many as 50,000 veterans living on our streets; to put that number in perspective, it's more people than are currently serving in the entire Coast Guard or Marine Corps Reserve.
Read the full story in this week's print edition.