Beacon Free Press This Week...
The Beacon Free Press has been Beacon's primary center of news and entertainment coverage for over 25 years. Coverage includes local city and school news and features, Dutchess County Legislature, county legal notices, obituaries, plus coverage of arts and entertainment, hospitals and health, education, libraries and local businesses and organizations.
---
ADVERTISERS: Work together and save money
Click here for the Promotion Flyer
---
10/16/19 Highlights of this week's edition...
---
Car show to give Beacon' Main St. 'nostalgic feel' Sunday
By Kristine Coulter
(Continued from Home Page) Ray Schrader, president of the Dutchess Cruisers, said, "There's no cut off year -- any make, model" of vehicle can be entered in the show.

The event shows off Main St, said Oken. It also gives Main St. "a nostalgic feel," he added.

There will be "lots of trophies," said Oken. There were 330 vehicles in the 2018 show.

Registration goes until noon.
Read the full story in this week's print edition.
---
Pumpkin Festival at Riverfront Park Sunday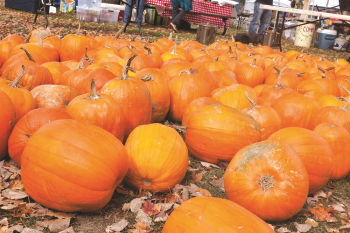 Pumpkins will be available during the Beacon Sloop Club Pumpkin Festival on Sunday, October 20 at Pete & Toshi Seeger Riverfront Park in Beacon. - Courtesy photos by Alan Thomas
by Goldee Greene
Arts & Entertainment Column
Sweet and jack-o-lantern pumpkins galore will take center stage at the annual Pumpkin Festival this Sunday, Oct. 20. With admission free of charge, it is sponsored by the Beacon Sloop Club. The annual event is held rain or shine, from noon to 5 p.m., run by a dedicated team of volunteers of the nonprofit. The location is Pete and Toshi Seeger Riverfront Park, with free parking at the MetroNorth train station. Hudson Valley pumpkins of assorted sizes will be on sale as well as on-site baked pumpkin pie served with a dollop of fresh whipped cream.

In addition to the pumpkin patch where the plump, orange gourds of all shapes and sizes will be for sale, pumpkin soup, cider, smoothies, hot chili and other autumn treats will be available. Year after year, crowds of Beaconites and visitors of all ages enjoy an afternoon on the riverfront to welcome in the autumn season. Many remember Beacon Sloop Club founder Pete Seeger (1919-2014), a local resident mingling in with the crowd sporting his signature orange woolen cap.
---
Inside the Oct 16-22 2019 issue:
The Dutchess County Medical Society will inaugurate its new officers at its annual Membership Meeting to be held at Millbrook Winery on Wednesday, Oct. 23.
New president, Dr. Manoj Abraham of Poughkeepsie's Facial Plastic Reconstructive and Laser Surgery and Oasis MediSpa will join a panel of other prominent speakers on the "Future of Medicine in Dutchess County." These will include Bonnie Litvack, MD, 9th District Counselor / Medical Society of the State of New York VP; and A. K. Vaidian, MD, MPH, Dutchess County Health Commissioner.
By Gerry Harrington
HealthAlliance Hospitals
Breast cancer is the second most common cancer in American women, after skin cancers, and the second-leading cause of cancer death in women, after lung cancer.
A woman's average risk of developing breast cancer sometime in her life is about 12 percent. This means a woman has a 1 in 8 chance of developing breast cancer.
Nearly 269,000 women in the United States will be diagnosed with invasive breast cancer this year, the American Cancer Society estimates.
About 42,000 women will die from breast cancer this year, the society says.
by Bill Jeffway
Among the reasons Alexander Hamilton stares at us from his perch on the $10 bill is because he was this country's first Secretary of the Treasury, in the cabinet of our first President, George Washington.
But he is known for another first: America's first political sex scandal, a scandal which derailed any Presidential ambitions he may have had. It didn't take long in our newborn country! The affair took place from 1791 to 1792, two years into George Washington's first term as President. It became public in 1798.
The woman involved is not well profiled. As a matter of fact, I was prompted some months ago by a very brief reference in Ron Chernow's Book, "Alexander Hamilton," which was the basis for the hit musical, stating that Mrs. Maria Lewis Reynolds was from Dutchess County, but that not much was known about her - just a brief reference to Dutchess County. This is an attempt to address that deficit.
The Howland Cultural Center will provide the Beacon community an opportunity to meet the candidates seeking election to the City Council and the Dutchess County Legislature on two specific evenings: Tuesday, Oct. 22 and Wednesday, Oct. 23, both evenings at 7:30 p.m.
The Democratic Party candidates will be present at The Howland Cultural Center on Tuesday, Oct. 22 and the Republican and Independence candidates will meet the public on Wednesday, Oct. 23.
Read the full story in this week's print edition.