Beacon Free Press This Week...
The Beacon Free Press has been Beacon's primary center of news and entertainment coverage for over 25 years. Coverage includes local city and school news and features, Dutchess County Legislature, county legal notices, obituaries, plus coverage of arts and entertainment, hospitals and health, education, libraries and local businesses and organizations.
---
ADVERTISERS: Work together and save money
Click here for the Promotion Flyer
---
11/14/18 Highlights of this week's edition...
---
Howland Public Library to install new city Poet Laureate
By Goldee Greene
Staff Writer/Arts & Entertainment
(Continued from Home Page) "We are thrilled that Peter Ullian will share his love of poetry in Beacon as Beacon Poet Laureate for the term of 2019-2020," said Adult Services Librarian Alison Herrero.

"Poetry not only illuminates people's minds, but it adds joy to life," said Herrero. "The library looks forward to his serving our greater Beacon community by spreading the joy and awareness of poetry.

"I am deeply honored to have been selected to serve as Beacon Poet Laureate," said Ullian. "The City of Beacon means a lot to me and my family. We have benefited greatly from all this community has to offer, including the arts, the schools, the parks, the library, the vibrancy of Main Street, and the fellowship of our neighbors. I hope that, as Poet Laureate, I can help to spread the joy and awareness of poetry to our community, and in doing so can in some small way give back to Beacon, the city that has given so much to me."
Read the full story in this week's print edition.
---
Jacobson wins 104th assembly seat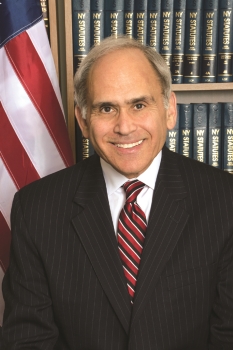 Jonathan Jacobson, the Democratic candidate for the 104th Assembly District seat
by Kristine Coulter
Jonathan Jacobson, the Democratic candidate for the 104th Assembly District seat, won the race on Election Day, Nov. 6. Jacobson ran against Scott Manley, who was on the Republican and Conservative lines. Jacobson, who is a city of Newburgh councilman, takes the seat that the late Assemblyman Frank Skartados had until his death from complications from cancer earlier this year. The district covers areas in Dutchess, Orange, and Ulster counties. Jacobson received a total of 20,293 votes to Manley's 13,578.

"I wish to thank all who voted last Tuesday. I am honored by the overwhelming support for my election to the Assembly. I will work hard everyday to prove worthy of the trust that the voters placed in me," remarked Jacobson via email. He also stated, "I wish to congratulate my opponent on a spirited and positive campaign. I look forward to working with him in his capacity as a Town of Newburgh Councilman."

In Dutchess County, Jacobson received 8,840 votes, or 73.77 percent of the vote, to Manley's 3,135 votes, 26.16 percent.
In Orange County, Jacobson received 54.52 percent of the vote, or 8,119 votes, while Manley had 45.41 percent, which was 6,762 votes.

In Ulster County, Jacobson received with 3,334 votes (47.51 percent) to Manley's 3,681 votes (52.45 percent).
Read the full story in this week's print edition.
---
Inside the Nov 14-20, 2018 issue:
By Kristine Coulter
Incumbent Congressman Sean Patrick Maloney won another two-year term as U.S. Congressman for the New York 18th Congressional District. Maloney, who ran on the Democratic, Working Families and Women's Equality lines, received a total of 130,420 votes to O' Donnell's 106,381 votes. O'Donnell ran on the Republican, Conservative and Reform lines. The district includes parts of Dutchess, Orange, Putnam, and Westchester counties.
The iconic story of "A Chorus Line" takes the audience on a heart-rending, nail-biting roller coaster of emotions as a group of dancers audition for coveted roles in a musical. As the performers are put through a vigorous series of dance numbers, their numbers are gradually reduced to 17, from which the director, Zach, must make his final choice.
Instead of making them read a short audition, Zach asks the hopefuls to individually deliver a personal history of how they came to be in show business and to share their hopes and inspirations. By the end of the show the audience can identify with each performer and why they have endured a life filled with rejection, injury, pain, and heartache to be involved with what is, to them, the glamorous world of the musical theatre.
By Curtis Schmidt
While incumbent Republican Sue Serino has declared victory in the NYS Senate District 41 race, her Democratic Party challenger Karen Smythe is not conceding.
Serino holds a lead of just over 2,100 votes (56,462 to 54,316 with 100 percent of polling places reporting), but Smythe pointed out that more than 10,000 absentee and provisional ballots still need to be counted. The counting of these ballots began on Tuesday in both Dutchess County and Putnam County.
"We conducted our campaign with every intention of winning and we're not giving up yet. Anything is possible," said Smythe. "We're holding out hope and waiting for the final outcome."
By Kristine Coulter
"We are here to honor our heroes," said Yvette Rodriguez-Cacho, Chief of Voluntary Services at the VA Hudson Valley Health Care System Castle Point Campus Veterans Day Ceremony on Wednesday, Nov. 7. Cacho described this year's Veterans Day as "very special" because it is the 100th anniversary of World War I.

"We are here today for those men and women who made it possible for our way of life," remarked Margaret Caplan, Medical Director for the campus. She said to honor veterans and military families for their service, which "guaranteed our liberty."
"Let it be our mission to preserve the memory of their great deeds," said the director.

Caplan told those gathered for the annual ceremony that those who work at Castle Point continue to listen to the voice of the veteran.

"Thank you. And we are honored by your service," she told them.
Read the full story in this week's print edition.