Beacon Free Press This Week...
The Beacon Free Press has been Beacon's primary center of news and entertainment coverage for over 25 years. Coverage includes local city and school news and features, Dutchess County Legislature, county legal notices, obituaries, plus coverage of arts and entertainment, hospitals and health, education, libraries and local businesses and organizations.
---
ADVERTISERS: Work together and save money
Click here for the Promotion Flyer
---
8/21/19 Highlights of this week's edition...
---
'White glove' history tour
at Mount Gulian Sunday
By Kristine Coulter
(Continued from Home Page) Admission for this event is $12 adults; $10 seniors; $5 children; free for children under 6 and for Mount Gulian members. Membership is open to the public and may be purchased on the day of the event. Those planning to attend should register by calling (845) 831-8172 or sending an email with name, number of people to attend and contact information to info@mountgulian.org.

Attendees will be given tours of the home, grounds and barn, explained Hayes.

"At the end of that, learning about the family (the Verplanck family who owned the site) and the history of Mount Gulian, then they can handle, with white gloves, the collection," she noted.
Read the full story in this week's print edition.
---
Life skills at heart of 4-H
Livestock Sale at DC Fair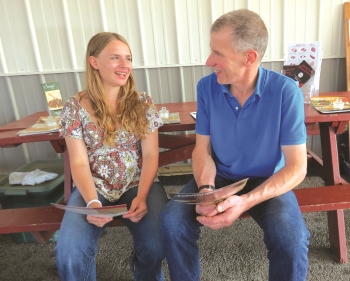 4-H Livestock Sale
by Hannah Malafy
Whenever I think of the Dutchess County Fair, the 4-H Livestock Sale always seems to stand out as one of the most-anticipated events.

Every year, 4-H'ers learn priceless life skills as they prepare to sell their steers, hogs, lambs, chickens, goats, rabbits and game birds in the Sale. When someone buys meat from the Sale, they receive not only healthy, quality meat, but the satisfaction of supporting our local youth in their project animals and personal growth.

The Livestock Sale is scheduled for 4 p.m. Saturday, Aug. 24, in the Livestock Show Arena. A reception and sign-up with 4-H members helping to educate prospective buyers begins at 2 p.m. in the Arena.

I had the privilege of obtaining feedback from three 4-H'ers who have participated in the Sale - Annette Prezzano of the Got Goat Milk club, Lauryn Menz of the Got Goat Milk Club and 3R's Livestock Club, and James Hicks of the Here Comes the Beef Club. They have a combined 17 years selling in the Livestock Sale, and more than 25 years in 4-H.

One of the first themes that all the 4-H'ers noted was that their work ethic had grown through the Livestock Sale.
---
Inside the Aug 21-27, 2019 issue:
The Beacon Historical Society and the Tioronda Garden Club invite the public to attend a ceremony to dedicate a commemorative plaque and bench in honor of Clara Lou Gould in order to recognize her long-time devotion to the City of Beacon. The celebration will be held at 6:30 p.m. in front of City Hall on Thursday, August 29, Mrs. Gould's 92nd birthday; she will attend if her health allows. All are encouraged to join in the ceremony to celebrate her legacy as Beacon's mayor. Former council members who served with Mrs. Gould are particularly welcome to participate and will be invited to share memories of working with her.
By Sam Rothschild
Six Hudson Valley Renegades were named All Stars and took part in the New York Penn League All-Star Game Tuesday night in Staten Island.
Right Fielder Hill Alexander, centerfielder Garrett Hiott, shortstop Greg Jones, relief pitcher Joe LaSorsa, first baseman Jacson McGowan and utility infielder Nick Sogard played for the Red Team.
The Renegades (36-26) held serve in the NYPL McNamara division again last week. They are 1.5 games ahead of second-place Brooklyn.
By Anna Barton
The "Path to Promise" Youth Leadership Summit was held last week, and welcomed 300 young Dutchess County residents to speak up and provide input on the local services and programs that benefit their journey to adulthood.
The Summit was hosted by Dutchess County and was built upon County Executive Marc Molinaro's 2017 initiative "Path to Promise" to ensure all young people have the assets needed to achieve their full potential as young adults.
Applications are now being accepted for the 2019 round of grants from the Clara Lou Gould Fund for the Arts. The deadline to apply is Sept. 6 and the application can be found online at www.beaconarts.org/clara-lou-gould-fund-for-the-arts.
The goal of the Clara Lou Gould Fund for the Arts is to fund Beacon projects not generally supported by other area arts organizations, including individual artist's projects, unique exhibition, performance or public art projects, arts education programs, and community projects that promote area artists and arts activities and that draw attention to the valuable role of arts and culture in our community.
Read the full story in this week's print edition.